Advertisement / Publicité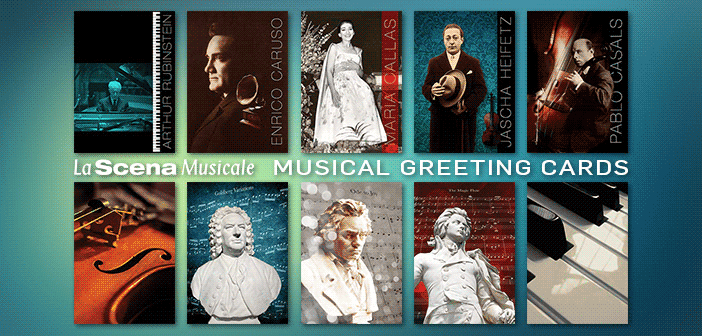 This page is also available in / Cette page est également disponible en:

Francais (French)
With an impressive roster of seasoned performers and many more in training, opera is a major component of classical music in Canada. Our homegrown talent is gaining recognition abroad, and many of our singers appear regularly in the world's great opera houses. Here's a look at some of their diaries for 2017–2018.
Soprano Layla Claire, whose Donna Elvira was warmly received by audiences at Opéra de Montréal last November, recently made a debut solo album with ATMA Classique, entitled Songbird. High point of the year for this British Columbian will be her title role in Alcina at the Bolshoi Theatre in Moscow (October) and at the International Handel Festival in Karlsruhe (February). In December she'll be in Denver making her debut with the Colorado Symphony, performing works by Handel and Mozart for the rest of the season. www.laylaclaire.com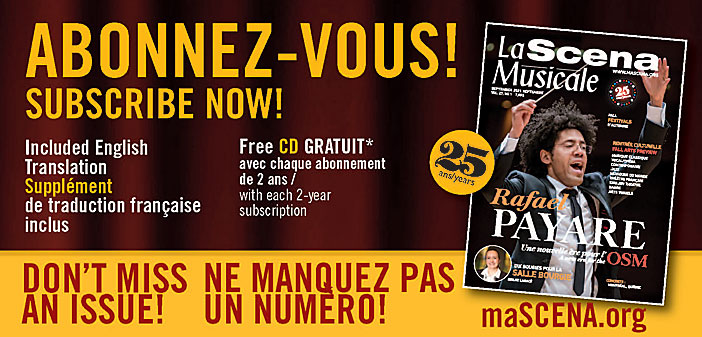 Following a summer spent in Glyndebourne and Edinburgh, Michèle Losier will perform exclusively in Paris and Lyon next year. The mezzo-soprano from Montreal will play Dorabella in Palais Garnier's next production of Così fan tutte and the title role in Rossini's La Cenerentola at Opéra de Lyon. She'll round off her operatic 'Tour de France' at Opéra Bastille playing Ascanio in Benvenuto Cellini by Berlioz and the main role in L'Heure espagnole by Ravel. www.michelelosier.com
This fall, baritone Étienne Dupuis makes his debut as Pelléas at Opéra Bastille in Robert Wilson's legendary production of Pelléas et Mélisande. Next he moves to Madrid's Teatro Real as Marcello in a new production of La Bohème in December and early January. Later that month, the Montrealer will reprise the role of Figaro in Rossini's Il Barbiere di Siviglia at the Bayerische Staatsoper in Munich, and the role of Rodrigo in Verdi's Don Carlo for Deutsche Oper Berlin in May. www.etiennedupuis.com
In October Julie Boulianne, mezzo-soprano from Dolbeau-Mistassini, plays the roles of the Cabaret Singer and the Bad Pupil in Pinocchio. This world premiere by composer Philippe Boesmans from the libretto and play by Joël Pommerat will open the Festival d'Art lyrique d'Aix-en-Provence. Boulianne will end the month of October in the role of Sesto in a concert version of Giulio Cesare in Egitto in Germany and Austria, before flying to Montreal in November to sing the title role in Opéra de Montréal's next production of La Cenerentola. The early winter will see her reprise the part of Charlotte in Werther for the Frankfurt opera and play Berta in Il Barbiere di Siviglia at Opéra national de Paris. www.julieboulianne.ca
Having become a parent this summer, in March 2018 Hélène Guilmette will debut at Teatro Comunale in Bologna in the familiar role of Blanche in Dialogue des Carmélites. In April the Quebec soprano will debut as Leïla in Bizet's The Pearl Fishers at Opéra de Limoges. In May she'll be temporarily in Quebec for the concert Hélène Guilmette Sings Poulenc with the Orchestre symphonique de Québec. A big fan of the French composer, Guilmette will sing his opera La voix humaine. www.heleneguilmette.com
Philippe Sly will join Michèle Losier at Palais Garnier in September and October, playing Guglielmo in Così fan tutte. After a short sojourn in Tokyo for Messiaen's Saint François d'Assise with the Yomiuri Nippon Symphony Orchestra, the bass-baritone from Ottawa will appear in Handel's oratorio Jephtha with contralto Marie-Nicole Lemieux. In this January performance he'll play Zebul in a coproduction between l'orchestre des Arts Florissants and De Nationale Opera of Amsterdam conducted by William Christie and Claus Guth. February will see him in Minnesota with Hélène Guilmette and conductor Bernard Labadie in Fauré's Requiem. www.philippesly.com
Québécois tenor Frédéric Antoun will have an extremely varied season. He'll spend the fall at the Metropolitan Opera in the role of Raúl in the new production of The Exterminating Angel by composer Thomas Adès, having performed in the world premiere of the work at the Salzburg Festival in summer 2016. In January he will appear for the first time at the Opernhaus Zürich, playing Gonzalve in Ravel's L'Heure espagnole. The following month he plays Orfeo in Gluck's Orfeo ed Euridice at the Théâtre du Capitole in Toulouse. March will find him as Ferrando in Così fan tutte at the Bayerische Staatsoper in Munich, and in July he'll once again play Fenton in Falstaff at London's Royal Opera House. www.askonasholt.co.uk/artists/frederic-antoun
Renowned bass-baritone Gerald Finley will spend his season mainly in London, Berlin, New York and Baden-Baden. He'll be Athanaël in Thaïs at the Metropolitan Opera in November, before making his debut as baron Scarpia in Tosca at the Royal Opera in January. Finally, in March the Montreal native will play Amfortas in Wagner's masterpiece Parsifal at the Festspielhaus in Baden-Baden, under the baton of maestro Simon Rattle. www.geraldfinley.com
Tenor David Pomeroy of St. John's, Newfoundland says he's very much looking forward to making his debut in Tannhäuser in September, in the new production by the Cologne Opera House. In November he'll return to his native country in the role of Pinkerton in Manitoba Opera's Madama Butterfly. Later, in May, the former COC member will inhabit the role of Radamès for Seattle Opera's Aïda. www.davidpomeroy.com
Marie-Nicole Lemieux, habituée of the world's great opera houses, will divide her time mainly between Rossini concerts and full-scale operas. She'll be in Quebec again in September for Mahler's 8th Symphony, marking the start of the MSO season, and will give a recital with Les Violons du Roy for the concert Lemieux et Spinosi. In October the contralto from Dolbeau-Mistassini will be in Brussels playing the title role in a concert version of Rossini's Tancredi. After concerts in Strasburg, Antwerp, Geneva and Madrid, she'll play Suzuki in a concert version of Madama Butterfly at the Théâtre des Champs-Élysées. Next, she'll start a European tour with the Orchestre Métropolitain, singing Les Nuits d'Été by Berlioz until early December. In January she'll join Philippe Sly and Les Arts Florissants for Handel's oratorio Jephtha, playing Storgè. Late April and early May will find her as Ulrica in Verdi's Un ballo in maschera for the Hessisches Staatstheater Wiesbaden. www.marienicolelemieux.com
This page is also available in / Cette page est également disponible en:

Francais (French)