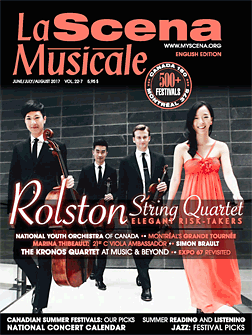 This page is also available in / Cette page est également disponible en:

Francais (French)
Competitions
The CMIM (Concours musical international de Montréal), one of the most prestigious of its kind in the world, is held every year featuring piano, violin, and voice on a rotating basis. Piano took center stage in the 2017 edition. Hungarian ­pianist Zoltán Fejévári took the $30,000 first prize and the $50,000 Joseph Rouleau Career Development Grant. Giuseppe Guarrera of Italy took the second prize, and Stefano Andreatta, also of Italy, finished third. Except for the Best Canadian Artist Award, given to Teo Gheorghiu, all the other special prizes, including the ­People's Choice Award, were awarded to Guarrera. CMIM grants were also awarded to the three unranked finalists: Albert Cano Smit of the Netherlands and Spain, Yejin Noh of South Korea, and Jinhyung Park, also of South Korea.
The Fischoff Competition, held in South Bend, Indiana, is the largest chamber music competition of its kind in the world. This year, the Milton Quartet won the Grand Prize of $13,500 and a winner's tour of the Midwestern United States, as well as the $3,500 Senior String Division Gold Medal prize. The quartet studies under the tutelage of André J. Roy at McGill University's Schulich School of Music. Silver Medal in the Senior String Division went to the Notos Quartet, and Bronze Medal was awarded to the Ivani Quartet. The Fuego Quartet won Gold Medal in the Senior Wind Division, while Quartet Belleza won Gold Medal in the Junior Division.
The Eckhardt-Gramatté Competition for the performance of Canadian and contemporary music is a memorial to composer, pianist, and violinist Sophie-Carmen Eckhardt-Gramatté, who spent the last twenty-one years of her life in Manitoba. The competition is held annually in Brandon and is open to young Canadian pianists, vocalists, and string players on a rotating basis. The 2017 edition featured voice. 1st prize went to soprano Alexandra Smither and her accompanist, pianist Pierre-André Doucet. 2nd prize was awarded to soprano Maeve Palmer and pianist Joy Lee. 3rd prize was awarded to soprano Lisa Mulgrew and pianist Jesse Plessis.
The Shean Competition for Strings and Piano is held annually to young Canadian ­pianists and string players on an alternating basis. The 2017 edition featured strings. 17-year-old violinist Alice Lee, originally from ­Victoria and currently studying and living in Toronto, was awarded the $8,000 top prize and the opportunity to perform with the Edmonton Symphony Orchestra. The other prizes were awarded as follows: second prize went to cellist Grace Sohn, third prize to violist Grace Takeda, fourth prize to violinist Gabrielle ­Deprés, fifth prize to violinist Sean Gao, and sixth prize to violinist Shang Ko Chan.
The National Arts Centre Orchestra's ­Bursary Competition is held annually to ­National Capitol Region winds, brass, and percussion students, and strings and harp students on an alternating basis. The 2017 edition was open to winds, brass, and ­percussion. The $7,000 NAC Orchestra ­Bursary Award, the competition's top prize, went to bassoonist Nicolas Richard.
New Chapters
Renowned French Canadian conductor Bernard Labadie was named the next principal conductor of the Orchestra of St. Luke's. Labadie will begin his four-year term with the New York-based orchestra in the 2018–19 season. As Principal Conductor, Labadie will lead Orchestra of St. Luke's in its annual subscription series presented by Carnegie Hall, and at Caramoor Center for Music and the Arts. Labadie founded the celebrated chamber orchestra Les Violons du Roy in 1984 and built it to international renown. He stepped down in 2014 from his 30-year tenure as Music Director to pursue wider interests. He now joins Orchestra of St. Luke's in its fifth decade, continuing the Orchestra's lineage of principal conductors with strong associations to the world of historically informed performance.
SMCQ Recognized
During a parliamentary session on May 10th at the National Assembly, Luc Fortin, Minister of Culture and Communications, read a declaration paying tribute to the Société de musique contemporaine du Québec (SMCQ). The declaration marked the occasion of the SMCQ's 50th anniversary. The motion was placed on the National Assembly agenda to put forward the many initiatives the SMCQ has accomplished, promoting contemporary music and Quebec and Canadian composers, as well as the impact of its activities in Quebec's musical and cultural development, thanks to its four sectors: SMCQ concerts, Homage Series, the MNM/New Music festival and its Youth Program, which this year celebrates its 20th anniversary.

Obituary
Renowned violinist, conductor, and teacher Raymond Dessaints passed away following a long illness. Originally from Quebec City, Dessaints became in 1952 the first violinist to receive a 1st prize from the Conservatoire de musique de Québec. He was founder and conductor of the Ensemble Amati and the co-founder with his wife Johanne Arel of the Camp Musical des Laurentides at Saint-Adolphe d'Howard. Perhaps best known for his contributions as a teacher, Dessaints taught for many years at the Conservatoire de musique de Montréal, and his students included Angèle Dubeau.
Grants for Artists
Canada Council for the Arts:
Concept to realization grants, to provide support for a project's full creative cycle, including artistic research, creation, project development, production, and presentation – deadline: 20 June (to receive results by September 2017)
Canadian Council for the Arts offers a wide ­variety of grants. For many of these grants, submissions are accepted on a rolling basis. For a full list of grants and their deadlines, visit www.canadacouncil.ca/funding/grants/deadlines-and-faq.
Conseil des arts et des lettres du Québec
Call for projects in partnership with Place des Arts, for the creation of original digital works for presentation at the Espace culturel Georges-Émile-Lapalme – deadline: 26 June
Conseil des arts et des lettres du Québec offers a number of grants. For many of these grants, submissions are accepted on a rolling basis. For the full details, visit www.calq.gouv.qc.ca.
Inspirit Foundation
Media and Arts Impacts Grants, to promote inclusion and pluralism and challenge discrimination and exclusion through media and arts-based strategies – applications accepted on a rolling basis.
The Inspirit Foundation works to promote inclusion and pluralism through media and arts. For more information on their grants, visit www.inspiritfoundation.org/grants-opportunities.
Bozzini Lab Montréal
Cassandra Miller, mentor composer
From August 21 to 29, 2017, the acclaimed Montreal string quartet, Quatuor Bozzini, will give an intensive workshop on composing for strings. Hosted by the Department of Music at Concordia University, the workshop is intended for undergraduate to recently graduated ­students in composition programs. The goals of the workshop are to improve technical skills for contemporary writing for strings, and to ­provide a supportive environment for visionary and experimental compositional ideas. The ­application deadline is June 19 2017. www.quatuorbozzini.ca/en/inscription/activite/labmontreal2017
This page is also available in / Cette page est également disponible en:

Francais (French)