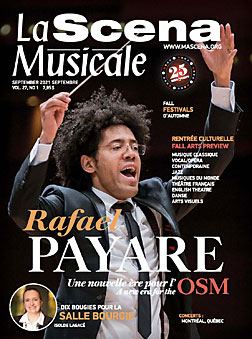 This page is also available in / Cette page est également disponible en:

Francais (French)
On Oct. 10, the Orchestre symphonique du Conservatoire de musique de Montréal (OSCMM) will return to the Maison symphonique after being one of the last orchestras to perform there prior to the first lockdown, on March 7, 2020. For the occasion, the OSCMM will present a program including works by John Estacio, George Gershwin and Nikolai Rimsky-Korsakov.
"I've been in charge of the Conservatoire's orchestra for a few years now and most of the students remain members of the OSCMM for an average of six years," says conductor Jacques Lacombe. "My goal is to offer them the broadest possible experience as members of an orchestra, including key works of the repertoire such as Scheherazade, which they will undoubtedly have the opportunity to play when they join professional orchestras."
This concert will also be an opportunity for Moisan-Perrier, a conducting student of Lacombe's at the Conservatoire, to take the podium and lead the OSCMM in one of the works on the program, Bootlegger's Tarantella by Canadian composer John Estacio.
"It's important to me that my students have as much experience as they can on the podium during their studies," explains Lacombe, who will conduct the remaining works on the program. "They are regularly called upon to conduct the orchestra at the Conservatoire and in the days following the first concert, once we are back in the rehearsal room, they will have the opportunity to take turns conducting the works I will have conducted during this concert."
A second concert will be given on Nov. 14, with a program including Hector Berlioz's Le Corsaire, Camille Saint-Saëns's Violin Concerto No. 3 in B minor Op. 61, as well as Robert Schumann's Cello Concerto in A minor Op. 129 and Symphony No. 3 ("Rhenish").
"For this second concert, in addition to having Léa on the podium for the Berlioz, Renaud Madore, another of my students, will be conducting the orchestra for the Saint-Saëns," adds Lacombe, who will conduct the two works by Schumann. 
During these two concerts, the OSCMM will also accompany three advanced students of the Conservatoire: pianist Chloé Dumoulin in the Gershwin Concerto in F (Oct. 10) and violinist Elsa Barozzi and cellist Marion Portelance (Nov. 14). According to Lacombe, this is a crucial part of these students' training.
"I see these students grow and evolve, even in terms of self-esteem, when we have the chance to perform in an important hall like the Maison Symphonique. It adds magic to their experience."
For more information the Conservatoire de
musique de Montréal's 2021-2022 season, visit www.conservatoire.gouv.qc.ca
This page is also available in / Cette page est également disponible en:

Francais (French)