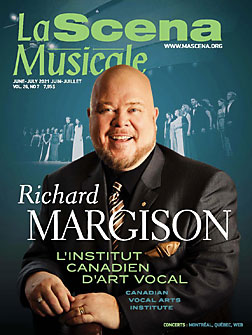 This page is also available in / Cette page est également disponible en:

Francais (French)
Name: Michal Aloni

From: Montreal

Teacher: Ariane Girard

Education: Western University, Jerusalem Academy of Music and Dance

Voice type: Mezzo-soprano
Michal Aloni is an Israeli mezzo-soprano based in Montreal. She has performed Ottavia in L'incoronazione di Poppea, Diana in La Calisto, Cherubino in Le nozze di Figaro, Ramiro in La Finta Giardiniera and the title role in Sarti's Giulio Sabino. Other roles include Dorabella in Così fan tutte, Dorothée in Cendrillon, and Moabite Woman in R. Becket's Ruth. Performing in many choral and solo concerts around the world, Michal has acted as an ambassador with her deep passion for Israeli classical repertoire and Jewish liturgical music. Michal holds a MMus from the Western University and a BMus from the Jerusalem Academy of Music and Dance. She has won awards from WU, JAMD, the Jenny Panitch Beckow Memorial Fund, the Buchholtz and Gruss Foundations and the London Opera Guild, and was a prizewinner at the 2019 LMSF Competition and the Maritsa Brookes Concerto Competition.
Are you from a musical background?
I come from a family of musicians but I only discovered classical singing in my mid-20s. Prior to that, I studied piano (classical and jazz) for a few years and sang in more contemporary styles.
How have you been keeping your voice in shape during the pandemic?
When the pandemic first hit I was just graduating with my master's degree and was in dire need of a break from, well. everything. I didn't sing for a few months and promised myself to go back only when I feel I can't resist it. It took about four months until I found myself singing to myself on a regular basis. I also discovered that I really needed that break, because my voice was in the best shape it had been in for years. Ever since, I've been trying to follow that rule – sing just when I feel like it, don' t force anything, and if it does not give joy, stop and try to understand what is going on. It makes me treat any coaching or lesson or rehearsal as a gift for myself, for my soul, and allows me to let go of being defined by what I do.
What are your career goals and how do you plan to achieve them?
My main career goal is basically being involved in operatic performance and creation in my new home in any way possible, onstage and behind the scenes. I want to make meaningful art that resonates with whoever chooses to encounter it. How am I going to do that? I'm not sure, but I do trust that if you love something so much that you can't imagine your life without it, something must happen eventually. 
What are your hopes for the future?
To be happy, to do something meaningful and challenging that makes me feel inspired. For the world? Health, peace and equality. For the opera world, pretty much the same. I do hope that this post-pandemic reality will bring new and exciting paths for artists in all disciplines, from all walks of life, in a much more inclusive and sustainable way. 
This page is also available in / Cette page est également disponible en:

Francais (French)