This page is also available in / Cette page est également disponible en:

Francais (French)
With the fadeout of two landmark string quartets – Germany's Artemis in disarray and America's Emersons to retirement – France's Quatuor Ebène probably head the current list of the world's best. Four crack musicians who play standing up and are forever pushing out boundaries, their album releases are always an event and often a surprise.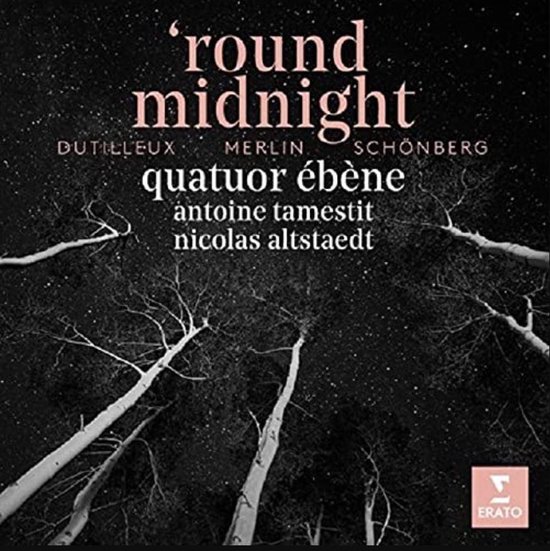 This new recording pairs two nocturnal masterpieces – Henri Dutilleux's Ainsi la Nuit and Arnold Schoenberg's Verklärte Nacht. Dutilleux goes down the Bartok path of things that go squeak in the night. Schoenberg listens in to illicit lovers in the woods. Both works arouse fear and trepidation. Both eventually allay fear with a rush of sheer beauty. I don't think I've ever heard a lovelier account than this of Ainsi la nuit, and that's saying some. Dutilleux, not a show-pony composer, demands the listener's time and concentration, rewarding the investment with a range of seemingly impossible sounds.
In the Schoenberg, joined by violist Antoine Tamestit and cellist Nicolas Altstaedt, the Ebènes contrive a Wagnerian sonority in which love and death are inextricable and the outcome matters less than the means of getting there.
So how does one link two pieces of such strong and different character? Cellist Raphael Merlin provides a solution with original quartet arrangements of four after-dark American classics – Moon River, Night and Day, Stella by Starlight and Round Midnight. It's razzle-dazzle entertainment. Keep it by your bedside.
NL

Subscribe NOW to https://slippedisc.com/
This page is also available in / Cette page est également disponible en:

Francais (French)