This page is also available in / Cette page est également disponible en:

Francais (French)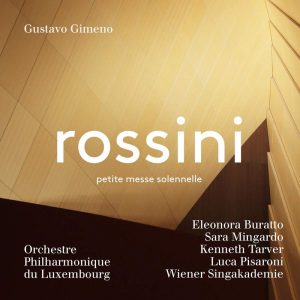 As proof that the Devil has the best tunes, it is an established fact that atheists write the best religious music. Verdi, Elgar, Saint-Saens, Janacek, Ravel, Vaughan Williams, Britten… the list of unbelievers who wrote great sacred works extends to the limits of the known universe. And while we know little of Rossini's state of faith, it is safe to assume that a man of his dedicated hedonism was not one of the godlier composers.
His 'little mass', written in 1863 when the composer was in poor health and mourning a friend's death, has all the Rossini hallmarks of hummable tunes, high arias and a low tolerance for solemnity. It is about as much fun as church music can be, so much so that it seems almost sacrilegious to play it at Easter – especially the Domine Deus, which will make you want to dance.
Gustavo Gimeno keeps a tight grip on this Luxembourg performance with the local orchestra, the « Singakademie » and three Italians out of four soloists. Gimeno, the incoming Toronto chief, takes the mass at a steady trot. Sara Mingardo and Luca Pisaroni are the standout soloists and the Viennese are well within their comfort zone. The okay orchestra is not helped by a recessed sound image.
In all, though, this is an agreeable performance of a work that is infrequently and unevenly recorded. Searching my shelves I find a Chailly album that looks well played. This falls not far short.
This page is also available in / Cette page est également disponible en:

Francais (French)