This page is also available in / Cette page est également disponible en:

Francais (French)
There was never any question what was going to be my album of the week once the envelope disgorged this little twin-set from DG.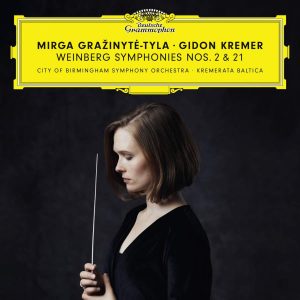 I started writing about Weinberg in the early 1990s when he was unknown outside Russia and forgotten within. Some emigres played me his string music and I found the communication so direct and personal that I could not understand his neglect. A Polish Jew, Weinberg fled to the Soviet Union in 1939, was befriended by Shostakovich and narrowly survived incarceration in the Stalin murder machine. Although there are common gestural elements with his friend and mentor, Weinberg is an original musician, haunted by ghosts of his own.
The second symphony, for string orchestra, dates from 1946, soon after Weinberg learned that all his family in Poland had been wiped out by the Germans. It is more elegiac than mournful, reminiscent of Richard Strauss's Metamorphosen and, in its Adagio, of the string valedictions in Mahler's ninth symphony. Only in the finale do we hear something of Shostakovich's shrug-and-survive attitude, along with undercurrents of fierce moral resistance. The Kremerata Baltica play as if each note is a human life: you don't often hear that.
The 21st symphony, titled Kaddish, was written in 1991 near the end of Weinberg's life. As you'd expect from the title, it is an act of Jewish mourning for the dead, replete with funeral quotations from Chopin, Mahler and Biblical tropes (he clearly knew how to 'leyn' better than Bernstein in his first symphony).
Just under an hour long, it starts in the same dark place as the 2nd symphony before drawing all corners of the orchestra into a colorific kaleidoscope of mortal experience. Gidon Kremer plays one of the most affecting solo passages I've ever heard and the conductor, Mirga Gražinytė-Tyla, sings a soprano solo with surreal and heartfelt grace.
Taken from a public concert by the City of Birmingham Symphony Orchestra, this recording has a sense of occasion and discovery, a promise that Weinberg in his centenary year is finally breaking through to a world audience and that newbies like Mirga, aged 32, will be shouting his merits from high places for the rest of our lives. This is Mirga's debut on the German label, as well as Weinberg's. If you can't wait for the next shot of Weinberg, go to Kremer's catalogue on another German label, ECM. The music here is truly five-star and the playing is fire itself.
This page is also available in / Cette page est également disponible en:

Francais (French)