This page is also available in / Cette page est également disponible en:

Francais (French)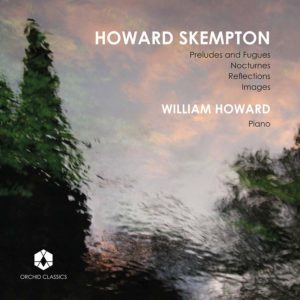 First there was J S Bach. Then came Dmitri Shostakovich. The form is open for others to play with. I was unaware of Skempton's contribution until this CD landed. A northern Englishman in his early 70s, Skempton is a minimalist in the absolute literal sense that he uses the fewest number of notes to make his point. Not a minim more or less.
In prelude-and-fugue form this yields a string of aphorisms connected by a tonal centre and a gentle, rocking, bucolic mood. Some of the pieces last no longer than 40 seconds.
The effect can be hypnotic if you want it to be, but pay closer attention and you'll find a musical mind working with the simplest of materials to achieve a particular atmosphere. The pauses between each of the 24 pieces are as telling as the sound. William Howard plays with breathless poise.
At a time when radio stations are playing familiar stuff from a crisis playlist, I try to reach out for something off the beaten track, something to take me to a different angle of contemplation. Skempton took me there, and I'm glad of it. In these weeks of isolation, we need our ears to get us out of the house.
NL

Visit the website: www.slippedisc.com
This page is also available in / Cette page est également disponible en:

Francais (French)