This page is also available in / Cette page est également disponible en:

Francais (French)
User Ratings (

3

Votes)

3.5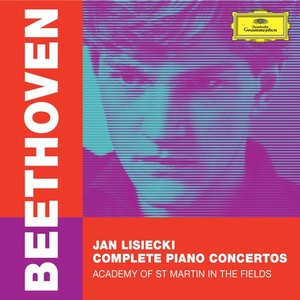 Sometimes the best records get made with no foresight whatsoever. As part of his label switch from Sony Classical it had been planned that Murray Perahia would record the five concertos for the Beethoven year, live in Berlin where he had concerts scheduled with the visiting Academy of St Martin in the Fields. Then Perahia suffered a recurrent hand injury and had to be replaced by the Canadian Jan Lisiecki. The DG team were already booked for the recording so they went ahead, And, what do you know, the results were better than expected.
Much better.
Lisiecki, 24, has been coasting a bit since he burst onto the scene at the turn of the decade with a technique and sensitivity rarely seen in one so young and an endearing refusal to compete in the Warsaw and Moscow gladiatorial arenas for new pianists. Maybe he was just biding his time. If so, this is it.
His performances of the first two concertos are rewarding for their complete absence of agenda. Lisiecki makes no attempt to argue that this is Beethoven at around his own age bursting out of Haydn and Mozart style to stamp his fists on Vienna. Rather, his reading lets lyricism loose and nails the ear to the singing line.
Where the set shoots up into the ranks of greatness is in the C minor concerto, offering a daringly restrained approach that unfurls the music layer by layer, involving the listener in the quest. Lisiecki, as pianist and conductor, is a guide one would trust anywhere in the herbaceous maze of Beethoven's barely penetrable mind.
The G-major concerto is no less impressive, its hushed opening perfectly judged and nothing within the score overdone. I am not sure the fifth concerto automatically joins my all-time favourites, if only because the Academy's playing lacks the studied ease of superior orchestras in Vienna and Berlin. That said, I suspect it might grow on me. Either way, this is a magnificent achievement by a young Canadian artist whose lack of haste is vastly refreshing in these me-me-me times. I'd go a long way to hear Lisiecki again, and I say that knowing there are at least three more sets of the piano concertos in the mail to me today.
Sign on to the blogfeed: www.slippedisc.com

Visit the website: www.normanlebrecht.com
This page is also available in / Cette page est également disponible en:

Francais (French)