This page is also available in / Cette page est également disponible en:

Francais (French)
NEM: Young Composers
The NEM will present its international young composers forum from November 2 to 25 in collaboration with the Université de Montréal music faculty. The forum involves a variety of activities, including public rehearsals, workshops, conferences, and cultural mediation with youth. Young people will have the opportunity to meet the eight participating composers. Under the direction of Lorraine Vaillancourt, the NEM will perform four works by young composers (Salle Claude-Champagne, November 24 and 25, 7:30PM). A round-table discussion will take place before the second concert with members of the international jury. (in French only) www.lenem.ca
I Musici and Mozart: L'Apothéose
Symphonies no. 39, 40, and 41 are undoubtedly a high point of the classical repertoire. The three symphonies seem to have been conceived as a whole – a vast triptych Mozart used to lead the symphonic genre to new heights. The composer's last three symphonies will prove to be a memorable musical experience (Bourgie Hall, November 24, 8:00PM). www.imusici.com
Gala La Rèleve/Rising Stars
La Scena Musicale celebrates its 20th anniversary with the first edition of Gala LA RELÈVE/RISING STARS, a benefit concert featuring some of Canada's future star musicians, many of whom have won recent national competitions. Soprano Chelsea Rus, baritone Hugo Laporte, clarinetist David Dias da Silva, violinist Joshua Peters, pianist Emily Oulousian and Piano Caméléons will perform; pianist Michael McMahon will accompany the singers. (Salle Pierre-Mercure, November 24, 7:30 PM). myscena.org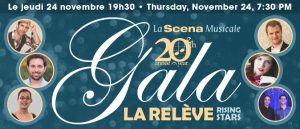 10th Montreal Bach Festival
Café Zimmerman is one of the top-ranked baroque ensembles in Europe and will present an evening of music featuring two cantatas and an afternoon musical garden party (November 26 and 27).
The Bach Festival has put together an exceptional project: five organs for five organists – Paul Jacobs, Olivier Latry, Jean-Willy Kunz, Isabelle Demers, and Christian Lane. Works range from Bach's Concerto for Four Organs to Ravel's acclaimed Boléro (November 22).
Many ensembles will present original programs, including a performance by Ensemble Caprice of the Italian Concerto for recorder and strings arranged by Matthias Maute (November 23), a concert featuring Iranian American harpsichordist Mahan Esfahani and Les Violons du Roy under the direction of Mathieu Lussier (November 25), and a performance of the Brandenburg Concertos by the McGill Chamber Orchestra (November 29).
www.festivalbachmontreal.com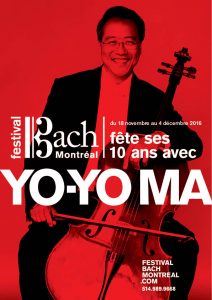 Choral Selections from Montreal Bach Festival
Daniel Taylor conducts the Trinity Choir in a program that spans many eras with works by Barber, Britten, Tavener, Tallis, Purcell, Gombert, and Gibbons (Paroisse St. Léon de Westmount, November 25, 7:30PM).
Théâtre d'art lyrique's Lakmé
Travel to the North Shore for the opening of Théâtre d'art lyrique de Laval's 36th season, Lakmé. The classic story of star-crossed lovers features favourite scenes such as the Flower Duet and the Bell Song. Directed by Émile Beaudry with musical direction by Sylvain Cooke (Théâtre Marcellin-Champagnat, November 25, 8PM & Nov. 27, 2PM). www.theatreall.com
Complete Bach Cantatas
Continue the Complete Bach Cantatas Series with Les Boréades and Chœur St-Laurent conducted by Philippe Bourque. Hear Nun komm der Heiden Heiland (I), BWV 61, Was Gott tut, das ist wohlgetan (I), BWV 99, Ärgre dich, o Seele, nicht, BWV 186, and have the opportunity to sing the choral to Mit Fried' und Freud' ich fahr dahin, BWV 125. With soloists Hélène Brunet (soprano), Maude Brunet (alto), Philippe Gagné (tenor), and François-Nicolas Guertin (baritone) (Salle Bourgie, November 27, 2PM). www.choeur.qc.ca
Romantic Russia and the OM
Orchestre Métropolitain conductor Yannick Nézet-Séguin illustrates the Russian soul through Borodin, Stravinsky, and Rachmaninoff. The three extraordinary soloists are soprano Nicola Beller Carbone, tenor Dimitri Pittas, and baritone Hugh Russell. The Polovetsian Dances by Borodin and Petrushka by Stravinsky are infused with exoticism, lyricism, and energy. Rachmaninoff's Bells is a symphonic poem after Edgar Allan Poe, representing an expression of human destiny. The third movement appears to presage the First World War, which broke out a year after its composition (Maison symphonique, November 27, 3:00PM). www.orchestremetropolitain.com
This page is also available in / Cette page est également disponible en:

Francais (French)