SALLE BOURGIE IN MONTREAL ~ NOVEMBER 6
PALAIS MONTCALM IN QUEBEC ~ NOVEMBER 8
"Opens the Door to a Spellbinding World." – ICI Musique
ALEX KEHLER | AMANDA KEESMAAT | SEÁN DAGHER | EMMA BJÖRLING
October 3, 2019 … With an intoxicating mix of whirling polskas, groovy reels, passionate love songs and breathtaking hymns, Canada's Skye Consort and Swedish singer Emma Björling have enchanted audiences here and abroad with their unique mix of Celtic music as well as traditional music from Quebec, Sweden and Norway. CBC Music  called their recent album on the Leaf Music label "breathtaking" with arrangements that are "masterful and varied," and Sweden's Lira Music Magazine praised the new album as "heart-melting … it would be hard to find something better than this." With voices, fiddle, nyckelharpa, cello, and cittern, these extraordinary musicians reunite for a tour this fall including several dates in Quebec: Wednesday, November 6 at Salle Bourgie in Montreal; Thursday, November 7 at Azimut in Sorel-Tracy; Friday, November 8 at Palais Montcalm in Quebec; and Saturday, November 9 at Église Saint-François-Xavier in Prévost.
The Canadian ensemble Skye Consort, which performs a mix of classical and world music, first joined forces with award-winning Swedish singer Emma Björling in 2017. When a cancelled flight, due to a huge storm in Iceland, left Emma stranded in Montreal, the musicians had extra time for an exchange of ideas and musical friendship – and this project was born.
This music "opens the door for us to a spellbinding world," said ICI Musique, "The balance between familiarity and exoticism is ravishing." This sphere encompasses the traditional medieval Swedish ballad "Herr Hildebrand"; the toe-tapping Acadian folksong, "La Femme du Soldat"; the joyful English song, "The Banks of Sweet Primroses"; the traditional Irish blessing "May the Road"; an evocative trio of Nordic love songs, and more. Among the original works are Alex Kehler's rousing "Late Night Party,"  Sean Dagher's "The Skunk/Thick as Theives" and Björling's lilting "En ängel."
This album is now available at leaf-music.ca and all major digital music services.
Click here to listen.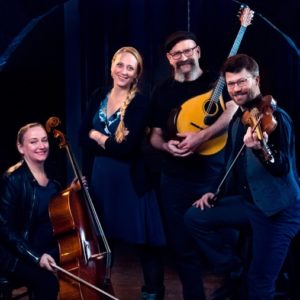 Formed in 1999, Skye Consort has performed at music festivals across eastern Canada and the United States. From the start, the group's goal has been to bring an art-music aesthetic to music from many different world traditions. Members Seán Dagher (cittern/bouzouki, banjo & vocals), Alex Kehler (fiddle, nyckelharpa & vocals) and Amanda Keesmaat (cello & vocals) highlight the ensemble's unique blend of instruments with their own contemporary arrangements of seldom-heard vocal and instrumental pieces. Skye Consort has recorded six full-length albums with singers such as Miranda Mulholland, Matthew White, Shannon Mercer, and Michael Slattery on the ATMA, ANALEKTA, and OMBÚ record labels.
Emma Björling (lead voice, shruti box, perc.) is an award-winning Swedish singer, composer, arranger, active in the renowned Scandinavian bands Kongero and Lyy. Both bands have toured the world, and are busy in the European Folk/Trad scene. Emma teaches and conducts workshops all over the world.
TICKETS & INFORMATION:
Wednesday, November 6, 7:30 pm                                        Friday, November 8, 8:00 pm
Salle Bourgie                                                                           Palais Montcalm
1339 Sherbrooke Street W, Montreal                                     995 Place d'Youville, Québec
$ 15 – 28                                                                                    $ 33
mbam.qc.ca or 514-285-2000                                                  palaismontcalm.ca or 418-641-6040
Watch the album trailer | Download high-res artist photos here.
This project is funded in part by FACTOR, the government of Canada and Canada's private radio broadcasters.
Ce projet est financé en partie par FACTOR, le gouvernement du Canada et les radiodiffuseurs privés du Canada.
We acknowledge the support of the Canada Council for the Arts.
Nous remercions le Conseil des Arts du Canada de son soutien.