Was September 2021
Now September 2022
"Regretfully, City Opera Vancouver must postpone its world premiere of CHINATOWN to September 2022," City Opera president Ethel Whitty announced today.
CHINATOWN is a new chamber opera by librettist Madeleine Thien and composer Alice Ping Yee Ho, Hoisan translations by Paul Yee, scenic design by Camellia Koo, and lighting design by John Webber. It has been in development and workshop since February 2017.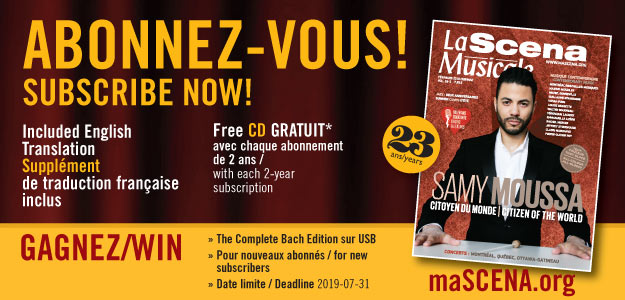 "The cause is COVID. In order to mount this show, install sets and props and costumes, rehearse in ensemble for a month, sell tickets, build the lobby museum displays, prepare the orchestra, manage the FINDING CHINATOWN July and August workshops in Maple Ridge, Richmond, and Vancouver, and organize the Opening Night community dinner and Memorial March, we need a clear 120 days.
"Our audience – especially elders – must be and feel entirely safe in a large theatre. City Opera respects the Public Health Orders in effect. They are likely to require masking, hand-sanitizing, and social distancing until the end of this year.
"The solution is postponement. A year ago, we expected this measure might be required. We double-booked the Vancouver Playhouse, and all of our artists. We are grateful to Vancouver Civic Theatres for consenting to this unusual solution, and to all of our donors for supporting it."
CHINATOWN will run 13-17 September 2022 at the 668-seat Vancouver Playhouse.
CHINATOWN is generously supported by The Vancouver Foundation, Canada Council, BC Arts Council, City of Vancouver, Vancity Credit Union, Wuchien Michael Than Foundation, Doretta Lee Memorial Fund, The Illahie Fund, Heller Memorial Fund, Quan Family Fund, R&J Stern Family Foundation, McLean Foundation, Leon Judah Blackmore Foundation, Edith Lando Charitable Foundation, Hamber Foundation, Griffin Foundation, Museum of Vancouver, and our many individual donors.
———————
City Opera Vancouver, established in 2006, is a professional chamber opera company that specializes in new and unusual work, featuring Canadian themes and artists. CHINATOWN is City Opera's fifth commission, and world premiere, in nine years.
———————-
HISTORY:  CITY OPERA COMMISSIONS
FALLUJAH (2012)
An anti-war piece dealing with a subtext of PTSD, this work was written by Canadian composer Tobin Stokes and Iraqi-American librettist Heather Raffo, and supported by The Annenberg Foundation / explore.org of Los Angeles. After Vancouver at the UBC Frederic Wood Theatre, it has since been produced at New York City Opera, and at Long Beach Opera in Los Angeles, where it won a Los Angeles Emmy Award.
PAULINE (2014)
City Opera gave the world premiere of Margaret Atwood's first opera, with music by Tobin Stokes, set in Vancouver in 1913 and telling the story of writer and performance artist Pauline Johnson. After selling out all five nights at The York Theatre, PAULINE was later presented in Québec.
THE LOST OPERAS OF MOZART (2016)
Our first comedy, with a new text from Maria Reva, was a re-construction of three operas Mozart began, but never finished. It presented conductor Bramwell Tovey in the speaking role of The Impresario, and was given at Christ Church Cathedral.
MISSING (2017)
An examination of the Canadian tragedy of missing and murdered aboriginal women, this opera was created by writer Marie Clements and composer Brian Current. It ran fourteen nights in Vancouver and at Pacific Opera Victoria, and has since toured to Prince George and Regina. Post-COVID, it will resume tour to Winnipeg and Toronto. MISSING has now had 22 performances in Canada.