Toronto – The Canadian Opera Company is bringing opera to new places and spaces with Opera for Toronto. The free programming initiative aims to introduce new audiences to the art form, with a special focus on opening up the COC's operations and rehearsal space, the Joey and Toby Tanenbaum Opera Centre at 227 Front Street E., to neighbouring communities.
"Opera for Toronto creates a cultural access point," says COC General Director Alexander Neef. "For our neighbours, the programming is a chance to sample opera in a casual, intimate setting while also having a chance to explore our home base and meet the passionate people on our team."
Neef continues, "For us, as a company, Opera for Toronto represents an incredible opportunity to share our love of music in a format specifically created with new audiences in mind. Opera for Toronto is also an open dialogue about breaking down barriers in opera; we're looking forward to hearing and learning from our communities so that we can continue to create programs that connect with our city."
The first Opera for Toronto event took place on February 19, 2019. The COC hosted local residents, businesses, and community organizations from the city's Corktown and St. Lawrence neighbourhoods to attend Così fan tutte: A Mozart Sampler at the Imperial Oil Opera Theatre in the Joey and Toby Tanenbaum Opera Centre. Attendees enjoyed a complimentary reception, followed by highlights from the opera, performed by soprano Tracy Dahl, COC Ensemble Studio soprano Lauren Margison, mezzo-soprano Emily D'Angelo, tenor Ben Bliss, baritone Russell Braun, and baritone Johannes Kammler. The cast was accompanied by the COC Orchestra led by conductor Bernard Labadie, with lighthearted narration provided throughout by the evening's host Ensemble Studio pianist and intern coach Stéphane Mayer. Afterward, guests were invited to mix and mingle with the artists and musicians; audience members had this to share about the experience: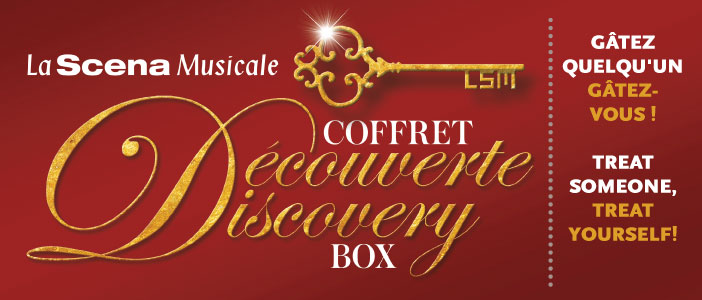 "Wonderful! I love that you're making this accessible to Torontonians."
– David S.
"Loved the intimate setting and length which was perfect for an outing and to introduce people to the opera."
– Said W.
"Fantastic! Wonderful outreach to the community and use of this space. Loved the host and explanations/walk through.
– Kate P.
Two more Opera for Toronto events will take place later this spring:
On May 8, 2019, the COC presents a special, fully staged performance of Puccini's La Bohème at the Four Seasons Centre for the Performing Arts, featuring young artists of the COC Ensemble Studio in the principal roles. The audience will comprise invited guests from a number of civic partnerships, community-based groups, and educational organizations.
On May 17, 2019, the COC will once again open up its unique space at

227 Front St. E

. to invited guests for another intimate evening of opera, featuring renowned cast members from the COC's mainstage production of La Bohème, accompanied by the COC Orchestra.  
Opera for Toronto is part of the Canadian Opera Company's commitment to re-animating its space on Front Street East as a culture hub that responds to and serves the company's surrounding neighbourhoods. The project is underway to restructure the COC to better support new avenues of artistic expression and build meaningful relationships with individuals and local organizations.
ABOUT THE COC ENSEMBLE STUDIO
The COC Ensemble Studio is Canada's premier training program for young opera professionals. Since the inception of the program in 1980, over 230 young professional Canadian singers, opera coaches, stage directors and conductors have acquired their first major professional operatic experience through the Ensemble Studio. Former members include Ben Heppner, Isabel Bayrakdarian, John Fanning, Wendy Nielsen, Joseph Kaiser, Allyson McHardy, David Pomeroy, Lauren Segal and Krisztina Szabó.
Members of the Ensemble Studio are the COC's resident artists and important ambassadors for the company.They receive a blend of advanced study and practical experience through an individually tailored, multi-year program, involving understudying and performing mainstage roles, intensive vocal coaching, language and acting studies, and career skills development, as well as participation in masterclasses with internationally renowned opera professionals. 
ABOUT THE CANADIAN OPERA COMPANY
Based in Toronto, the Canadian Opera Company is the largest producer of opera in Canada and one of the largest in North America. The COC enjoys a loyal audience support-base and one of the highest attendance and subscription rates in North America. Under its leadership team of General Director Alexander Neef and Music Director Johannes Debus, the COC is increasingly capturing the opera world's attention. The COC maintains its international reputation for artistic excellence and creative innovation by creating new productions within its diverse repertoire, collaborating with leading opera companies and festivals, and attracting the world's foremost Canadian and international artists. The COC performs in its own opera house, the Four Seasons Centre for the Performing Arts, hailed internationally as one of the finest in the world. Designed by Diamond Schmitt Architects, the Four Seasons Centre opened in 2006. For more information on the COC, visit coc.ca.