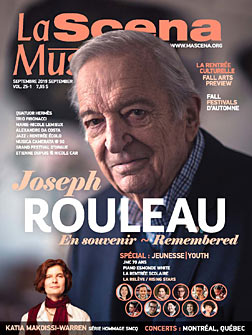 September
Perfectly tailored for La Scena readers, featuring Debussy, Bach, Grieg, Beethoven and Chopin performed live on a Steinway concert piano, The Pianist of Willesden Lane is based on the true story of young Jewish musical prodigy Lisa Jura, who escaped Nazi-ruled Vienna. Her daughter, Grammy-nominated piano virtuoso Mona Golabek, performs and shares her story (Sept. 8-29 www.segalcentre.org). In Vittorio Rossi's play The Chain, the modest contractor Tullio Testa is anxious to impress his brother from Italy and turns his business over to his sons, but one of them makes a fatal deal (Sept. 10-Oct. 6 www.thechainplay.com). Rockers, beware! Berlin's prince and princess of art rock, counterculture and Europop, the Die Roten Punkte bring Otto & Astrid's Canadian One Night Stand. The catchy so-called siblings perform with questionable German accents (Sept. 13-15 www.mainlinetheatre.ca). The daring Wolf Lab invites you to The Parlour Project: Spider, Fly, and Web, a provocative autoethnographic piece by performer artist Amber Dawn Bellemare about her former life as a sex worker. This theatrical happening gives audiences the opportunity to participate in her story (Sept. 19-28 www.theparlourproject.com). How about a little laughter? The MTL Clown Fest is back to showcase artists both local and abroad, linking communities of clowns throughout the world (Sept. 18-22 www.mtlclownfest.com). Also, the Argentinian production Un Poyo Rojo returns to Montreal. Unpredictable male duo Alfonso Baron and Luciano Rosso give an hysterical twist to male rivalry, portraying male ways with cartoonish mimicry (Sept. 24-29 www.centaurtheatre.com).
October
Paralyzed, unable to move ahead or back, a woman stands on a dangerous mountain pass. Alice and the World We Live In echoes the fear we collectively have of what lies ahead in our uncertain times. This love story, written by one of Montreal's finest playwrights, Alexandria Haber, and directed by the Centaur's famous artistic director, Eda Holmes, can't be missed (Oct. 15-Nov. 3 www.centaurtheatre.com). Just in time for Halloween, Richard O'Brien's The Rocky Horror Show, a live Montreal Musical is back. The sexy glam-rock experience is directed by Amy Blackmore (Oct. 17- Nov. 2 www.mainlinetheatre.ca). Written by Jessica Swale and directed by Gabrielle Soskin, promising Blue Stockings takes place in 1896 in the British first college to admit women and follows four of them, determined to graduate (Oct. 17-27 www.persephoneproductions.org). In Black and Blue Matters, a police officer is found innocent of shooting and killing a young black musician. This satirical hip-hop play analyses prejudice in legal systems and asks the audience to serve as the jury (Oct. 21 www.blacktheatreworkshop.ca). Announced as a sensational new pop/rock musical for ancient and modern times, Mythic tells a typically complicated relationship between a mother and her teenage daughter, except the latter is a Greek goddess. This is a North American premiere (Oct. 27-Nov. 19 www.segalcentre.org).
November
Rendez-Vous Lakay by Djennie Laguerre tells the story of two Haitian-Canadian sisters who travel to Haiti for the first time to the funeral of their father, a man they never knew. Their expectations are significantly challenged but the trip becomes a journey of love, laughter as well as an exploration of the dance and storytelling traditions of Haiti. Presented by Black Theatre Workshop and Conseil des Arts Conseil des arts de Montréal en tournée (CAM) at various locations (Nov. 4 -17 www.blacktheatreworkshop.ca). The always interesting Imago theatre and Geordie theatre, in association with the Screaming Goats Collective, propose Persephone Bound, a young woman's journey through three realms: a college party where she is sexually assaulted, a Kafkaesque dimension where she follows her battle for justice and an inside space where she struggles with the trauma that affected her forever. Did you know that Imago Theatre operates on a Pay-What-You-Decide philosophy, because theatre should be accessible to all? (Nov. 15 -17 and 21-24 www.imagotheatre.com). Heads up! Canada's outrageous and brilliant puppet master, the one and only Ronnie Burkett and The Daisy Theatre gang swing in the festive sprit with Little Dickens, their offensive take on Charles Dickens' A Christmas Carol. For adults only! (Nov. 19-Dec. 15 www.centaurtheatre.com).
December
Black Theatre Workshop and Playwrights' Workshop Montreal team up for the first time to present two one-act plays that put the spotlight on recent work by the Artist Mentorship Program alumni. Born and raised in Ottawa, the interdisciplinary artist and playwright Willow Cioppa focuses on sexuality, femininity and Blackness. In her Dark Red is the Letter, a young Calliope, on the cusp of a total meltdown, is yet ready to unstitch her stories of heartaches and addresses her abusers to heal her wounds. Kalale Dalton-Lutale is a writer and performer from Toronto who has already earned a name for herself. Her Pinky Swear (Geordie Productions) was nominated for two Montreal English Theatre awards as well as for a Tom Hendry award in the inaugural Theatre for Young Audiences category. Relying on her personal archive, she unveils the framework of love that has shaped her into the person she is today. Cry Baby is like a tangled mobile of memories, hanging above your head. Old rhymes of song reminding you of your parents, the invading smell of chlorine and your mother's handwriting (Dec. 10-15 www.m-a-i.qc.ca).