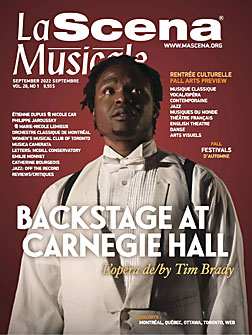 This page is also available in / Cette page est également disponible en:

Francais (French)
Catherine Bourgeois and neurodivergent artist Michael Nimbley co-direct the quirky contemporary western Les Waitress sont tristes.
Catherine Bourgeois and neurodivergent artist Michael Nimbley co-direct the quirky contemporary western Les Waitress sont tristes. Over its 19 years of existence, Joe Jack and John (JJJ), an inclusive performance theatre company, has refined its collective writing process by collaborating with authors throughout the creative process. But its artistic and general director Catherine Bourgeois seems even prouder to have made progress in the accompaniment of her artists: "We go further as much in ­understanding what it means to accompany a neurodivergent artist as in what we are able to deploy as a complement for our artists."
CREATION FOR ALL
For years, artists with disabilities have been directed in creations, without being able to give any input. But for some time now, they have been demanding the right to reverse roles. "That's what JJJ wants to build on; for things to change," Bourgeois says. "Artists with disabilities must be given access to ­decision-making positions." An example of that trend is neurodivergent artist Edon ­Descollines, who joined the JJJ board of ­directors—a win-win situation for all members of the company.
Nimbley was the first neurodivergent artist in residence at JJJ. Under the guidance of Bourgeois, he appeared in four shows (Mimi, Just fake it, AVALe, Abîmés). Therefore, as soon as the company was consolidated, the project of his own creation emerged. "Whatever the fight is, leadership has to pass to the next in line, and we were able to hand the creative relay baton to Michael, because there was already a lot of work done on both sides," says Bourgeois.
Presenting Les Waitress sont tristes is the culmination of a process that has spanned more than five years. "We worked through ­improvisations from a text written by Michael, which he co-directed with me," the artistic director adds. This is a milestone for the company, but also for this atypical actor. "Michael has earned this journey; he's approaching 70 and what he's done by dint of self-determination is a major accomplishment for a late career."
A LONE COWBOY
Nimbley's acting career is going well, thanks in no small part to the hours of rehearsal with Bourgeois; he has worked hard on his diction, his skill and his posture. Without being a stage beast, he has an undeniable charisma. "He has become more radiant by practising his ­profession, like any actor," says Bourgeois. A posture and voice specialist was hired to help him develop this late character. "He embodies a free-spirited, lone cowboy; he needs to have the poise and confidence of Lucky Luke."
Michael Nimbley arrives on stage in his underpants and five waitresses are there to dress him, in the service of his author's ­imagination. He will gradually seek to escape his character, rebelling against his own story. "Accompanying the show raised many ethical questions—for example, that of absolutely respecting the ideator's vision at the expense of our desire to secure a good show." But Catherine Bourgeois remains adamant: "Access to ­creation should be the equal for all artists."
How did a feminist like Bourgeois welcome the perspective of hiring five female actors to serve Nimbley's character? "There's a sure generation gap between him and the company members, which led to a lot of discussion; and to address those issues, we included the ­dissensions we were going through working on the play in a mise en abyme."
THE BALLAD OF THE DRIFTER
Nimbley is now concentrating on his acting work and Bourgeois is fully involved in ­directing. But it's all very recent, because the author has been involved every step of the way. "If I'm stuck, I go back to the source and ask him questions, because he has the dramaturgical keys to the show," says the director.
Les Waitress sont tristes is a journey into the imagination of an artist who can finally unfold his world, which has been brewing for so long. Michael also plays guitar and—with Anna Atkinson, a classically trained viola player from the University of Victoria who is involved in the show—he composed a western ballad that he performs on stage. "The piece, The Drifter's Ballad, begins the play and sums up the whole story; it is a lovely musical ­composition and Michael is very proud of his work," says Bourgeois. "It was also pleasant to practise something different with him.
A MATTER OF ACCESSIBILITY
"Because it's a matter of accessibility to the debate, we talk with our main actors about all social themes or upheavals that are hard to pin down, their pros and cons, what they represent." A show is a door through which JJJ attacks issues. "We do a little bit of it every show; it allows us to take our place in the debate and it's through the art that we achieve that."
From the audience side, an actress in the cast partially interprets the text in Quebec Sign Language (LSQ). The passages of the show that do not include interpretation in LSQ will be surtitled in French. Two ­performances will also be offered with optional audio description to facilitate understanding of the show for blind and semi-sighted audiences.
Les Waitress sont tristes will première at Espace libre, where Joe Jack and John is now resident company. Sept. 16-Oct. 1.
www.espacelibre.qc.ca

This page is also available in / Cette page est également disponible en:

Francais (French)