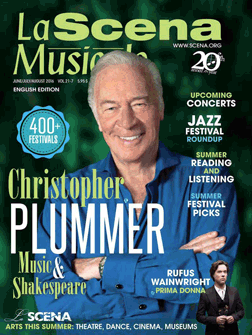 This page is also available in / Cette page est également disponible en:

Francais (French)
Montreal's Dora Wasserman's Yiddish Theatre stages a sensational, side-splitting classic with Mel Brooks's legendary show, The Producers. The iconic production debuted as a 1968 Hollywood movie and evolved into a mega-successful Broadway musical. This uproarious tale of two crooked producers whose scheme to bilk their investors goes awry, garnered an unprecedented 12 Tony Awards during its 2001 Broadway reign. Producers will be performed in Yiddish, with accompanying French/English supertitles. A particularly perfect fit for The Segal Centre's Dora troupe as Mel's signature œuvre proves (yet again) that the universal language of Jewish humour transcends linguistic, religious, generational and ethno-cultural divides. Anisa Cameron directs. June 15-July10; www.segalcentre.org
Toronto's Ed Mirvish Theatre debuts the delightful Matilda in late May. Based on British writer Roald Dahl's 1988 children's novel, Matilda is the tale of an unusually bright but mischievous 10-year-old girl, whose antics drive her folks batty. The precocious protagonist is soon discovered to possess not only superior intelligence, but powers of telekinesis. As might be expected, her pranks escalate to an entirely new plane and mayhem ensues—much to the amusement of her classmates. In 1990, Rony Robinson adapted the novel into a musical, with music by Ken Howard and Alan Blaikley. A second musical version, Matilda the Musical, written by Dennis Kelly and Tim Minchin and commissioned by the Royal Shakespeare Company, premiered in 2010 and opened on Broadway in 2013. July 5-October 16. www.mirvish.com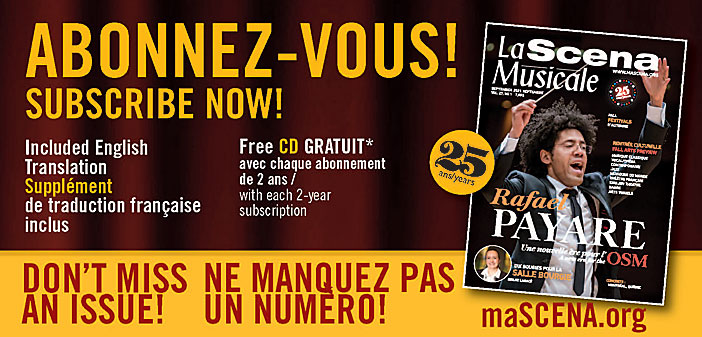 "All the world's a stage" at Ontario's Stratford Festival indeed, especially this year, the 400th anniversary of William Shakespeare's death. To mark this quatercentenary, the festival includes special programming, and presents As You Like It – whence emanated those immortal lines. It will also premiere a stage adaptation of the Oscar-winning movie, Shakespeare in Love. Stratford has themed this year's festival 'After the Victory', which references two world wars and what victory has in fact wrought. Its season will also include Shakepeare's Macbeth, Breath of Kings: Rebellion and its sequel, Breath of Kings: Redemption. The latter two Bard of Avon plays were conceived and adapted by Graham Abbey. May 24-October 23.
Broadway's iconic musical, A Chorus Line makes history at The Stratford Festival this summer. The familiar story of dancers auditioning for a Broadway play, A Chorus Line delves into the hopefuls' dreams, aspirations and personal histories. It also probes director/choreographer Zach's idiosyncracies and his intense interactions with auditionees. The show premiered in 1975 – promptly smashing box office records and winning nine Tony Awards. Marvin Hamlisch's legendary score is paired with Edward Kleban's lyrics. The book is by James Kirkwood Jr. & Nicholas Dante. Originally directed and choreographed by Michael Bennett, this is the first time ever that Bennett's estate executor has allowed a change in choreography. Director/choreographer Donna Feore successfully convinced John Breglio to permit all-new staging for this production. April 19-October 30. www.stratfordfestival.ca
A Little Night Music is a musical that borrows its title from W. A. Mozart's Serenade No. 13 for strings in G major, Eine Kleine Nachtmusik. The production began as a 1955 movie about four vacationing couples who decide to swap spouses for a night. Ingmar Bergman's film Smiles on a Summer Night is a comedy of manners, and like the musical, is set in the Swedish countryside, circa 1900. A Little Night Music explores the romantic entanglements of actress Desirée Armfeldt and the men who desire her. Scored by Stephen Sondheim, this show debuted on The Great White Way in 1973 – earning four Tonys and spawning the hit song, Send in the Clowns. The book is by Hugh Wheeler, with orchestrations by Jonathan Tunick. Chicago Shakespeare Theatre's Gary Griffin, who directed Stratford's West Side Story in 2009, leads the cast. May 21-October 23. www.stratfordfestival.ca
The Lion, the Witch and the Wardrobe is, of course, based on the 1950 children's fantasy by British novelist C.S. Lewis. The 1989 play, penned by actress/dramatist Le Clanché du Rand, is a one act, two-hander about the adventures of four siblings who enter the mystical world of Narnia through a magical wardrobe. A land of mythical, anthropomorphic creatures, Narnia's inhabitants are forced to endure the tyranny of wicked witch Jadis. The children soon learn that this was once a peaceful, enchanted place, but the witch has cruelly transformed it into a world of eternal winter. Along with wise and majestic lion Aslan, they lead its dwellers into battle to overthrow Jadis and restore Narnia. Lion inaugurated Lewis's Chronicles of Narnia series (1950-1956), and remains the best known of its seven novels. Dramatized by Adrian Mitchell and directed by Tim Carroll. May 10-October 22. www.stratfordfestival.ca
Another fantastical children's classic that will thrill kids, parents and grandparents alike, premieres at Niagara-on-the-Lake's Shaw Festival. The musical version of Alice in Wonderland debuts at (yet) another Ontario theatrical mecca and was commissioned especially for the Shaw; it was 3 years in the making. Of course the beloved 1865 Lewis Carroll tale of 10-year-old Alice who falls through a rabbit hole into the magical Wonderland, is one of the best-selling children's books of all time. This world premiere production has 19 original songs, sumptuous costumes, spectacular lighting and 21st-century high tech wizardry. It features our favorite familiar characters: Cheshire Cat, Mad Hatter, Mock Turtle and the Queen of Hearts. Playwright Peter Hinton adapted Alice and also directs. Music is by composer Allen Cole while Denise Clarke handles choreography. April 27-October 16. www.shawfest.com
Montreal's Just For Laughs Festival has a theatrical division which is currently producing some 14 Broadways shows worldwide. In conjunction with the 34th edition of Juste Pour Rire, it will stage an old classic that has entertained generations of families across the globe. Mary Poppins will sing en français, as Joëlle Lanctôt plays the legendary nanny extraordinaire. Local showbiz veteran René Simard interprets stern British banker Mr. Banks, who hires Mary to "give commands" and mold his progeny. Set in London, circa 1910, the musical is based on P.L. Travers' book series and the 1964 Disney film. Directed, translated/adaptated by Serge Postigo. Music/lyrics by Richard & Robert Sherman, with new material by George Stiles & Anthony Drewe. Co-created by Cameron Mackintosh. June 15-July 15. www.hahaha.com
This page is also available in / Cette page est également disponible en:

Francais (French)