Montreal audiences will relish a particularly delish theatre season this spring.
Pillow Talk, an essay on dreaming is the dreamy creation of renowned multi-disciplinary artist Dulcinea Langfelder. Centaur hosts this world premiere which transports theatregoers into the mystically surreal world of dreams and the unconscious. Seen through the 'rapid lens movement' of Langfelder herself, this one-woman show is a poignant, yet amusing exploration of life and imagination. Always starring in her own nocturnal play, the dreamer floats into an alternate reality, spawning a search for meaning in her waking life. Pillow Talk seeks to address inevitable questions about what dreams portend for everyday practical realities. March 29-April 24. www.centaurtheatre.com. 
The true story of an amputee who washed up on the shores of Nova Scotia in 1863, is the subject of Persephone Productions' first original work, Jerome of Sandy Cove. The mystery man's bandaged stumps appear to be only partially healed and he suffers from hypothermia. Non-communicative in English, French, Italian, Latin nor Spanish, he does not divulge his name, but simply mutters something resembling "Jerome." The play seeks to answer those questions that Jerome couldn't – a brain injury was proffered as a possible explanation – or wouldn't. Christopher Moore wrote the script, which delves into the mystery of Jerome's erstwhile existence. Music is written and performed by Montrealer Sarah Segal-Lazar. The feature film Jerome's Secret was produced in 1994 by Phil Comeau. Yarmouth historian Fraser Mooney Jr. penned the book, Jerome: Solving the Mystery of Nova Scotia's Silent Castaway in 2008. Directed by Christopher Moore. April 16-26. www.persephoneproductions.org.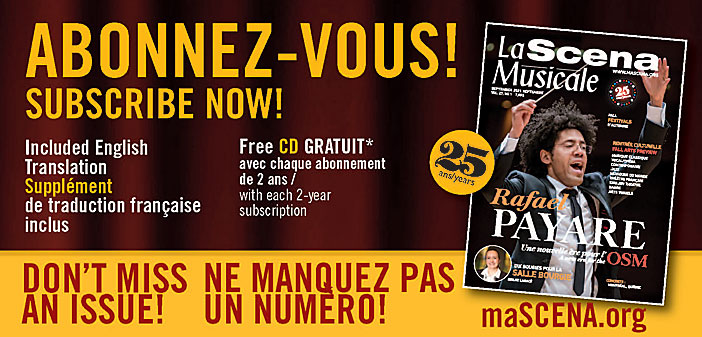 Centaur Theatre transports spectators back to Montreal, circa 1951 with the world premiere of Last Night at the Gayety. Local Police Chief Pax Plante is determined to clean up his so-called "Sin City" by raiding brothels, nightclubs and gaming joints. He also targets the Gayety, a bustling downtown burlesque club which features popular stripper Lili St. Cyr. Music, lyrics & book were penned by local favorites Rick Blue and George Bowser, with arrangements by Chris Barillaro. Centaur artistic director Roy Surette leads a cast of ten in this sultry musical extravaganza. Viewers will note that The Gayety's former premises are presently home to Théâtre du Nouveau Monde. April 19-May 15. www.centaurtheatre.com
Beethoven Lives Upstairsbegan as part of Torontonian Sue Hammond's Classical Kids series of CD recordings, which are musical/historical fantasies based on the lives of composers. Originally penned by Barbara Nichol, Beethoven Lives Upstairs later became an Emmy Award-winning movie. Geordie Productions' artistic director Dean Patrick Fleming adapted the stage version, which his company debuted in 2011. The play is set in Vienna, circa 1822: ten-year-old Christoph has absolutely no idea how lucky he is when an 'eccentric' tenant moves in upstairs. He simply finds the constant sound of music too loud, annoying and intrusive. As time goes on, however, he forges a friendship with neighbor Ludwig (!) van (!) Beethoven and becomes intrigued by his strange habits, like writing on walls. Overwhelmed by his prodigious talent, Christoph moves from fascination to awe and is ultimately humbled by the sheer other-worldly genius of Beethoven. The pinnacle of musical perfection, Beethoven created the world's most exquisite music whilst suffering his own – cruelly ironic – loss of hearing and deteriorating vision. As witness to Beethoven's agony, Christoph comes to revere the man who bequeathed to humankind such profound beauty. For kids (aged 6 plus), this is a superb introduction to Beethoven's spectacularly ethereal music. Musical excerpts include Moonlight Sonata, Für Elise and the Fifth and Ninth Symphonies. April 29-May 8 at Concordia University's D.B. Clarke Theatre. www.geordie.ca
Bad Jews makes its Montreal debut at the Segal Centre this May. Penned in 2011 by Massachusetts native Joshua Harmon, the edgy cum abrasive script oscillates between poignant and outrageous, as it explores faith, family and legacy. Ostensibly a dispute among three cousins over a treasured heirloom left by their recently deceased grandfather, this dark comedy spawns more profound philosophical debates about belief and life choices. The play's fast-paced invective and vituperatively funny repartee will have theatregoers literally laughing until they hurt. The Segal Centre's Lisa Rubin directs. May 1-25, The Studio. www.segalcentre.org.
I Love You, You're Perfect, Now Change is a fun show that delighted Great 'Off-White' Way fans from 1996 to 2008 and became Off-Broadway's second-longest running musical comedy. Originally produced in Teaneck, New Jersey, hometown of Tony Award-winning playwright Joe DiPietro, the play has been translated into 17 languages. It unfolds as a series of vignettes on relationships and love — hence the tagline: "Everything you have ever secretly thought about dating, romance, marriage, lovers, husbands, wives and in-laws, but were afraid to admit." Music is composed by Jimmy Roberts; Wade Lynch directs. May 8-29. www.segalcentre.org.
DIRTY DANCING – The Classic Story On Stage makes its Montreal debut this May. Broadway Across Canada & Evenko will run eight performances of the musical in Salle Wilfrid-Pelletier. Based on the 1987 hit film with its R&B, soft-rock/pop soundtrack, the musical features familiar songs such as "Hungry Eyes," "Hey Baby," "Do You Love Me?" and the high-spirited show-stopper "(I've Had) The Time Of My Life." Screenwriter Eleanor Bergstein also penned the musical's book and James Powell directs. The choreographer is Michele Lynch; based on original choreography by Kate Champion. The romantic drama highlights a love story between "Baby" who's vacationing in the Catskills, and dance teacher "Johnny"; however this show is essentially an über-dancetravaganza. May 31-June 5, Place des Arts. www.placedesarts.com