Advertisement / Publicité
In 1984 young Japanese-Canadian pianist Jon Kimura Parker shot
into the spotlight taking the top prize at the Leeds International
Piano Competition in Britain. As a laureate of the Leeds Competition
he joined the impressive fraternity of past winners which includes
Radu Lupu and Murray Perahia.
I first heard Parker live about ten years ago in concert with the
Edmonton Symphony at the Jubilee Auditorium. Parker has a virile
stage presence that immediately commands attention. His performance
of Prokofiev's daunting Piano Concerto No 3 was unforgettable. With
a rich, round piano tone he communicated both the lyricism and the
sometimes furious excitement of the work. He did not hide behind the
bravura notes but rather made the music his own and conveyed a
genuine understanding of the piece.
Since that memorable concerto I have heard Parker once more live
with the Edmonton Symphony and several more times on CBC radio. At
each hearing my initial impressions are confirmed: here is an artist
truly in touch with his musical ideas, expressing them with
conviction, ample technical ability and discipline.
Jon Kimura "Jackie" Parker was born to a musical family in
Vancouver. His uncle Edward Parker and his mother Keiko gave him
early training (his younger brother James Parker, also a pianist,
will be playing at the Chamber Music Festival on Mt. Royal at the
end of May). Musical studies took Jackie to New York's Julliard
School where he studied with noted pedagogue Adele Marcus. Although
he now resides in New York City, Mr. Parker returns regularly to his
home town of Vancouver and plays frequently in Canada. Parker is a
founding member of Piano Six, a group of Canadian pianists including
Marc-André Hemelin, Janina Fialkowska, Angela Hewitt, André
Laplante, and Angela Cheng who travel to remote Canadian communities
spreading the gospel of the piano recital. Parker has toured the
Arctic playing Beethoven, Chopin, Nirvana and Alanis Morissette on
an electric keyboard to hundreds of Inuit schoolchildren.
Considering the shortage of good piano recitals in Montréal, and the
complete absence of a piano recital series, I wish Piano Six would
stop here on one of their tours.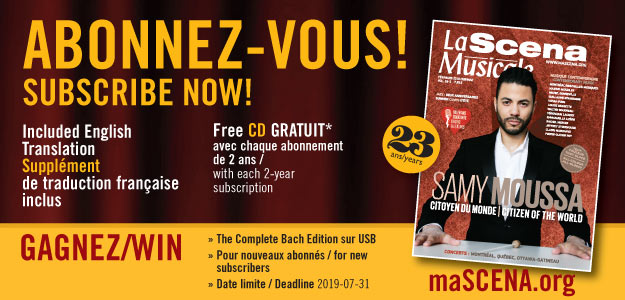 Parker's repertoire is eclectic. He is at home in the romantic as
well as in the virtuosic neo-classical repertoire (check out the
Telarc recording of the Barber Piano Concerto with Yoel Levi and the
Atlanta Symphony Orchestra). To judge from the radio broadcasts, his
Chopin has character and there is subtlety and discipline in his
Mozart interpretations (unfortunately his Chopin discs seem to have
been deleted by Telarc though his humorous duets with P.D.Q. Bach
remain available). Another of Parker's musical interests is the
repertoire influenced by jazz and North American music. He concluded
several recent recitals with a medley of movements from Canadian and
American compositions by Corea, Adams, Louie, Buczynski and Barber.
Parker should be praised for introducing audiences to the
contemporary classical repertoire which certainly deserves more
attention than it gets.
Parker's May 5th concert with the McGill Chamber Orchestra is
promising in several ways. The public will be treated to Beethoven's
Piano Concerto No. 3 which is a great vehicle for a pianist who is
conscious of detail in the right way. The first movement starts with
an intense, rather somber C minor theme and climbs to a rousing
finale. The pastoral and at times Mozartian E major (not E flat!)
middle Largo brings the piece to the final Rondo which provides the
pianist with more opportunities for voicing both subtle lyrical
lines and lively excitement, passing through an E major restatement
of the theme before ending in a warm, life affirming C major coda.
Parker will play with the McGill Chamber Orchestra under the
direction of Alexander Brott in the 1450 seat Théâtre Maisonneuve, a
venue where the more intimate acoustics will permit full
appreciation of the piano's softer passages. Beethoven's Symphony
No. 8 is also on the program. A musical event not to be missed.
May 5, 20h00. $15-30. 842-2112.
Copyright La Scène vocale