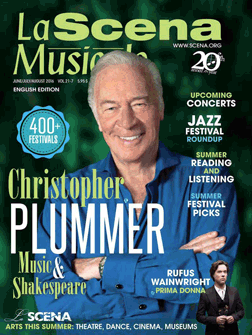 Advertisement / Publicité
This page is also available in / Cette page est également disponible en:

Francais (French)
Along with end-of-year shows by dance, circus, and theatre schools, the Festival TransAmériques ends the regular season of Montréal venues. This tenth installment of the Festival closes with a Gala by the unmistakable French choreographer Jérôme Bel, on June 7 and 8 at the Ludger-Duvernay Theatre at Monument-National. www.fta.ca
This free and democratic celebration of diversity also marks the kickoff of the summer festivals that transform Montréal in a crossroad of culture, arts, and lively patios. On the sidelines of big names of the music and humour industry, well-established events continue to cater to their faithful audiences, on their favourite scenes and sound the horn of their yearly meet-up.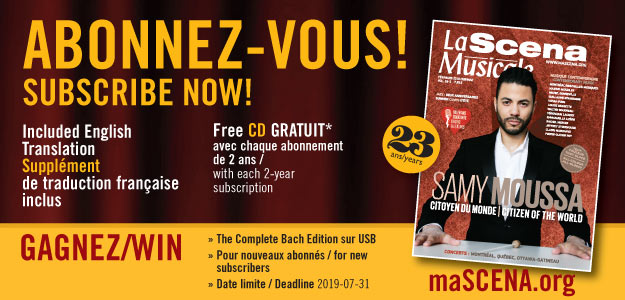 The St-Ambroise FRINGE Festival of Montréal is one of such festivals. From May 30 to June 19, it offers more than a hundred shows, picked at random and presented in a score of intimate venues, spreading from downtown through the Plateau, all the way to Mile-End. For its 26th edition, the FRINGE honours its unique mandate of non-censorship and stage availability. Several of FRINGE's principles have become signature characteristics: the variety of shows, bilingualism, express dismantling after a show, word-of-mouth, free concerts, a dense nightly programming, and cheap tickets. During the two Fringe-for-all evenings, on May 30 and June 9, participating artists have 2 minutes to make their show stand out among a flurry of other proposals. 2016 marks a special year since Montréal will host the 2016 Fringe World Congress in November, held for the first time outside of its native Edinburgh. www.montrealfringe.ca
From July 7 to 17, the Montréal Cirque Festival invades the city, from downtown to the outskirts. The Festival planned an imposing program in venues and on the street, studded with free events for the family, and premieres by local and visiting troops. Several new events feature circuses from France, Switzerland, Australia, the United States and Britain, such as the Barely Methodical Troupe, Blizzard concept, Compagnia Baccalà, The Ricochet Project and Victor Cathala and Kati Pikkarainen's Aïtal Circus, whose Pour le meilleur et pour le pire will be a highlight of the festival. Also highly anticipated is the vaudeville The Elephant in the Room by Cirque Le Roux: in a refined theatrical décor, see talented artists trained in Montréal and Brussels. Gandini Juggling will be back from the UK, after the MCC presentation of Smashed in 2013, with a new show named 4 x 4 ephemeral architectures containing breath-taking juggling visibly influenced by the delicate aesthetics of ballet. From large opening (Flilp FabriQue's Transit) and closing (Casus Circus's Knee Deep) shows to intimate folk discoveries (by Joan Català and Throw2Catch), this exciting 7th edition invites us to venture beyond the beaten paths. www.montrealcompletementcirque.com
From July 7 to July 30, the Quartier des Spectacles will host an extreme 8th edition of Zoofest. Crazier, wilder, and more multidisciplinary, ZooFest takes over Montréal's official and underground venues. In this jungle, where humour is king, you can catch a Céline concert, a revisited Star Wars, the Gala des Refusés and Gilbert Rozon's debut one-man show all in the same week. Quite the program! www.zoofest.com
The following month, head to Saint-Sauveur for the 25th edition of the Festival des Arts. Artistic director Guillaume Côté (also invited choreographer and dancer) celebrates music and dance from August 3 to 13. In the heart of the summer, Québec nature, and the festive municipality, the FASS brings together exceptional artists, companies and works. Ranging from Louise Lecavalier to Martha Wainwright, urban virtuoso Soledad Barrio, the Orchestre Métropolitain under Yanick Nézet-Séguin's baton, and Canada's National Ballet's dancers. On August 5 and 6, see the Canadian premiere of ARIAS Company's A Rather Lovely Thing and L-E-V Company's OCD LOVE, with Sharon Eyal and Gai Behar's choreography on music by DJ and composer Ori Lichtik. Come back on August 11 for Louise Lecavalier's So Blue, a duet with Frédéric Tavernini that has been met with international success during its 3-year tour. Among several public activities, the festival has performances by dancers and choreographers Anne Plamondon, Caroline Laurin-Beaucage, the [ZØGMA] Collective and Bouchardanse. www.festivaldesarts.ca
Translation: Michèle Duguay
This page is also available in / Cette page est également disponible en:

Francais (French)