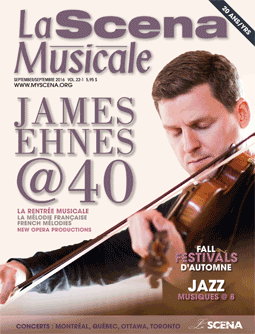 This page is also available in / Cette page est également disponible en:

Francais (French)
Diary of an old folly
From October 11 to 15 at the Cinquième Salle, Danse Danse will present a rather lovely lovely thing, an optimistic flipbook on the folly of living by New York's ARIAS company. The Canadian premiere, presented this summer in conjunction with the Festival des arts de Saint-Sauveur, was praised by FASS artistic director Guillaume Côté who described with admiration the unique gestures of Puerto Rican choreographer Bryan Arias, his limitless creativity, and the interpretative precision of the dancers.
Bryan Arias shares the stage with three exceptional dancers (Ana Maria Lucaciu, Jermaine Spivey, and Spenser Theberge), whose character and virtuosity manage to erase the distinctive characteristics of a choreographed work. Describing their talent, Aryas says, "The artists I work with are incredible improvisers. They can take any information I give them and influence, manipulate, and elevate the material." Through thematic improvisations, they have developed a very open language shaped by their experience and disciplinary allegiances.  "We start with pure movement, then go on to discover its meaning."
This new piece is conceived like a diary where intimate reflections, unusual encounters and ordinary facts are intertwined. Short evocations give rise to inspired solos that play upon apparitions and evanescent memories of real memories and imagined lives. The result is an eclectic structure, strongly inspired by contemporary circus, an influence that the artist recognizes among others: "I grew up breakdancing, salsa dancing, african dancing, going to the big apple circus after school program."
The dance flirts with these different stylistic registers, and from their union sprouts an assortment of fantastic characters. A dream-like parade, reminiscent of clown arts and Fellini movies. To compensate for the extravagant imagery, the narrative structure is reduced to a bare minimum. Arias summarizes this aesthetic: "I use satire and rely on simplicity."
The piece invites onstage all those who build us throughout our existence, along with all those we could have been. "We can all say dreams reflect our fears and desires, and memories can take us back to a moment we regret or want to hold on to," explains Arias. A mix of excitement and humour nonetheless wins over nostalgia in those moving tableaux, each of them drawing in the audience.
From this meta-reality emerges a profound fantasy, dizzying freedom, and sometimes an identity disorder nearing dementia. "Through the creative process, we more than once coincidently came across a simple gesture of opening an imaginary door. It stuck. We spoke about what it could mean… dementia or schizophrenia."
Beyond rationality, a rather lovely thing points to the originality that links us to unknown locales, that pushes us towards different paths, and that surprisingly finds continuity in our unpredictability. The choreographer insists on this multiple identity that is both the unity and the uniqueness of each person: "I wanted to maintain a balance between the past, present and future, and how much we play a role in each others' lives." The importance of social relationships is expressed through group transitions, where the complicity found in dance proves to be an anchor in reality. "We became extensions of one another."
The artistic and poetic appeal of this wandering falls into place with the mention of Nina Simone and one of her famous digressions, which took place before her performance of Who knows where the time goes? at Montreux's 1976 jazz festival. There, her free spirit yielded to unreason. "At times I stumble on a song at the perfect time. Such was the case with Nina Simone's cover. We were intensely exploring the theme of time, and I found her."
In fact, Time is tackled at various levels throughout this work. An entire life flashes by in under an hour; led astray in the dream, we lose all temporal cues as aging wanes in the remaining hours. Just as in the singer's fantasy, ignoring the countdown may be the solution to cheat death: "I will still be here / I have no thought of leaving / I do not count the time."
Time is also present in the timelessness of the music, a soundtrack juxtaposing classical works, timeless tunes, instrumental pieces, and contemporary pop. "I am a music lover," reveals Bryan Arias, "I listen to everything and when something touches me, I hold on to it. I like to think the music unconsciously guides and influences the movement or idea at hand." For example, he explains: "Along the theme of existence I wanted to use more ambient and environmental sounds to highlight the unnoticed natural soundtrack to our thoughts." Similar attention is paid to costumes (Marion Talan de la Rosa), to the lighting (Nick Hung), and to scenic detail (Brandon Lee), strengthening their metaphorical potential along with the choreography.
And then there are the masks. Ancient, wrinkled faces on jumping young bodies. Perhaps because imagination never dies, or to escape end-of-life ennui. Because the head has no age and every wrinkle is the memory of a smile. Arias adds: "Aging is a beautiful thing." Through this adventure beyond the limits of reason, Bryan Arias only retains the positive aspects: "I believe at the end of our time we can smile and find humour when reflecting on our lives."
Translation: Michèle Duguay
» a rather lovely thing, Arias Company, October 11 to 15, 8PM, Cinquième Salle at Place des Arts. www.dansedanse.ca
This page is also available in / Cette page est également disponible en:

Francais (French)