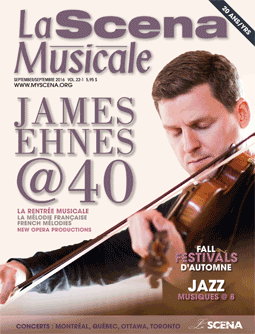 This page is also available in / Cette page est également disponible en:

Francais (French)
Programming for the new season is shaping up nicely, though some schedules remain unconfirmed pending completion of the work at Espace Danse downtown.
First off, at Tangente, the classic Danses Buissonnières begin on September 29 at the Monument-National – Manuel Shink is the name to watch. www.tangente.qc.ca
From its temporary home at Usine C, Agora is launching its new season with two headliners: Virginie Brunelle defending Quebec, following the recent Hunter by Meg Stuart. www.agoradanse.com
In the summer, Danse danse tested a rather lovely thing, Bryan Arias' newest work, at the Festival des arts de Saint-Sauveur. If you're curious to know where contemporary dance can go – urban, circus and ballet –, check out the Cinquième Salle between October 11 and 15. (Read the article here)
Time for the sublime Nederlands Dans Theater to return to Montreal as season opener at Place des Arts. With a formidable repertoire and outstanding performers, the Dutch institution will stage two pieces by dedicated choreographers Sol León and Paul Lightfoot, as well as a 2015 creation by Canadian Crystal Pite. Stylistically intoxicating. www.dansedanse.ca
Known for their bold approach, La Chapelle and Usine C have revealed promising names and repeat guests. The former has expanded its programming, and kicks off with a Short&Sweet celebration in early September, instead of the short-lived Grand Cru. www.lachapelle.org
In a second partnership with the Marseille festival, Usine C will host the Actoral festival in Montreal from October 25 to November 5. www.usine-c.com
M-A-I Montréal – arts interculturels is forging ahead with culturally diverse programming and disciplinary pluralism. It will host no fewer than thirty artists between the start of the new season and summer 2017, from Quebec, Canada, Egypt, Lebanon, the U.S., Australia, the U.K., South Korea, France, Austria and the Netherlands. Some worthwhile discoveries are in store, judging by the most recent crop, and seven of them are scheduled between now and December. www.m-a-i.qc.ca
Circus may have fewer performers, but it has a varied repertoire. From September 16 to 23, the versatile performance artist David Dimitri, the "human circus", will set up his small top at TOHU, where he delighted young and old three years ago at Montréal Complètement Cirque. It's ingenious, musical entertainment for the whole family.
Next, all eyes will be on the piece Réversible by 7 doigts de la main from November 16 to 27. The newest piece to be performed by the internationally renowned troupe is the creation of co-founder Gypsy Snider in collaboration with movement designer Phillip Chbeeb. It's a time-turning show tracing a thousand and one possible paths as a never-ending future unfolds beyond the tabula rasa of the past. www.tohu.ca
Translation: Cecilia Grayson
This page is also available in / Cette page est également disponible en:

Francais (French)