This page is also available in / Cette page est également disponible en:

Francais (French)
Tangente is closing its 2015-2016 season with an intimate work by Frédéric Tavernini, from May 12 to 15 at Studio Hydro-Québec at the Monument-National. Titled Things are leaving quietly, in silence, the piece sheds a harsh light on a fleeting present, teetering betwixt past tranquility and future uncertainty. It will be an opportunity for the dancer and choreographer to run through his career – his performances and partnerships, ballets in France, contemporary dance in Montreal, and demanding world tours.
Twenty years ago, Frédéric Tavernini danced Stravinsky's Rite of Spring for Maurice Béjart, conducted by Pierre Boulez. Boulez died in January 2016, and Béjart passed away in 2007. Three years ago, the Rite of Spring celebrated a hundred years of performances by the world's greatest orchestras, ballet companies, composers and choreographers. The musical basis of the Rite has proved to be a perfect medium for revisiting the past.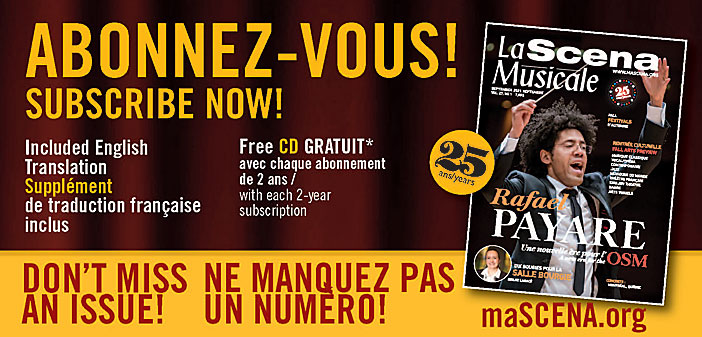 "The score creates anxiety," says Tavernini. It exudes a darkness and a gravity that match the musical sensibility of Dear Criminals (Frannie Holder, Charles Lavoie and Vincent Legault), who will play their own interpretation of the Rite on stage. They will be accompanied by TwinMuse, Iranian twins Hourshid and Mehrshid Afrakhteh, whose four-handed performances evoke a sense of the bizarre and the fascinating.
"The musicality of the body is very important to me, as is the behaviour of the musicians when they're playing," explains Tavernini. "There's often a phsyical resemblence with my collaborators, , and the resemblance grows stronger over time."
Meetings with other people have forged his art. Whether performing in a duet with Louise Lecavalier in So Blue (2013), dancing for Dave St-Pierre, or the GravelArtGroup, his choreographic research has been restless and fragmented, an extension of the frenzy of the ballet. Clovek & The 420, the company he founded in 2009, focuses even more on freedom of execution, on disregarding frameworks and trying multidisciplinary dialogues with random outcomes.
How is creativity now more current than major works like the Rite of Spring? Don't expectations about a show or the impressions it leaves yield to the power of the moment? How can we react to the present and experience it in its purest immediacy, without analysis or rationalization?
By examining time in this way, Things are leaving quietly, in silence broadens acceptance of contemporaneity, both artistic and existential. Tavernini short-circuits his personal trajectory and the history of dance: "Neoclassical choreographers such as Balanchine have a very contemporary approach to music and stage design. My classical training will always be a part of me and I don't see my practice as being particularly contemporary, that's just a temporal label."
He describes a brittle present. "Things disappear silently, progressively. You think you can foresee the process, but you can't. The void things leave behind is disturbing and raises a multitude of questions." It is this experience of the inhabited void that Tavernini wants to present on stage.
The result is very atmospheric, highly stage-designed, and textured with music and bodies, in a place where movement seems suspended. "There won't be much dance… but a hundred or so skulls will symbolize the accumulation of absence," says Tavernini The use of installation art recurs in his previous works, notably ones with composer Jean-François Laporte (Wedged in the Red Room, 2009 and Le Tératome, 2012). The visual and aural density leads the audience to unknown, sometimes perturbing places, which the creator happily admits: "As in my other pieces, I try to take people out of themselves, lead them into another world, in a bubble outside their usual points of reference."
In this gap, away from the mundane, people can freely face their fears, their ghosts and their awareness of reality in crisis. In 2015, Wolf Songs for Lambs sounded the dark imagination of childhood: "Children gobble everything up and in their games they recreate reality as they perceive it, which is much more cruel and violent. If they see tomorrow as darker than we do, then that's where the truth lies."
In this critical perception of the course of events, the expression of creativity runs the risk of ending up in unintended places. Hence the reference, early in the process, to the revolutionary monologue spoken by Jean-Pierre Léaud in Philippe Garrel's La naissance de l'amour (1993), reprised in the song Get Misunderstood by the Troublemakers: "Nobody knows what's going on today, because nobody wants things to happen. In reality, we never know what's happening, we only know what we want to happen, and that's how things get done…"
The substance of Tavernini's work is an invitation to the audience to lean towards the void and to realize they have lost their footing, hoping that this will spur the guts or the madness to jump. To be crazy and provoke the future. To escape the weighty present and more readily accept the past that led to it.
Translation: Cecilia Grayson 
---
Things are leaving quietly, in silence will be presented from May 12 to 15 at the Monument-National. www.tangente.qc.ca
This page is also available in / Cette page est également disponible en:

Francais (French)