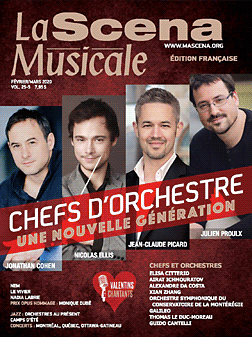 Advertisement / Publicité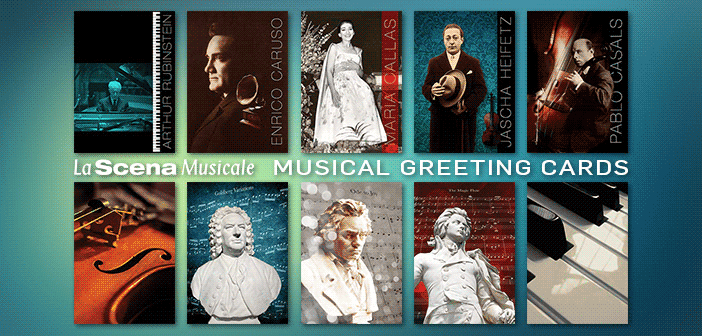 This page is also available in / Cette page est également disponible en:

Francais (French)
Having known each other since school 20 years ago, Maude Sabourin and Raphaël Bouchard are totally at ease. They interrupt, finish each other's sentences and speak simultaneously when their thoughts converge. The same applies when they dance. In the early years of this century, they attended the Jeune Ballet du Québec under the direction of Didier Chirpaz. After that they joined the Ballets de Monte-Carlo under Jean-Christophe Maillot, though at different times, he before her and for 10 years, she until her arrival at Les Grands Ballets Canadiens in 2018, where they met once again. Whether on stage or in the studio, their mutual intuition affects the group and sometimes steers the creative process. It's certainly a dynamic exploited by Garrett Smith, the internationally renowned U.S. choreographer with whom they are tackling Beethoven's Fifth Symphony for this first performance of 2020, marking the 250th anniversary of the composer's birth.
The immensity of the symphony won't intimidate the dancers, says Maude Sabourin, adding that she will support the musicality of the dance steps. Raphaël Bouchard will play the usurper in this "destiny symphony," stubbornly trying to deflect its path. He'll wear the copper tutu we see on the poster, one of many odd elements that distinguish him from the group and which he will turn into a fashion icon during the 40-minute performance. In this ode to difference, finally recognized and accepted, the dance duo sees an intelligent interpretation of the dancer's role in ballet, contributing individuality to serve the power of the ensemble.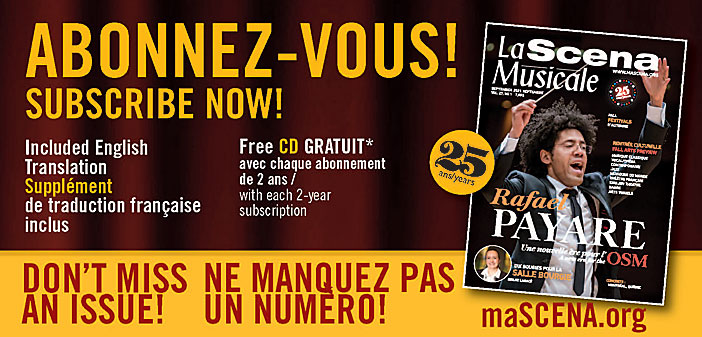 This power will come to the fore in the second half of the program when they perform Uwe Scholz's choreography of the Seventh Symphony (the German died in 2004), which often features in the scheduling of Ivan Cavallari, artistic director of Les Grands Ballets. Richard Wagner described the Seventh Symphony as the "apotheosis of the dance", and it certainly has an elegant look in black and white in both the costumes and the lighting. Maude Sabourin, dancing it for the first time, describes the performers as musical notes bringing the score to life. The Orchestre des Grands Ballets is conducted by Dina Gilbert, who, like the others, has worked hard and devotedly, attending many rehearsals and grasping the challenges of these eloquent marriages of dance and music in this highly flamboyant repertoire.
Dancing Beethoven by Les Grands Ballets Canadiens is a double bill comprising Beethoven's Fifth Symphony choreographed by Garrett Smith and the Seventh Symphony, a posthumous performance of the choreography by Uwe Scholz, with the Orchestre des Grands Ballets conducted by Dina Gilbert, Feb. 19 to 23 at Salle Wilfrid-Pelletier. www.grandsballets.com
This page is also available in / Cette page est également disponible en:

Francais (French)