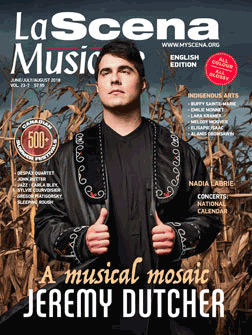 This page is also available in / Cette page est également disponible en:

Francais (French)
Festival ZH
July 17 to August 11
For 10 years the Festival ZH in Montreal – Zone Homa to those who know it – has been attracting a curious public with unexpected inspirations from an experienced performing arts laboratory. The anniversary certainly promotes the event. Founding director Mellissa Larivière was honoured in the 2018 Sentinelle awards of the Conseil québécois du théâtre. ZH promotes rebellious and progressive youth that is gender-diverse, beyond expectations and clearly avant-garde.
A little squeezed during its four weeks, ZH will welcome artists who made their own paths such as Pascale Drevillon, who will deliver an ambitious six-hour performance in which she will explore her trans identity and the mysteries of gender, from the superficial to the intimate. GENDERF*CKER, staged by Goeffrey Gaquère (director of Espace Libre), is a more conventional work alongside Halves of choreographer David Albert-Toth, member of the Parts_Labour_Dance formation (with Émilie Gualtieri). There are emerging artists like Simon Renaud, a performer and choreographer from Ontario, who offers a double program titled Tout le temps que nous avons perdu, composed of the immersive forms noyé/e and L'inanimité des bibelots, which tries to bring two contrary elements together.

The dance and performance part of the festival is only a part of a broader program that gives an important place to theatre, music and other forms. Most performances are premieres. As long as the idea is good, and is expressed in an original manner – the artist or collective showing a determination to move forward – the public will provide a critical and constructive response to the performances, should they be in progress or at their final state. www.zhfestival.com
Festival des Arts de
Saint-Sauveur
August 2 to 12
Opening with Romeo and Juliet by the BalletMet of Columbus, Ohio, and including performances by the National Ballet of Canada with Guillaume Côté in a starring role, this 28th edition seems traditional. Great ballet institutions will be there: Toronto Dance Theatre, directed by Christopher House, currently in the midst of a 50th-anniversary tour; and Hubbard Street Dance Chicago in a show of eclecticism that is more urban than contemporary. The surprise will occur mostly on the music side, with the Israeli group Yemen Blues, composed of singer Ravid Kahalani and of oud bassist Omer Avital (who will leave only a small place to choreography from three local emerging artists). www.festivaldesarts.ca
Summer Work
Performance Festival
August 9 to 19
In Toronto, the SummerWorks Performance Festival will soon announce the artists and performances that will make up its 2018 edition. www.summerworks.ca
Translation by An-Laurence Higgins
This page is also available in / Cette page est également disponible en:

Francais (French)