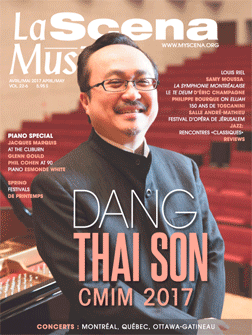 This page is also available in / Cette page est également disponible en:

Francais (French)
The Impossibility of Return
Internationally-renowned Australian company C!RCA, a favourite at Montréal Complètement Cirque (Wunderkammer in 2011, S in 2013, Opus in 2014, and Beyond in 2015) will cross the ocean once again to bring us Il Ritorno from April 25 to 29 at the TOHU. "The whole show is about trying to get home. For Ulysses, for refugees, for all of us," says the company's artistic director, Yaron Lifschitz.
Invited to share some written insight, he gave us a glimpse into his thoughts and literary references. "A classical story doesn't need to be seen in a new light. What it needs is us to inhabit it, to learn its lessons. For me, [the epic of Ulysses]is about the desire for a home and the impossibility of that home. And that is something as important now as in Homer's time."
This imaginary journey seethes with reflections on displacement and belonging with fierce contemporary relevance. "I feel very aware of this crisis for our civilization, this great tragedy of modern displacement. The show is absolutely about this. I filtered it through the lens of Primo Levi and Jabès's writings, and we found ourselves in a rich, abstract world with hard acrobatics and beautiful baroque music."
A French writer and poet born in Cairo to a Jewish family, Edmond Jabès was deeply touched by the horrors of the Second World War and the Shoah, as well as by his forced departure from Egypt during the Suez Canal crisis. This uprooting occupies a central place in his meditations on identity and the pain of exile.
At a symposium on language and psychoanalysis in Aix-en-Provence in 1983, Jabès asserted, "There is a memory older than memories, and which is related to language, music, sound, noise, silence: a memory that a gesture, a word, a cry, a pain or a joy, an image, an event can awaken. The memory of all time that is dormant in us and is at the heart of creation."
Also Jewish, a victim of racial exclusion and fascist anti-Semitic laws, and a survivor of Auschwitz, Italian scientist Primo Levi became a writer later in life; he recounts the hell of internment by the Nazis in If This Is A Man. Fascinated by the act of understanding, which he places above all else, he is struck by the irrationality of the camps and their goal of annihilation of the Other. He describes himself, returning traumatized from his ordeal, in The Periodic Table: "It seemed to me that I would be purified if I told this story, and I felt like Coleridge's Ancient Mariner, who grabs the wedding guest on the way to the wedding, inflicting on them the story of his misfortune."
As for the old sailor on whom the British poet Samuel Taylor Coleridge inflicted many torments at the end of the eighteenth century in The Rime of the Ancient Mariner, he spent many days amongst the corpses of his comrades. Because he needlessly shoots an albatross, this captain of a boat draws a curse upon his crew: motionless in the immensity of the ocean, the sailors die one after the other of thirst.
"Day after day, day after day, / We stuck, nor breath nor motion; / As idle as a painted ship / Upon a painted ocean. / Water, water, everywhere, / And all the boards did shrink / Water, water, everywhere, / Nor any drop to drink."
The captain, the only survivor, must face the accusation and suffering of his companions' faces and bless them with a prayer in order to end his ordeal after a week of drifting. He is then forced to travel the earth and tell his story eternally, so that every lost soul, captivated by his narrative, understands its moral.
Of Levi, it was said that, "Only those who have experienced the unspeakable can succeed in explaining the inconceivable." And of Jabès, that he was above all a "ferryman of culture and memory between the shores of the Mediterranean". Both searched language and the human potential to communicate, to share, in order to sympathize.
Yaron Lifschitz talks about circus as a bodily language that allows spectators to physically feel the performers' effort and the perseverance of their characters. "Our acrobatic languages are very hard in this show; people drag each other back to haul them forward. All our physical material is somehow an attempt to return."
He bears witness to the woeful atmosphere that generally engulfs the room before resolving itself into an authentic communion. "I like it when we get to the end and [the audience]has been quiet throughout the show. This is unusual. Normally audiences clap, so we think, 'Maybe they hated it.' Then there is a roar. Like they can finally breathe. And they usually stand and you understand that at its best circus is a person inside talking to a person inside (to paraphrase poet Donald Hall). I think its intensity surprises."
In the eighth century B.C.E., Homer called for us to help one another, as here in Book XIV of the Odyssey: "You have but a poor shipwrecked man before you. Since he has come to us, he must have our care: strangers, beggars, all come straight from Zeus. Come, women! Little charity, great joy! Give to the stranger."
He especially counseled the exiles not to forget: "Unhappy, remember your country, if it is in your destiny to survive and return." (The Odyssey, Book X) Primo Levi would reiterate the same advice 2500 years later in If This is a Man, constructing memory as a weapon against barbarism: "They will even take away our name: and if we want to keep it, we will have to find ourselves the strength to do so, to manage somehow so that behind the name something of us, of us as we were, still remains."
Translation: Rebecca Anne Clark
---
Il Ritorno: April 25 – 29 at the TOHU. tohu.ca; www.circa.org.au
This page is also available in / Cette page est également disponible en:

Francais (French)