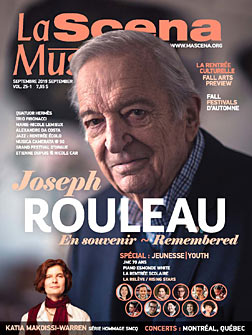 This page is also available in / Cette page est également disponible en:

Francais (French)
Since its founding in 1998, Trio Fibonacci has garnered an outstanding reputation both in Montreal and abroad. It remains one of the few trios to have distinguished themselves internationally for precise, virtuoso performances and eclectic repertoire. Though focused on contemporary music and new music, the trio also explores the vast range of classical and romantic music with brio and passion.
It is with these twin repertoires in mind that Trio Fibonacci presents its 2019-20 season in Bourgie Hall at the Montreal Museum of Fine Arts. "This season, each concert will have its own special atmosphere, journeying through different styles," explains founding Fibonacci cellist Gabriel Prynn. "Bourgie Hall is a magical place, probably the best venue for chamber music in Montreal. So it's a good opportunity to make contemporary music known to a wider audience."
The trio's violinist is Julie-Anne Derome, winner of numerous distinctions, including the highly-regarded Virginia Parker Prize from the Canada Council for the Arts. She has also appeared in a number of international competitions. Pianist Steven Massicotte joined the trio more recently. He holds a doctorate from Université de Montréal and went on to study at the University of Music and Performing Arts in Vienna.
The three performers are always on the lookout for new musical challenges. "Modern music still plays a big role in our repertoire, but we also play the great classics," Prynn notes. "Diversity is very important to us and we're always trying to present familiar pieces in a way that brings out unexpected angles."
The 2019-20 season begins on Sept. 24 with a concert entitled In the Rebels' Chamber. These chamber works were written against a background of freedom and rebellion. The program juxtaposes Charles Ives and George Gershwin with Beethoven, famous for his refusal to kowtow to the aristocracy. The trio will also play the Trio in D Minor by Fanny Mendelssohn, who, overshadowed by her brother, often struggled to have her music heard. And Gershwin's jazz inflections will come to the fore in an original transcription of tunes from the opera Porgy and Bess, a good example of the trio's taste for novelty.
On Dec. 3, Trio Fibonacci will play a concert entitled All Rachmaninoff, plunging into Russian romanticism in a tribute to the master. Rachmaninoff is known to require great virtuosity. "A friend pointed out to me that this repertoire is very demanding, but that's what attracted us," says Prynn. "This program throws down a challenge and that's really motivating." The audience will certainly be able to bask in Rachmaninoff with the Trios élégiaques Nos. 1 and 2 as well as Vocalise, one of the most popular melodies in the repertoire.
The very essence of melody will be the theme of The Giants of Minimalism II on March 4, 2020. After the resounding success last season of the first edition of The Giants, the trio will once again explore the entrancing repertoire of minimalism. As well as works by such masters as Pärt, Messiaen and Glass, Trio Fibonacci will present the world premiere of Efflorescence by Montreal composer Keiko Devaux, currently working on a doctorate in composition under the direction of Ana Sokolovic and Pierre Michaud at the Université de Montréal. The trio commissioned this work, which is inspired by the voice and singing style of Maria Callas. They will also perform two works by the German-British composer Max Richter, On the Nature of Daylight and Berlin by Overnight.
Belle Époque will be the trio's next adventure in a concert of the same name on April 28, 2020. At the turn of the 20th century, France, particularly Paris, saw a flowering of the arts. The program features light and carefree music reflecting an era of optimism and joie de vivre, when the middle class bought music, went to concerts and made anything an excuse to play music. The trio will imbue themselves with this sense of buoyancy when they play the Trio No. 2 Op. 92 by Saint-Saëns, the Trio in A Minor by Ravel, which combines folklore, modernity and exoticism, and finally Après un rêve, a lyrical, immortal tune by Fauré.
"It was a truly unique time," says Prynn. "It didn't last long and I don't think it'll ever come back. Musicians and composers were so lucky to have enthusiastic audiences with money to spend, so it was very special.
"Each work as a particular flavour for us, a different aesthetic. Every time we come across a new style from a certain period or part of the world, we evolve. We have to immerse ourselves in it and try to bring out different aspects of each work. That means we grow as a group and as musicians."
Prynn has been at the heart of Trio Fibonacci for more than 20 years. As passionate as ever, he is dedicated to sharing his enthusiasm with Montreal audiences.
———-
Trio Fibonacci presents the 2019-20 season at Bourgie Hall at the Montreal Museum of Fine Arts: In the Rebels' Chamber on Sept. 24; All Rachmaninoff on Dec. 3; The Giants of Minimalism II on March 4, 2020; and La Belle Époque on April 28. All concerts start at 7:30 p.m. Go to www.triofibonacci.com.
Translation by Cecilia Grayson
This page is also available in / Cette page est également disponible en:

Francais (French)