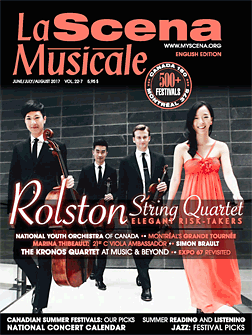 This page is also available in / Cette page est également disponible en:

Francais (French)
With its roster of some 20 member events, Jazz Festival Canada is an umbrella organization that enables national and international artists to coordinate tours from coast to coast in the early summer. Canadian jazz festivals showcase a veritable cornucopia of styles for just about every taste. Here then are a few picks from the pack of shows scheduled during the upcoming festival blitz.
Donny McCaslin – Now Beyond
A year ago, saxophonist Kamasi Washington was pretty well the toast of the international jazz festival circuit. This time it's Donny McCaslin's turn to make the rounds. His appearance on David Bowie's final album surely has something to do with it, and his own recent release (see here) contains two covers of the now departed pop icon. The tenorman will crisscross the land in ten days with stops at eight festivals before heading to Europe to headline more major events. If you like jazz that goes pop, groovy, and fusiony, this one is right up your alley.
»Winnipeg, 6-21 / Vancouver, 6-24 / Victoria, 6-25 / Saskatoon, 6-26 / Edmonton, 6-27 / Toronto, 6-28 / Ottawa, 6-29 / Montreal, 6-30
Kenny Barron 4 x 1 & 1 x 4
A model of the jazz piano tradition, Kenny Barron has in a way taken up the mantle left vacant by Hank Jones or Tommy Flanagan. Since his debut with Dizzy Gillespie in 1963, the 74-year-old keyboardist is still in top form. This summer he strikes west for three solo concerts, a format he's no stranger to, before landing in Toronto to match up with three piano confrères (Bill Charlap, Cyrus Chestnut, and Gerald Clayton) in a Canadian exclusive, 4 by Monk by 4, a tribute to the incomparable Thelonious in this, the centenary of his birth.
»Ottawa, 6-24 / Vancouver, 6-25 / Edmonton, 6-26 / Saskatoon, 6-27 / Toronto, 2-7
BassDrumBone
The trio of Mark Helias, Gerry Hemingway, and Ray Anderson (playing the instruments respective to their band's name) is not just another shooting star on the horizon, it is a planet in itself, still shining brightly after 40 years! In this, their anniversary year, they'll be touring world-wide, including five early-­summer stops in Canada. With few rivals in terms of durability, this unit remains one of the best contemporary jazz groups alive and kicking. Case in point, their twelfth release, a must-hear two-disc set (see here).
»Ottawa, 6-29 / Toronto, 6-30 / Edmonton, 7-1 / Vancouver, 7-2 / Montreal (Café Résonance), 7-5
Canadiana
Ingrid & Christine Jensen – Infinitude
They are not just sisters by bond, their kinship is also a musical one. In years past, they have worked together repeatedly, and their most recent collaboration is a quintet bolstered by Ben Monder, one of the most highly praised plectrists in jazz today. Now with a debut release to their credit (see here), this band takes to the road for six shows nationally in as many days. With their trademark lyricism and a few adventuresome musical forays, the Jensens will fulfill the expectations of all fans who yearn for jazz that's mainstream in essence, but never old hat.
»Edmonton, 6-25 / Vancouver, 6-26 / Victoria, 7-27 / Saskatoon, 6-28 / Toronto, 6-29 / Montreal, 6-30
John Hollenbeck
Though American, drummer John Hollenbeck has settled in Canada to teach at McGill University in Montreal; this summer, he's taking the country, so to speak. He's touring with his American band, the Claudia Quintet, performing once with the Simple Trio of expat Canadian and New-York–based reedist Anna Webber, then working as an invited composer for two large collectives, Vancouver's Turning Point Ensemble and Montreal's Orchestre National de Jazz. On the strengths of his very unique musical vision, Hollenbeck is a precious asset for our national jazz scene.
»Vancouver, 6-23 (with Anna Webber's Simple Trio) and 6-28 (with the Turning Point Ensemble). With the Claudia Quintet: Vancouver, 6-27, Edmonton, 6-30 and Toronto, 7-1. With the Orchestre National de jazz: Montreal, 7-7.
Discoveries and Darings
Kaze
Japanese pianist Satoko Fujii has successfully nudged her way into the front rows of the international avant-garde jazz community. Notwith­standing her touring schedule world-wide (accompanied more often than not by her husband, trumpeter Natsuki Tamura), she's also amassed a considerable discography that ranges from solo outings to multiple big band albums. She returns to Canada this summer for a second time with Kaze, a slightly unusual foursome including a second trumpeter and a drummer. If you don't know their music yet, their unique mix of jazz-oriented composition and exploratory free play is definitely worth checking out.
»Hamilton, 6-18 (Something Else Festival) / Montreal, 6-20 (Suoni per il Popolo) / Vancouver, 6-28
Perch, Hen, Brock & Rain
Derived from the names of its members, this collective quartet brings two couples together, one from Amsterdam (Ig Henneman, viola, Ab Baars, reeds), the other from New York (native German saxophonist Ingrid Laubrock and drummer Tom Rainey). These seasoned improvisers need no safety nets when they play, because they know the ropes of their trade and never loose footing when they square off with each other. Their live album, reviewed in this ­section, is proof positive.
»Hamilton, 6-16 (Something Else Festival) / Toronto, 6-20 (Array Music) / Montreal, 6-21 (Suoni) / Ottawa, 6-23 / Vancouver, 6-26 / Gabrio Island (B.C.) 27-6 / Roberts Creek (B.C.) 6-28
Haram
World-music buffs, this ten-piece outfit under the leadership of Vancouver guitarist Gordon Grdina will sweep you away with its intoxicating sounds of the Middle East. While there are several Western instruments like trumpet, ­clarinet, sax, and drums, the group also incorporates others from those cultures, the leader, for instance, playing oud. The blend of sounds is striking enough to create uplifting performances at every outing. (In Montreal, this ­orchestra will share a double will with Kaze.)
»Montréal (Suoni), 6-20 / Toronto, 6-23 / Ottawa, 6-24 / Vancouver, 6-30 (Gordon Grdina septet) and 7-2 (Haram + guest Swedish saxophonist Fredrik Ljungkvist)
For dates, times and venues of festival concerts in a location near you, search events at: www.jazzfestivalscanada.com
This page is also available in / Cette page est également disponible en:

Francais (French)