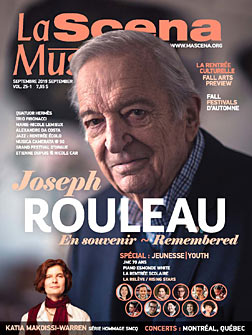 This page is also available in / Cette page est également disponible en:

Francais (French)
Without them, movies would never be made and plays would never be seen. While they work in different media, film and stage directors must coax actors by all means available to lift scripts off the page, and, if need be, let them ad-lib lines.
Having worked extensively in both areas, Montreal composer Katia Makdissi-Warren likes to call herself a "sound director." "I identify very much with their approach," she says, "because there is more to directing than just telling the performers how to play the music. I want them to determine some of the content as well. The difference, of course, is that I do not project words or images, but sounds."
Makdissi-Warren is not your typical composer of concert music who limits her work with musicians to having them interpret the score as she pleases. Understandably, her selection by the Société de musique contemporaine du Québec (SMCQ) as its featured composer for its coming season raised an eyebrow or two when it was first announced a little over a year ago. She, of course, was already in the know, but still quite taken by the honour. And all the more so because she joins a list of Quebec new-music luminaries celebrated in past seasons, ­starting with the legendary Claude Vivier in 2007, followed every other year by the late Gilles Tremblay, Denis Gougeon, Ana Sokolović, John Rea and José Evangelista.
At this writing, Makdissi-Warren has been hard at work for ­several months, gearing up for, among other things, the SMCQ's opening concert on Sept. 27 at Salle Pierre-Mercure. Two pieces of hers are on the program: Razzia and Algorythmes, both under her baton. Rounding off the evening are Vivier's Zipangu, a new work by Keiko Devaux (La cartographie des sons), and an unexpected new take on Vivaldi's Four Seasons played by both Western and Middle-Eastern instruments.
Regardless of the skepticism, SMCQ artistic director Walter Boudreau justified his choice in the initial announcement: "While Katia's music is of a high standard, it reflects the current state of culture in Quebec, one that is just as proud of its roots as it is open to diversity."
Even if Makdissi-Warren's work ethic sets her apart from the lot, it does not actually define her music. During an early-­summer conversation, she talked at great length about its ­genre-bending nature. "People here think my music is not contemporary at all, but Middle-Eastern, but if it is performed over there, it's the exact opposite. Musically speaking, I feel at times squeezed between a rock and hard place"
Formative years
Such misperceptions are not new to her. In fact, they go back to her student days at the Conservatoire in Quebec City, her home town. "I did not get my diploma," she admits off-hand, "because the jury was appalled by my decision to introduce a drum solo in the middle of the orchestral work submitted for my final exam. They thought it degraded the music. But when your composition teacher tells you Bernstein wrote pap, what can I say? I learned a lot anyway, like the curriculum on writing techniques. It was on a very high level."
To get a better grasp of the composer's musical world, one must dig ­further into her background. Raised in the French-Canadian culture of her father and the Lebanese culture of her mother, she was exposed to Chopin, Liszt and Strauss, on the one hand, the songs of Fairouz and pieces of the sibling composers Rahbani on the other. Music was very much in the ­family, and her two brothers were also involved with it, but did not pursue it as a career. But she knew quite early what her life calling would be, her experiences as a choral singer and pianist validating that belief.
Then came two defining moments. "At 14, I first heard Inuit throat singing on the radio, and it floored me," she remembers. "A year later, the same thing happened upon listening to a broadcast of Ligeti's Atmosphères."
Undeterred by her faltering studies, she packed up and left for Italy in 1993 for a three-month summer course with Franco Donatoni. Two years later, she was off again to Europe, this time for a five-year stay. Her first destination was Hamburg, her choice dictated by the fact that Ligeti was in charge of the composition class at its famed Hochschule für Musik. To her regret, the maestro had just retired, but she went anyway, studying under his assistant and successor Manfred Stahnke. But her initial disappointment would be offset somewhat, and in a serendipitous way. "One day, while riding the U-Bahn (city subway), I see Ligeti riding in the same car. I approach him and introduce ­myself. During the talk, he told me he would have surely accepted me into his class, had the circumstances allowed it. I treasure the memory – and that much more because I never saw him again."
From the North German city, she made her way to Paris, this time to be mentored by Father Louis El-Hage, Dean of the Holy Spirit University of Kaslik in Lebanon. "He was there on sabbatical that year," Makdissi-Warren recalls, "And his teachings influenced me a lot. For one thing, he really furthered my understanding of Middle-Eastern music. Next, he made me relate to music on a more physical or acoustic level than on an intellectual or conceptual one. His teachings so impressed me, I spent another year under with him after he returned to Lebanon."
Defining moments
By the new millennium, the upstart composer knew it was time to strike out on her own. After returning briefly to Quebec City, she made the move to Montreal to pursue doctoral studies at Université de ­Montréal under the supervision of Michel Longtin. After earning her diploma in 2006, her aspirations were stalled because there were no ensembles around capable of dealing with her genre-bending music. The only solution was to create her own group: after a first short-lived attempt, she finally established Oktoécho, this name derived from the one for the eighth note of a Byzantine mode.
While this was dictated by necessity, Makdissi-Warren had led groups previously, the first being a high-school chamber orchestra ­performing Western classical repertoire. Oktoécho, for its part, is more of a musicians' pool, its numbers ranging anywhere from four to 30 as per instrumental requirements. With this ensemble, she can devise a wide range of musical encounters that span the classical, contemporary and ethnic music idioms, with occasional smidgen of jazz.
Asked about the defining element of her music, Makdissi-Warren says without hesitation: rhythmic cycles. "I am drawn to repetition, but not in the way Glass or Reich do it, nor do I write trance music. ­Instead, I like to alter rhythm ever so subtly, in ways that are hardly perceptible when listened to casually." Also prominent in her work is the use of microtones, commonplace in many non-Western musics, and instruments like the nay, darbouka or oud, the latter being the composer's instrument of choice when she plays.
With some 80 works to her credit, Makdissi-Warren identifies three pivotal ones: Dialogue du silence (for solo flute), Razzia (for orchestra, see score excerpt) and Ode à la Terre (a recent and quite ambitious undertaking that draws on the Sufi and First Nations music traditions). Each of these, she believes, marks a new stage in her development.
Collaborations, West and East
As central as Oktoécho is to the composer's artistic agenda, this ­tribute series will offer her an opportunity to spread her wings and collaborate with other groups, not just locally but nationwide. A case in point is a work in progress with the Vancouver Intercultural Orchestra, due for a West Coast premiere next month, with a command performance in April 2020 at the Maison de la culture Ahuntsic-Cartierville in ­Montreal, headquarters of her ensemble. Of the 10 or so new works to be spawned over the next year, the Kamloops Symphony Orchestra will premiere one in March 2020.
Closer to home, in Gatineau, the Plaisirs du clavecin ensemble will cast aside its usual baroque ornamentations in favour of those from the ­Middle-Eastern tradition than run through many of the composer's works. Toronto's Evergreen Orchestra heads to Montreal in November with its battery of gamelans for an appearance at the Festival du monde arabe, of which the composer has been a fixture since its inception. Of her 20-odd new assignments, she is particularly excited about the commission from the Quasar saxophone quartet. Over the summer, she submitted a first draft of A.D.N. 0,5 %, its enigmatic title referring that small fraction of ­genetic material that divide the human species at the expense of the ­remaining 99.5% that we share. Its premiere is slated for January 23, 2020, at the Salle du Gesù. In the weeks the come, she will be actively workshopping with the musicians, working with them as their "sound ­director." As the closing event of her tribute year, the composer will ­premiere Ainsi chantait Simorgh at the Maison symphonique de ­Montréal on May 21 and 22, 2020, the details still being worked out at this writing.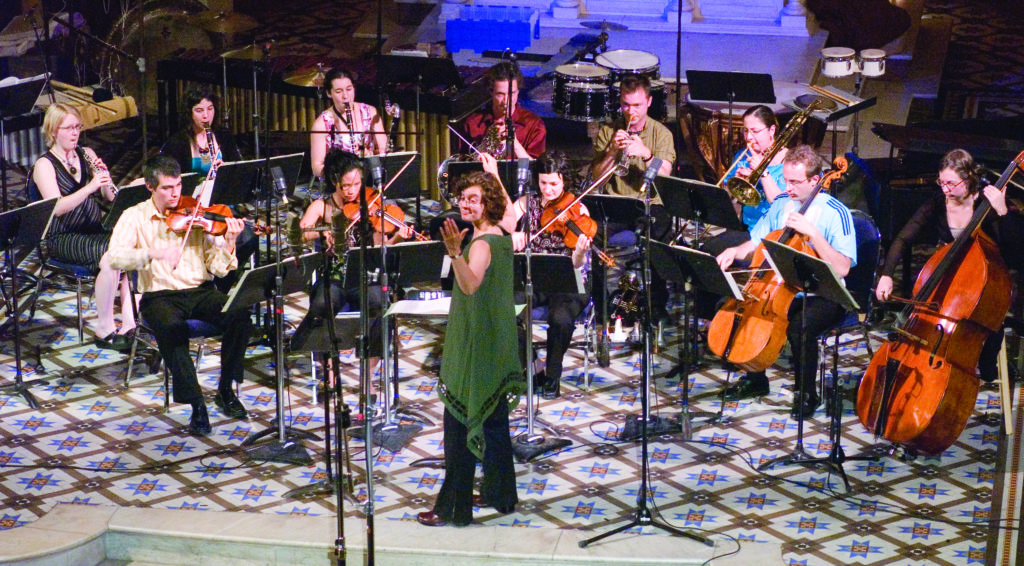 Like the proverbial cherry on the cake, Makdissi-Warren plans to release at least one new recording, a compilation of soundtracks written for films and stage performances, while eyeing a second one. "My big project is Trancestral," she says. "It's something of a big pow-wow that brings together First Nations and Middle-Eastern musicians with those of of my own group. I plan to bring it out next year, but it remains to be seen if it will be finished by season's end. But I have another major undertaking and that is a work that will be premiered next May by the OSM. The work, entitled Ainsi chantait Simorgh, is inspired by the writings of the Soufi poet attar, and will be scored for the whole orchestra with two soloists, a soufi singer and a ganun player."
Meet the composer event:
Sept. 10, 7 p.m., Canadian Music Centre, Montreal (Reservations required: ­[email protected] / 514-866-3477 http://www.cmccanada.org)
Concert season opener:
Sept. 27, 7:30 p.m. Salle Pierre-Mercure, Centre Pierre-Péladeau
For more information on Katia Makdissi-Warren and her concert schedule,
go to: http://www.smcq.qc.ca
This page is also available in / Cette page est également disponible en:

Francais (French)