This page is also available in / Cette page est également disponible en:

Francais (French)
In the Swing Era, big bands reigned supreme, but in the post-World War II years, many would disband, succumbing to changing popular tastes. Some lamented their disappearance, equating their fate to that of dinosaurs, but in fact, they never completely vanished. Forced out of dance halls, jazz orchestras would find new homes in music schools introducing jazz study programs into their curricula. Nowadays a resurgence of interest in them can be seen by the increasing number of live performances and new recordings of big bands: here are three discs issued since the New Year.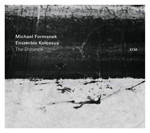 Michael Formanek Kolossus Ensemble
Distance
ECM 2484
In February, ECM records released this extensive 71-minute side under the leadership of double bassist Michael Formanek. In keeping with the label's aesthetic, the opening and title track unfolds quietly, almost in a hush. In the remaining hour, the 18-piece ensemble tackles an extends the work of its leader, the "Exo-Skeleton Suite", an eight-movement journey of varying moods spread over five tracks.
Well established in the contemporary New York jazz scene, Formanek also teaches at the Peabody Conservatory in Baltimore. On board are a stellar cast of players, the likes of Tim Berne (baritone sax), Mary Halvorson (guitar), Ralf Alessi (trumpet), with bassist Mark Helias not playing, but conducting the proceedings.
Having once occupied the bass chair in the Mingus Big Band and those of Toshiko Akiyoshi and Bob Mintzer, Formanek is no stranger to the format, but this is his first experience fronting a large orchestra. In a recent phone conversation, he admitted having entertained the idea for several years, but he really wrote the bulk of the music in 2013 during a two-week artist's residence. "I'm not the kind of person who can do several things at the same time, like playing and writing. I need space and time to focus," he explained. As for the title, it evokes for him a sort of protective shell, or armour against external, harmful forces. But this skeletal reference also infers something about the writing of the music itself. When listening to it, there is a sense of openness in the score that allows greater input from his charges. Resolutely of our time, Michael Formanek's musical vision is very much within the continuum of the jazz orchestra tradition, stretching all the way back to Duke Ellington. www.ecmrecords.com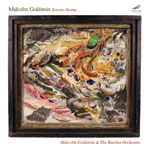 Malcolm Goldstein/Ratchet Orchestra
Soweto Stomp
Mode Records 291
From a historical perspective, jazz orchestras gravitate between two poles, one where players are subservient to a composer's vision, like classical music, and the other where the players are given greater latitude in shaping the music. Bassist Nicolas Caloia clearly embraces the latter as leader of the Ratchet Orchestra. For one, he is not that keen on having musicians glued to charts, preferring instead to let them fill in the spaces by either improvising collectively or giving them cues to work with. Also different is his way of structuring the group, not in typical big band instrumental sections, but rather in sub-bands, a fact possibly related to his own training in classical music rather than jazz. He divides the group, which interestingly enough comprises a couple of non-readers, into four units of mixed instrumentation, juxtaposing reeds, brass, strings and percussion in variant combinations.
This newly released album is a striking departure from its two predecessors. For starters, Caloia has delegated his 'composer' responsibilities to violinist Malcolm Goldstein. An acknowledged figure in the American (and international) contemporary music community, Goldstein is a foremost authority on the music of John Cage and Charles Ives, dedicating one of the six pieces included in this set ("In Search of Tone Roads 2") to the latter. The disc opens with a solo violin piece after which the orchestra is heard in different combination, the last one, and title cut of the album, woven around South-African rhythms and melodies. Clearly, the Ratchet Orchestra has taken a marked step away from the jazz tradition, but in so doing it asserts itself as a creative music orchestra beyond category. www.moderecords.com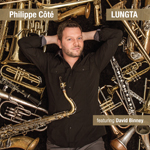 Philippe Côté (featuring Dave Binney)
Lungta
Mythology MR0013
In contrast to Caloia's collectivist approach, reedman Philippe Côté embodies that other pole, the singular vision of the composer, in his debut release – its title Lungta being a Tibetan word meaning 'wind horse'. This elaborate production of 14 tracks involves a jazz rhythm section, a 17-piece orchestra, two female vocalists, the composer on tenor sax and, as featured soloist, Dave Binney on alto. Unlike the previous albums reviewed here, this one is the result of several recording sessions over a three-year period, cleverly overdubbed.
The recording is actually the outcome of Côté's Masters diploma at McGill University. "I've always liked composing," the tenorman notes. "I could have produced just a jazz quintet album, but I wanted to follow another path. I took an arrangement course with John Rea, and he opened a door for me: that's when I decided to write full arrangements, not for a jazz orchestra, but a chamber ensemble." Having first laid down the rhythm section, he then proceeded to the orchestra session, added the voices and his guest, whom Côté considers a mentor. And what better mark of confidence for the young musician to have Binney issue the album on his own imprint! Very melodic in character, the music stays in harmonically familiar territory, all of which is orchestrated with considerable finesse for an ensemble comprised of oboe, four clarinets, two flutes French horns and trumpets, and a single trombone and tuba. Some may well hear a connection to the Third Stream Movement of the 1950s, which tried to marry the classics with jazz with middling success, but Côté feels only a tenuous link to it. Coinciding with the issuing of this magazine is an early April concert by the Orchestre de Jazz Montreal performing Côté's specially re-arranged versions of some of the record's pieces, and others by guest soloist Dave Binney. If you missed the show, there is always the record to fall back on, and 75-minutes of it at that. www.philippecote.com
This page is also available in / Cette page est également disponible en:

Francais (French)