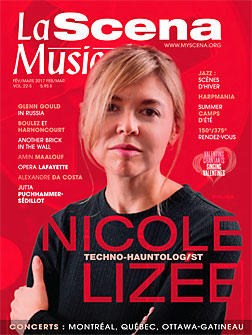 This page is also available in / Cette page est également disponible en:

Francais (French)
In February: DAME Struts her Stuff at the Gesù
Any listener familiar with Montreal's experimental music scene is aware of DAME. If you don't, it is the moniker of the distributor of albums filed under musique actuelle, the company's name short for Distribution Ambiances Magnétiques etcetera. Last year, its 25th anniversary went by unnoticed, but an event celebrating this was not discounted, simply put off to this year. The party is now set for the 16th of February at the Centre Gesù. And a party it will be, according to the company's head Joane Hétu, for it will run from 7 PM to midnight, with performances in its main theatre, the smaller Custeau room in front of it, some in the main lobby. And there will be records galore on sale, with some ten releases launched that night, three of which will be available on the newly-created digital download only label mikroclimat (see listing below).
DAME, it must be noted, is an outgrowth of Ambiances Magnétiques, the record label for which it was set up, likewise for its concert production arm SuperMusique. Founded in 1983, the label started as a non-profit coop venture spearheaded by a small coterie of musical experimentalists. Joane Hétu, a saxophonist and vocalist, joined the fray two years later, as a member of Wondeur Brass, an all-female band new to the fold. After a while she sensed a need to get things better organized, which lead her to establish the distribution company, incorporated with for-profit status. The timing could not have been better, because the 1990s was the decade that brought about the creation of government programs to support the Canadian independent music industry. Over the past quarter century, the catalogue grew exponentially, going from 24 titles to almost 240 nowadays, a remarkable feat considering the less than broad appeal of the genre. Other local imprints would soon be picked up by DAME, Monsieur Fauteux m'entendez-vous and Malasartes, or the Bozzini String Quartet's own QB Collection in contemporary music, and a few scattered titles from foreign labels.
But with the passing into the new century fortunes started changing. A full decade of sustained and at times intense production inevitably leads to some fatigue. Hétu, feeling the pinch, reorganized the workings of the business in response. Yet, the passage into the virtual music age has steadily taken its toll on the once reigning compact disc, to the detriment of labels and distributors alike. Equally if not more significant for all indies in Canada was the abolition by the past Conservative government of the federal subsidy program for specialized music, dramatically curtailing the flow nationwide. Faced with this situation, Hétu tried to unload the business, but with no takers she chose to soldier on, now releasing but six Ambiances titles per annum, the QB Collection as lone holdover in the label roster.
In her dual capacities as performer and business person, Joane Hétu has an unshakeable faith in the artistic pursuits she espouses. A feature piece on her in 2014 in French, posted on the website of le Vivier (www.levivier.ca), best sums it up: "Joane fights tooth and nail, holding on stubbornly to the last thread that keeps the music business going. When you think the industry is not doing well for Madonna, imagine how it is for a specialized record label!" And to quote her in own words: "We're really in a crisis now, one that's so hard to grasp, but I still want to document this music and have recordings out there in the marketplace, regardless of how hard a sell it is!"
» Concert program info: http://www.supermusique.qc.ca/fr/evenements/36401/
In March: U. de M. Big Band Welcomes Prominent Guest
In a tradition first established in 2008, the Université de Montréal Big Band will welcome a guest star for its closing concert. On March 23, at the Salle Claude-Champagne, this all-student orchestra and its leader, trumpeter Ron Di Lauro, will be humbled to play with the stellar double bassist and composer Dave Holland, one of the finest catches ever in the history of this annual initiative.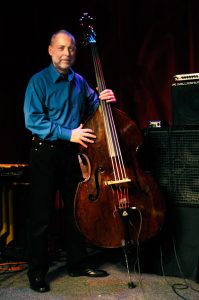 Now 70, this much-celebrated contemporary jazz master need not be introduced to music fans anymore, not even to attendees of our big jazz festival, its organizers having brought him to town repeatedly over the years, like in 2011 when he was showcased in the prestigious Invitation series. Born and raised in England's industrial heartland, Holland was drawn to music early in life, realizing it was a ticket out from his gloomy surroundings. Arriving in the Swinging London of the sixties, he enrolled at the Guildhall School of Music, only to immerse himself into the budding experimental free improvised music scene. But Lady Luck came by one evening when than Miles Davis heard the young upstart in a club. Through an intermediary, the bassist was summoned by the master to a recording session of his back home. The ensuing trip Stateside turned out to be a one-way ticket, from where Holland built his career, first as a sideman, then as a leader and composer.
For his Montreal visit, this distinguished gentleman will show his full artistry through his instrumental prowess and exceptional compositional abilities. As for the invite, Di Lauro admits it came about by happenstance. "Actually, I had someone else in mind, until a student asked me if I knew his (Holland's) music, and put a disc in my hand. One listen and I was sold on the idea so I reached him through his website. I lucked out, not just because he was available at that time, but he proved to be most cooperative. Mind you, the fact of telling him I have at least a dozen good soloists in the band – and I have a very strong one this year – impressed him, I think."
Holland's appearance is but another feather in the cap of this institution's flagship orchestra; in years past, soloists like Randy Brecker in 2015, Dave Liebman a year previous, even the most celebrated of American jazz composers Maria Schneider, have heeded the call. Such an initiative obviously requires financial backing, and Di Lauro is most fortunate to count on the support of Sophie Desmarais, daughter of the late business tycoon Paul Desmarais, whose foundation has also underwritten the band's two recordings. Seven pieces are slated for the concert, all of which have been issued on Holland's two big band recordings, the most recent on his own label. Needless to say, all lovers of modern big band jazz will be in for quite a treat!
» Listening hint: Overtime (Dave Holland Big Band) Dare2Records, 2005
New on Ambiance

Arthur Bull, John Heward, Adam Linson
Trio
AM 229 CD, 40 min 2 s
At first glance, the guitar, bass and drums lineup here may bring to mind that of the rock power trio. But in this freely improvised encounter, guitarist Bull does not howl with loads of distortionary hardware, nor does drummer Heward pummel his kit, whereas bassist Linson produces a full resonant sound. The acoustic setting does not diminish the intensity at all, as this unit is capable of reaching a feverish pace. A sure bet for fans of the genre, especially aficionados of the late radical plectrist Derek Bailey.
Ensemble SuperMusique
Jeux de pistes
AM 230 CD, 50 min 24 s
For this ensemble's seventh release, we have the who's who of Montreal's musique actuelle scene, a cast of 20 instrumentalists and four vocalists. Of the four works, the last two stem from long-standing members (Danielle P. Roger and Jean Derome), the first two by notables within the contemporary music scene (John Rea, Malcolm Goldstein). In turns quite spare (Rea, Roger) or quite dense (the other two), the music is culled from a live concert of 2015, one in a series devoted to graphic scores. A must-read are Roger's pointed liner notes that allow further insight and appreciation of the music at hand.
Eliot Britton, Architek Percussion
Metatron
AM 232 CD, 28 min 24 s
A new arrival to the label, Architek Percussion is a foursome based at McGill University, joined here by two guests – the notes do not say if the latter are present throughout. A single work by one Eliot Britton is presented; divided in five tracks, it is actually performed pretty well continuously over its scant running time. Musically, it is a quilt of acoustic and electronic sounds, including samples of vintage popular music recording, even a snippet of Ella Fitzgerald. Nice work…if you can get it.
Other Titles
» Nous perçons les oreilles – Un idéal (AM 231 CD)
» Rémy Bélanger de Beauport – D'éclisses (AM 233 CD)
» Joker – Où est-il donc ce rêve? (AM 234 CD)
Collection QB
» Quatuor Bozzini – Christopher Butterfield: Trip (CQB 1719)
» André Hamel, La Nef – Les musiques d'Urnos (CQB 1720)
mikroclimat – Download only via Bandcamp:
» Dead Squirrels – Sound Pressure Exercises (MKR 101)
(Émilie Payeur, Alain Lefebvre, Philippe Vandal)
» Queen Mab 3 (MKR 102)
(Lori Freedman, Ig Henneman, Marilyn Lerner)
» Eguiluz Trio – Ontologies (MKR 103)
(Stéphane Diamantakou, Géraldine Eguiluz, Jean René)
This page is also available in / Cette page est également disponible en:

Francais (French)