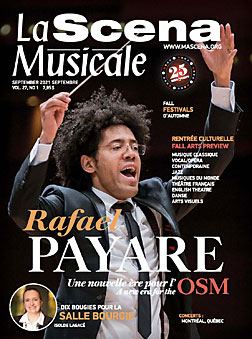 This page is also available in / Cette page est également disponible en:

Francais (French)
Between a recent performance of his quartet at the Montreal Jazz Fest and a coming solo performance at the Off Festival, pianist François Bourassa will appear with fellow keyboardist Yves Léveillé and percussionist Marie-Josée Simard in a program of more through-composed music. Multimedia artist Jacques Collin will provide a visual component with projections of Canadian landscapes. (Sept. 30, 8 p.m.)
Rafael Zaldivar, also a pianist, reconnects with the music of his homeland in Renaissance afro-cubaine. The show will feature him alongside vocalist Sarah Rossy, singer-guitarist Amado Dedeu Garcia, double bassist Rémi-Jean Leblanc and drummer Luc Bourgeois. (Oct. 7, 8 p.m. A co-presentation with the Off Jazz Festival.)
A repertoire of French songs with whisps of blue will be the fare for an intimate concert involving vocalist Laura Anglade and guitarist Sam Kirmayer. (Nov. 11, 6 p.m.)
Pianists Taurey Butler and Theo Abellard will be tickling the ivories before the silver screen in a series of archival films of African-American musicians active on the Montreal scene between the 1920s and 1950s. (Nov. 18, 7:30 p.m.)
For holiday season cheer, Taurey Butler returns with his trio to accompany singer Marie-Christine Depestre in a rendition of the Charlie Brown Christmas classic. (Dec. 15 and 16, 6 p.m.)
In the offing for 2022: Doxas Brothers Quartet, Éric Saint-Laurent, Jacques Kuba Séguin and a Tribute to Django. Please stay tuned.
Bourgie Hall Special
This page is also available in / Cette page est également disponible en:

Francais (French)