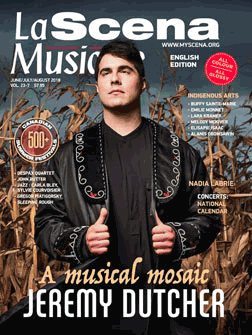 This page is also available in / Cette page est également disponible en:

Francais (French)
The Cellist: The Legacy of Gregor Piatigorsky, a new documentary by Murray Grigor and Hamid Shams, tells the story of the Russian-Jewish-American virtuoso in a panorama of historical sounds, pictures, video, and interviews, including footage of the Montreal Chamber Music Festival's founding director and driving force, Denis Brott.
One particularly moving, never-before-seen item shows Piatigorsky playing an excerpt from Schumann's Cello Concerto during a concert in Puerto Rico conducted by his old friend Pablo Casals.
Much of the research that went into the making The Cellist was guided by Piatigorsky protégé Terry King, whose Gregor Piatigorsky: The Life and Career of the Virtuoso Cellist is the definitive biography and best guide to how Piatigorsky made music.
The filmmakers enjoyed exclusive access to the new Piatigorsky Archives at the Colburn School of Music in downtown Los Angeles. This is the city where Piatigorsky concluded his debut American tour of 1929, playing his signature role, the cello solo in Richard Strauss's symphonic poem Don Quixote, with the Los Angeles Philharmonic.
Piatigorsky also became a favorite in Montreal. On May 16, 1944, he performed Haydn's D Major Cello Concerto and Don Quixote with the OSM in a wartime fundraising concert.
After the screening, the students I talked to were impressed by how epic his life had been. "Wow! A classical music Dr. Zhivago!" one teenager exclaimed, adding how much she had enjoyed the recreation of Piatigorsky's escape from the Soviet Union. All wished they could have met him.
It was as a teacher and mentor that Piatigorsky found some of his greatest artistic and personal satisfactions. He made teaching a series of individual acts of humanity with his students the beneficiaries, what we today call life lessons.
Like many of us in an older generation, Piatigorsky was feeling his heroes growing remote. He was as happy as Scrooge on Christmas Day to find that he had become a hero himself to a bushy-tailed crew of immensely
talented young cellists who reflected the times with their pop culture, long hair, casual clothing and all the other regalia of the era.
Those included Nathaniel Rosen, Steven Isserlis, Raphael Wallfisch, Jeffrey Solow, Mischa Maisky and Laurence Lesser. Piatigorsky students continue to occupy important teaching positions in leading conservatories and universities. Piatigorsky trained the principal cellists of orchestras in Boston, New York, Chicago, Dallas, Houston, San Francisco, Cleveland, Pittsburgh, Minneapolis, Philadelphia, Washington D.C., Berlin, London, Vancouver and Toronto.
One of the most brilliantly talented was Denis Brott. He had been studying elsewhere and feeling discouraged when a friend in Los Angeles arranged an audition with Lesser, then Piatigorsky's assistant. Brott auditioned for Piatigorsky himself less than a day later and was accepted on the spot into the class.
It is fitting that the final weekend of this year's MCMF, which features the first public screening of The Cellist, is devoted to the dream that Piatigorsky and his students shared so fiercely: playing the cello.
"I was drawn to the cello because it attracted people who shared their love openly, not possessively or competitively, but with a collegiality and sense of purpose," Brott says. "Mr. Piatigorsky always used to espouse that same elevated role of being a servant to music that inspired me tremendously in my youth and has inspired me ever since as it has so many."
Another admirer is Amit Peled, who now plays Casals' cello, and will perform Beethoven's Piano Trio Op. 97 ("Archduke") on June 14 (with violinist Ilya Kaler and pianist Alon Goldstein) and a solo recital the following evening mixing music by Bach and Ernest Bloch.
"Piatigorsky proved to me that giant cellists had existed before," Peled said, referring humourously to Piatigorsky's six-foot-plus stature, which he shares. "Seriously, to have studied both with Bernard Greenhouse, who was a Casals student, and with Laurence Lesser, who was a Piatigorsky student, meant getting as close as a young artist could to the two grandfathers of the 20th century cello line."
Terry King describes the impact Piatigorsky had on his students as a combination of joy in making music and self-discovery.
"All who studied with Piatigorsky have fond personal memories for sure, but for me I found in him the courage to become myself, to believe in my instincts, and to work with love and imagination for life."
This absorbing film will be screened as part of the Festival Musique de Chambre de Montréal programming on June 17 at 1 p.m. in Pollack Hall. Admission is free. www.festivalmontreal.org
This page is also available in / Cette page est également disponible en:

Francais (French)