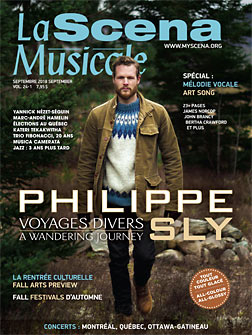 This page is also available in / Cette page est également disponible en:

Francais (French)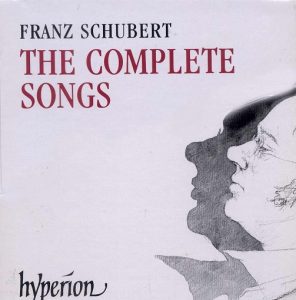 It all started in 1985, during dinner. Ted Perry, founder of the British independent label Hyperion Records, asked the celebrated collaborative pianist Graham Johnson what he would most like to record. Johnson's answer was simply, "All of Schubert's Lieder." Perry agreed immediately.
Schubert set more than 700 texts, most as songs for solo voice, but also for vocal ensemble. Almost all are accompanied by piano. Ironically, it took 18 years for Schubert to compose his Lieder (1810-1828), the same time that it took Hyperion (1987-2005) to record and distribute 37 compact discs featuring more than 60 individual singers. Johnson was not only the artistic director of the project, he was the only pianist. He was (and still is) a visionary. He designed all the programs and showed a particular gift for the judicious choice of his interpreters not only according to the Lieder but also the themes that dominate the series and several of the individual discs.
Johnson began with a stroke of genius by asking Janet Baker to open the series. The complete Schubert became a veritable "Who's Who" of lieder performers of the late 20th century: Elly Ameling, Arleen Auger, Lucia Popp, Brigitte Fassbaender, Margaret Price, Marjana Lipovsek, Edith Mathis, Thomas Hampson, Thomas Allen, Peter Schreier, Christoph Prégardien, Matthias Goerne and Ian Bostridge all leave wonderful testimonies of their and Schubert's art.
The series is transformed into a kind of portrait of gifted Lieder singers over a generation. At the turn of the century, the last volumes included new singers such as Gerald Finley, Simon Keenlyside and Christopher Maltman. But one has to mention the documentation that accompanies the individual discs. In addition to the German text of each Lied and excellent English translations, there are notes by Graham Johnson, which have acquired a legendary status. These notes, including commentaries on all poets, are such a rich source of information that Yale University Press transformed them into a three-volume book titled Franz Schubert: The Complete Songs. Schubert is undoubtedly the greatest composer of Lieder, and the singers, Johnson and Hyperion have surpassed themselves to create such a reference.
At the beginning of 1931, the Hugo Wolf Society launched a limited edition of recordings devoted to Wolf, probably the greatest composer of Lieder after Schubert. Despite the Great Depression, the project thrived, with individual volumes funded through public subscription. These recordings remain not only a fascinating exploration of great repertoire but a catalogue of the greatest interpreters of Lieder before the Second World War. Between 1931 and 1938, the producer Walter Legge recorded 145 Wolf Lieder in 148 versions (only three are duplicated) with 14 exceptional singers.
The series begins with the legendary Elena Gerhardt, who recorded for the company in London in November 1931. The rest is the stuff of legend. The first volume is one of the foremost rarities of the 78-rpm era. Further volumes of undisputed importance followed. We hear the incomparable baritones Herbert Janssen and Gerhard Husch, the first with an incredibly intense and introspective voice, the second wonderfully warm and present. Also in evidence are Alexander Kipnis's perhaps unparalleled version of Michelangelo Lieder, Helge Roswaenge's Feuerreiter and Karl Erb's refined art. Elisabeth Rethberg in Mühvoll komm 'ich is as eloquent as the glorious Tiana Lemnitz is radiant in Wiegenlied im Sommer. Several lost recordings were later found and published by the Hugo Wolf Society as a complete edition on CD at the beginning of the century. This reissue is simply essential.
For the generation of pre-World War II performers, Michael Raucheisen was the accompanist of reference. This German pianist worked with such singers such as sopranos Frida Leider, Erna Berger and Elisabeth Schwarzkopf; tenors Karl Erb, Peter Anders and Helge Rosvaenge; and baritones Karl Schmitt-Walter and Heinrich Schlusnus. Without being an exceptional pianist, Raucheisen remains inspiring. At any rate, his importance greatly exceeds the pianistic dimension. In 1933, after marrying soprano Maria Ivogün, Raucheisen sought to create a complete catalogue of Lieder on record. From 1940, he occupied an important position for the Berliner Rundfunk radio service, a position that had ramifications as the War, as Raucheisen was prevented from working as a possible collaborator. But he worked to preserve what he considered the glory of the German musical culture before it was destroyed. The Raucheisen edition of 66 CDs, issued in 2005, includes over a thousand Lieder, offering a complete overview of the genre. Its performers are legends: Hans Hotter, Erna Berger, Anton Dermota, Peter Anders, Margarete Klose, Frida Leider, Julius Patzak and the young Dietrich Fischer-Dieskau. Raucheisen accompanied Hotter in Winterreise in 1943 and Anders a decade later; then Beethoven's Lieder with Dietrich Fischer-Dieskau in 1952. It is a huge achievement that testifies to the richness of the Lieder repertoire but also a golden age of German interpreters.
Translated by Richard Turp
This page is also available in / Cette page est également disponible en:

Francais (French)