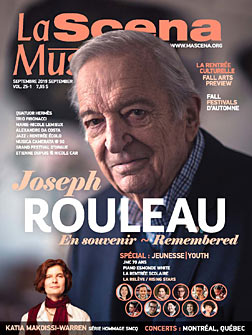 This page is also available in / Cette page est également disponible en:

Francais (French)
La Scena Musicale has from its very inception had the goal of making classical music more accessible. We have done so by using the written word to educate, promote and share what we learn about the music makers who bring a so much fulfillment to so many. As times change, La Scena Musicale too has evolved as a print publication, an electronic publication and a source of information on the cultural scene, not only in Montreal but across Canada through our online calendar. In an age when listeners are seeking new experiences, La Scena Musicale has made the decision to take our evolution one step further.
Some of you may have seen references to the La Scena Musicale Discovery Box. This is an initiative to promote the arts and classical music and make them more available to people who wish to explore and discover the richness of Montreal's cultural scene. In it we provide experience – the experience to discover something new. With the Discovery Box we hope to provide our subscribers and others with the opportunity not only to read about music and culture in Montreal, but to experience it in a variety of ways.
Subscribers to the Discovery Box receive three boxes per year. In every box they are guaranteed to have a pair of tickets and a CD. Each Discovery Box contains goods valued at two to three times the cost of a subscription. Subscribers will receive their Discovery Box by mail at home. But we do not plan on leaving what you receive to chance. We want our subscribers to truly enjoy discovering something new. We would like subscribers to help us identify their preferences. Sending you something you are not likely to enjoy is not in our best interests!
When you or another subscriber order the Discovery Box, there will be a questionnaire to fill out. This will assist La Scena Musicale in sending you something that will be fulfilling and a pleasure. Some basic questions will be posed, such as your favorite types of music. What other cultural events do you like to attend? These questions and a few more will help us provide you with a unique Discovery Box.
Some examples of what you could receive: a pair of tickets for the opera or a chamber music recital, or even tickets for other art disciplines, such as circus or dance. The accompanying CD would also be in the realm of your musical tastes.
With a starting price of $99, a subscription can open up horizons for students on a limited budget. Is there someone you find it difficult to buy gifts for? The contents of the Discovery Box might be just right for a friend, family member or someone you would like to thank in a unique way.
The evolution of La Scena Musicale is ongoing. We hope that the Discovery Box will play a role in making classical music and cultural events more accessible, not only through the written word but through a live experience.
514-948-2520 x2 or x3 • www.mySCENA.org
This page is also available in / Cette page est également disponible en:

Francais (French)