Cliquer ici pour télécharger notre page de coloriage de Pierre Boulez / Click here to download our Pierre Boulez colouring page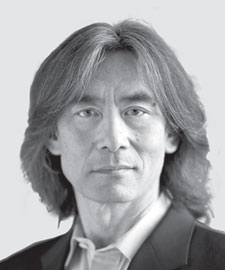 Pierre Boulez was a brilliant, courageous and imposing visionary who changed how we think, hear and evaluate music performance. As a composer and performer, his influence and memory will outlast his own era, joining those other immortal greats of Prokofiev, Rachmaninoff, Mahler, Bernstein, Beethoven, Mozart, Bach… to name a few.
To me personally, Pierre Boulez was a great mentor, introduced to me by my teacher, Olivier Messiaen. For a time I was lucky enough to study conducting with both Boulez and Bernstein simultaneously. Though seemingly polar opposites, what struck me was how similar they were in their thinking process. Both emphasized to me the importance of becoming fluent, conversant and knowledgeable in the visual arts and literature. Boulez was extremely well-read: he encouraged me and his students to dive into literature as a source of development and inspiration.
As a composer, Boulez's imagination and ideals far outpaced the technical limits of performance during his time – pushing players to develop greater ease, better ensemble and fluency in a contemporary aesthetic language. His perspectives on historical performance practice were unusually frank in that they were influenced by his thirst for advancement of the composer's ideals rather than a focus upon the technical limits of an era. Later in life he was gratified and inspired to see his influence manifest in a whole generation of performers and composers. He was a giant among men, and he changed our music forever.
– Kent Nagano
J'ai rencontré Pierre Boulez pour la première fois au début des années 1970, après un concert au Centre national des arts à Ottawa.
C'est le chef d'orchestre québécois Françoys Bernier qui m'a présentée à lui.
Nous nous sommes de nouveau rencontrés à Cleveland, où il était le chef d'orchestre invité, et en Californie, où il était aussi le chef d'orchestre. Très impressionné par mon art et ma thèse, il m'a encouragée à me rendre à Vienne pour rencontrer le chef de service d'Universal Edition. Il avait donné son approbation par écrit pour que je puisse utiliser ses partitions dans ma thèse. Il m'a aussi invitée à Bayreuth, où il était le chef d'orchestre pour l'opéra Parsifal. À cette époque, j'étudiais à Darmstadt et je faisais la navette entre cette ville et Paris. Après l'opéra, alors que je traversais la rue, une Mercedes décapotable m'a arrêtée. C'était M. Boulez. Quelle surprise ! Il a offert de me conduire chez moi. Je lui ai dit que j'avais adoré la manière dont il avait dirigé l'opéra, puis il m'a invitée à revenir. Cependant, cette seconde fois, j'avais un siège spécial – dans la fosse d'orchestre. Ce fut un grand honneur de m'asseoir sur un coussin au pied du podium du chef d'orchestre de Parsifal. C'est un de mes plus précieux souvenirs.
Pierre Boulez a aussi écrit une lettre à la CBC me donnant carte blanche pour utiliser ses partitions dans mon art. J'ai ainsi monté une exposition pendant l'une de mes interprétations de sa troisième sonate.
Lorsqu'il était à New York, les critiques lui ont reproché d'être trop métronomique. Je lui ai alors envoyé un de mes dessins de métronomes avec l'inscription : « Boulez n'est pas l'un de nous ».
Je l'ai vu pour la dernière fois au studio Glenn Gould de la CBC, lorsqu'il reçut le prix Glenn Gould en 2002. J'interprétais sa première sonate au piano. Il m'a encadrée à 8 h ce matin-là. J'avais travaillé si fort pour perfectionner chaque détail, mais il changea la plupart de ses notes originales dans la partition. C'est certainement le droit du compositeur de faire des changements. Cela montre l'écoulement organique de la musique. Ça rendit les choses difficiles, mais après le spectacle, M. Boulez a pris mes mains dans les siennes et m'a dit : « Bravo ! » J'étais si émue !
Inspiration musicale
Les écrits de Boulez sur sa musique m'intriguaient autant que ses compositions. On aimait les mêmes poètes, auteurs et artistes – Mallarmé, e.e. Cummings, Rimbaud, Kafka, Joyce, Klee et plusieurs autres. La structure musicale dans ses partitions m'a amenée à tout remettre en question et à tout analyser avec une nouvelle perspective. J'ai commencé à examiner les formes, structures, variations et leur création et destruction. Son concept de l'artiste/interprète comme voyageur utilisant la partition comme une carte, guidée par le hasard et l'intuition autant que n'importe quel plan préconçu, m'a grandement influencée. J'ai commencé à penser à différents dessins d'immeubles – les vues intérieures de pièces et leurs structures; des immeubles compris seulement d'échafaudages, leurs formes changeantes qui émergent comme abstractions de lignes et points – des apparitions fantomatiques qui deviennent détaillées et se forment graduellement en villes. M. Boulez m'a donné un nouveau regard sur la structure et la technique pour adapter et changer selon diverses perspectives. Son utilisation du sérialisme m'a appris la discipline et le contrôle. Sans M. Boulez, mes dessins ne se seraient jamais développés.
M. Boulez fut une grande source d'inspiration dans ma vie. Ses premiers écrits ont éveillé la rebelle en moi. Ses partitions complexes m'ont fait travailler fort physiquement et intellectuellement. Ses idées littéraires, poétiques et artistiques m'ont influencée musicalement et ont touché mon art. L'histoire ne s'arrête pas là et je vais toujours chérir mes souvenirs de ce compositeur et chef d'orchestre renommé.
– Christina Petrowska Quilico
C'est à travers les cours d'analyse de Serge Garant et les concerts de la SMCQ que j'ai découvert la musique de Pierre Boulez.
Véritable « pape » de la modernité, son influence était perceptible et colorait toujours la pensée musicale durant mes années d'études à Montréal.
J'avoue avoir été influencé par certaines de ses œuvres, non pas par leur vocabulaire, mais plutôt par la rigueur et l'exigence qu'il y mettait : sa manière de penser la musique m'obligeait à définir la mienne. En mai 1991, Charles Dutoit dirige ma pièce À l'aventure ! Boulez est dans la salle et m'adresse de bons mots sur ma musique. Ça me fait évidemment grand plaisir, d'autant que ma musique est tellement éloignée de la sienne ! Après le concert, à l'invitation de Jean-Jacques Nattiez, nous nous attablons au restaurant où j'ai le grand bonheur de parler musique et autres sujets dans la plus grande simplicité.
14 janvier 2016, je suis assis dans l'église Saint-Sulpice à Paris. Ici depuis quelques jours, j'ai naturellement décidé d'assister à cette cérémonie. Musiques de Boulez, Messiaen, Schoenberg et Bach. L'église est remplie d'admirateurs dont la qualité d'écoute et de recueillement est remarquable. Parmi les trois hommages rendus, je retiens celui de Renzo Piano, architecte, qui a su parler de la dimension humaine de son ami Boulez et de sa volonté de créer de la Beauté. Quelle que soit la conception que nous ayons de la Beauté, sachons apprécier l'ensemble de l'œuvre que ce musicien a bâtie et qui, j'en suis certain, continuera d'éclairer de nombreux esprits créateurs.
– Denis Gougeon, Paris, 18 janvier 2016
Working with Pierre Boulez was always special. You knew he was in the house that day, just be feeling the special and very focused atmosphere. As assistant conductor of the Ensemble intercontemporain (2008-10), I had the privilege to do rehearsals for him, study scores with him at the desk (notably Mahler's 6th Symphony), watch him in rehearsals and concerts, etc. He was very kind and economical with his words. He always wanted people around him to play at his/her best, but for that, one needed to be prepared at the highest level ! This is probably his greatest legacy: encourage people to strive for the best, for the music only.
– Jean-Michaël Lavoie