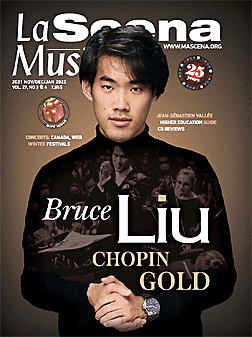 This page is also available in / Cette page est également disponible en:

Francais (French)
Mystic
Giorgia Fumanti, soprano
Velenosi entertainment VEGA2CD-2942
Release: Aug. 20
Giorgia Fumanti has established herself as one of the top female classical crossover singers in the world, having performed in five continents and in some of the most prestigious and iconic venues. Fumanti's 12th album, Mystic, is a follow-up to her No. 1 best-selling album Amour and her No. 3 best-selling album Aimons-Nous on Canada's ADISQ charts. (Her albums have also appeared on Billboard's Crossover Chart.) This collection includes classical hits by Ravel (Bolero), Verdi ("Va, Pensiero"), Puccini ("Nessun Dorma"), Orff  ("O Fortuna") Albinoni (Adagio), Piazzolla (Libertango), Gino Vannelli, Michel Legrand and Leonard Cohen ("Hallelujah"). The clip of the last video has received over 1.5 million views. This 14-song album includes a haunting rendition of the theme song from Gladiator that showcases Fumanti's beautiful soprano voice. A real gem combining the talents of Fumanti with the arrangements of Stefano Galante. 
Reconnaissance
Jeanne Amièle, piano
Release: Sept. 24
Pianist Jeanne Amièle released her first solo album this fall. Titled Reconnaissance, the album brings together early works by Clara and Robert Schumann. The world of the masked ball is evoked by these works, including Papillons Op. 2 and Carnival Op. 9 by Robert Schumann; and the Valses romantiques Op. 4, Caprice en forme de valse Op. 2 No. 7, Valses romantiques Op. 4 and Trois romances Op. 11 of Clara Schumann.
Retro Americana
Christina Petrowska Quilico, piano
Navona Records NV6361
Release: Sept. 24
The acclaimed and prolific pianist Christina Petrowska Quilico embarks on a journey through time by exploring an entire century's worth of North American piano music. Retro Americana showcases the whole gamut of a long-neglected genre seldom heard in such splendour. Petrowska Quilico, whose career output includes a mind-boggling 50-plus records, has assembled the eclectic cornucopia of Retro Americana with her usual proficient, stylistic command. Atonal pioneer Henry Cowell shakes hands with a rather lighthearted George Gershwin, while their living colleagues Meredith Monk and Bill Westcott are just as diligently honoured as the late legends Frederic Rzewski and Art Tatum. Their respective times and voices are impeccably tied together by Petrowska Quilico's trademark riveting interpretation.
Beethoven: Violin and Piano Sonatas
Nos. 4, 9 & 10
Andrew Wan and Charles Richard-Hamelin
Release date: Oct. 8
For their third and final volume of the complete Sonatas for Violin and Piano by Ludwig van Beethoven, the inimitable Andrew Wan and Charles Richard-Hamelin present a selection of works with refined instrumental textures that exude an intimate atmosphere full of nuances. The second volume of this collection has just won the Felix award for Album of the Year in the Classical/Soloist and Small Ensemble category.

Schubert: Warmth
Mathieu Gaudet
Release: Oct. 22
Pianist and physician Mathieu Gaudet presents the fifth volume in his wonderful collection of the Sonatas and major works for piano by the great composer Franz Schubert. While it is true that Schubert's music is often tinged with melancholy, it is also sometimes shrouded in an optimistic and generous light that ardently celebrates life, as the selection of works put forward by this exceptionally talented performer attests.
Wim Statius Muller :
 

Antillean Dances
A Piano Around The World. Port Of Call : Curaçao
Louise Bessette
Release: Oct. 24
On this new album, pianist Louise Bessette offers the complete 22 pieces published in the collection Antillean Dances by the composer Wim Statius Muller, the so-called 'Chopin of Curaçao'. Here she gives a royal treatment to a little-known, yet unique and timeless work. The great Louise Bessette's precise interpretation brings this brilliant work to light with exceptional clarity.
Bach: Goldberg Variations
Sarah Hagen, piano
Release: Nov. 4
Pianist Sarah Hagen's fourth album, a recording of Bach's formidable Goldberg Variations, is emblematic of keyboard virtuosity, rich expression, and hardcore classical interpretation. A luxurious double-CD album, it is the result of what Hagen describes as a calling to the work in spring of 2020, one that ultimately changed her as an artist and a person. Recorded on a Yamaha C7 at the historic St. Mary's Church on Prince Edward Island, the album was engineered by Adam Gallant and mastered by John D.S. Adams. Ben Didier designed the album packaging, incorporating original artwork by Hagen.
Aux fenêtres du temps
Claudel Callender, composer
Choeur d'Enfants Vox Luminosa, Jeunes Voix des Moulins, Alexandra Boulianne, dir.
Release: Nov. 6
Pianist, singer and composer Claudel Callender releases his new album titled At the Windows of Time. He is accompanied by five musicians and a children's choir of 20 voices, including the Choeur d'Enfants Vox Luminosa and the Jeunes Voix des Moulins under the direction of Alexandra Boulianne. This intergenerational double album will allow young and old alike to share and savour 30 new songs with varied rhythms and bewitching melodies, woven around the theme of childhood and based on the wonderful poems of Maurice Carême.
Vintage Americana
Christina Petrowska Quilico, piano
Navona Records NV6384
Release: Nov. 19
"Hailed by the New York Times as a "promethean talent," Canadian pianist Christina Petrowska Quilico performs compositions by six American composers on Vintage Americana. In an exhilarating show of virtuosity, Petrowska Quilico steps unflinchingly from tonality to atonality and back again. While the solo piano is the unquestioned star of the album, moments of electronic manipulation and other unexpected instrumentation offer surprising new textures. In Vintage Americana, Petrowska Quilico reimagines what this centuries-old instrument is capable of. The result is a captivating collection of masterfully performed works from some of America's most gifted composers.
Richard Gibson: Rivers Freezing Over Moon
Jennifer King, piano
Leaf Music LM2019
Release: Nov. 19
Rivers Freezing Over Moon was written for Jennifer King's fascinating recording project involving musical  depictions of the 12 months in the Miq'maw lunar calendar. Though not program music per se, this piece endeavours to convey the opposing features of the beautiful austerity of the approaching cold season, represented by glacially "indifferent" high register arpeggios and the dormant seeds of future new life, which are musically portrayed by the contrasting darker chordal gestures.

Vivaldi: Violin Sonata in D Major,
RV 755
Mark Fewer, violin, Hank Knox, harpsichord
Leaf Music LM22908
Release: Dec. 3
Canadian violinist Mark Fewer joins Hank Knox, harpsichord, in an exciting performance of Antonio Vivaldi's Violin Sonata in D major RV755. The featured work is part of the "Manchester Violin Sonatas" – a collection of previously unknown violin sonatas discovered in a library in Manchester, UK in the 1970s. The complete collection was recorded by Fewer and Knox and released in 2020. The music video was recorded at Église St. Augustin in Mirabel, Quebec.
Trio Kalysta
Lara Deutsch, flute; Emily Belvedere, harp;
Marina Thibeault, viola
Leaf Music LM22601
Release: Dec. 10
Flutist Lara Deutsch, harpist Emily Belvedere and Juno-nominated violist Marina Thibeault, who are recognized for both their "polish" and their "mad skills" (Robert Rowat, CBC Music), are champions of lesser-known but colourful repertoire. They highlight works by female and Canadian composers whenever possible. In this album the ensemble presents Claude Debussy's Sonata for Flute, Viola, Harp and R. Murray Schafer's Trio for Flute, Harp and Viola.
This page is also available in / Cette page est également disponible en:

Francais (French)