This page is also available in / Cette page est également disponible en:

Francais (French)
If you're a music lover with a computer, or even just a smart phone, the chances are that you have spent some serious time online over the past few months. La Scena Musicale staffers offer some of their picks, with a stress on the offbeat and out-of-the-way. Consult the LSM website to make linking easier.
Eva Stone-Barney
Juilliard Boléro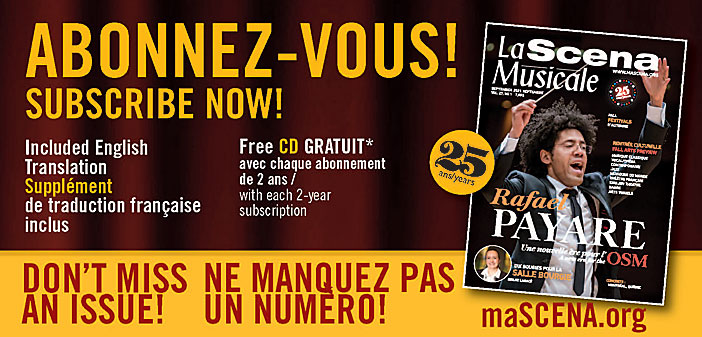 Many schools, choirs, and orchestras have created virtual performance videos, but none have stuck with me the way this one did. There is something about the interdisciplinary, intergenerational collaboration and the reimagination of Ravel's score that I find profoundly joyful and refreshing.
www.youtube.com/watch?v=rqzkn-jX-JU
Olivier Bergeron
Wigmore Hall Lunchtime Concerts
When Wigmore Hall announced a series of concerts streamed live every weekday through of June, I was thrilled to have the opportunity to experience chamber music performed in real time by such notables such as Imogen Cooper, Angela Hewitt, Lucy Crowe and Roderick Williams. Sign in to access the archive.
www.wigmore-hall.org.uk/wigmore-series/bbc-monday-lunchtime-concerts
Justin Bernard
Intermezzo from Cavalleria Rusticana
I was amazed by this excerpt from the Met At-Home Gala. How was the Met Orchestra able to accomplish this, with each musician in his or her living room playing in
perfect time while Yannick Nézet-Séguin conducted through a mobile device?
www.youtube.com/watch?v=YuDDyuxkOuQ
OCM Virtual Concert #2
Baritone Andrew Love was the second artist to be featured in the Orchestre classique de Montréal virtual concert series. He felt confident enough in front of a camera to talk about his life and the works he performed before lockdown, giving us an idea of what it was like to sing in a living room. Despite a few unforeseen hiccups, Love held his own.
www.facebook.com/watch/?v=152493392847428
Daniel Vnukowski
While I was regularly updating our webpage on live streams, I came across the YouTube channel of pianist Daniel Vnukowski, an eloquent lecturer who shares interesting thoughts about the history of music and music performance.
www.youtube.com/watch?v=hpdxlOOYtvo
Arthur Kaptainis
Valérie Milot
The harp is critical in the exquisite Adagietto of Mahler's Fifth Symphony. Can it carry the
movement by itself? Valérie Milot answers the question in this video produced by the Orchestre classique de Montréal.
www.youtube.com/watch?v=LGG92Ct4xR4
Emily Westell
More than a century after its heyday, Hausmusik has made a comeback. National Arts Centre Orchestra section violinist Emily Westell plays Kreisler in a family-friendly way with her husband at the upright piano and the family dog as a somewhat capricious spectator.
www.nac-cna.ca/en/bio/emily-westell
Lisette Oropesa
Many were the highlights from the Met At-Home Gala in June. One was Lisette Oropesa in "En vain j'espère" from Meyerbeer's once-popular Robert le diable. The tone is brilliant and ornaments are both
dazzling and relaxed. This Cuban-American coloratura can make a
forgotten aria sound familiar. Pianist Michael Borowitz, as piped in on a big-screen television, seems to be playing in the same space.
www.youtube.com/watch?v=HKWuxjUlpv0
Adrian Rodriguez
Andrew Owens
This tenor made his virtual company debut with the Los Angeles Opera with an exceptional performance for its Living Room Recitals series. Andrew participated from the beginning of our Corona Serenades program. He might be one of the best American tenors right now. His wife plays the flute beautifully in some of the selections.
www.youtube.com/watch?v=TEHKX7ixY7M
Marble City Opera Pagliacci
This company in Knoxville, Tennessee pulled off the amazing feat of producing Pagliacci in accordance with all distancing and
COVID-19 directives. Around 100 people were in attendance. There was also a livestream. I interviewed the founder and director, soprano Kathryn Frady, a participant  in the Corona Serenades.
Pagliacci: www.youtube.com/watch?v=kp-lFILQue8
Interview: www.youtube.com/watch?v=F2pcskEJmT8
Dino Spaziani
I was hooked on a theatre workshop with Sylvain Marcel, known for yelling "Ah-ha! Familiprix!" in a series of namesake commercial advertisements and starring in 19-2; and Frédéric Desager, starring in Hochelaga, Land of Souls, directed by François Girard. Marcel and Desager presented Tant qu'il restera des allumettes, an online play offered by Théâtre Harpagon. The play is about two users lost in the huge, isolated web who cross paths and get to know each other. The play will be presented sometime in 2021, though it will take another form owing to COVID-19.
www.youtube.com/watch?v=NlMKr0s03-M
This page is also available in / Cette page est également disponible en:

Francais (French)