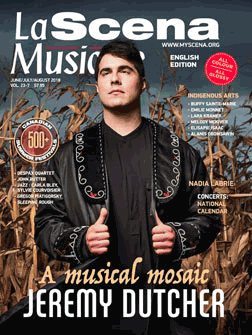 This page is also available in / Cette page est également disponible en:

Francais (French)
Joséphine Bacon is a major ambassador for Innu culture and a committed author, narrator and producer on the Indigenous arts scene. She gives a tremendous voice to her territory and inhabitants in few words.
Territory: Centrepiece for Poetry
"My wealth is called a salmon, my wealth is called a caribou, my fire is called a black spruce…" Ma richesse s'appelle [My wealth is called] highlights the importance of territory in Joséphine Bacon's works, a vision deeply etched in the Indigenous mind; each life is related to the earth in which we live, where everyone must live harmoniously. Bacon hails from the Côte-Nord community of Pessamit. The tundra territory is omnipresent in her writing, giving way to the title of her novel collection Un thé dans la toundra/Nipishapui nete mushuat, published by Mémoire d'encrier in 2013.
Bacon has taught the Innu-aimun language for 40 years. She also works as a translator and interpreter for senior citizens, a job that is crucial to preserve the language and transfer knowledge. "These are the people who possess traditional knowledge, so I wisely listened to them," she said. Her contribution toward preserving and vitalizing the Innu language and culture is priceless. In recognition of her work, Bacon received an honorary doctorate in anthropology from Université Laval in 2016.
Although Bacon's poetry collections are published in Innu and French, her mother tongue remains the centrepiece for her art. "Everything is at hand: my identity, culture, imagination, the words I write," she said. She has played a leading role for researchers working in Innu communities to gather information about the language, culture, oral traditions and history of this First Nation since the 1970s. Bacon makes regular appearances at international Indigenous authors' conferences, takes part in many literary festivals and performances in Quebec and France, and facilitates writing workshops and conventions in universities and CEGEPs, as well as in many Indigenous communities. On top of it all, she translates works from Innu-aimun into French.
In 2009, Bacon published her first poetry collection Bâtons à message/Tshissinuashitakana with Mémoire d'encrier. In 2010, she won the reader's prize at the Marché de la poésie de Montréal for her poem "Dessine-moi l'arbre" [Draw me a tree]. In 2011, Mémoire d'encrier published Nous sommes tous des sauvages [We are all uncivilized] in collaboration with José Acquelin. Lastly, in 2014, Un thé dans la toundra/Nipishapui nete mushuat was a finalist at the Governor General's Literary Awards and Grand Prix du livre de Montréal.
But Joséphine Bacon does not think of herself as a poet. "I believe each individual is a poet, though not everybody thinks of themselves as one," she said. Nevertheless, she will embark on publishing Uiesh/Quelque part, a new collection once more alluding to places and territories, this fall.
Words, Images, and Music
Despite the critical and public acclaim that has greeted Bacon's work, publishing poetry remains a relatively recent activity. Pascale Marcoux wrote the following in her literary studies thesis at Université Laval, the first critical study fully devoted to Bacon: "Before she officially put pen to paper, this Innu artist learned to work with film material through many moviemakers during shootings and directing her own documentary films…. In her first collection, this fundamental footprint in film practice left a clear trace."
Bacon has collaborated in many documentaries and short films as a scriptwriter, translator, and narrator, especially in works by filmmaker Arthur Lamothe. A particularly noteworthy production was the 1997 Tshishe Mishtikuashisht – Le petit grand européen: Johan Beetz, a story about a Belgian aristocrat who moved to the Côte-Nord and became a legend to the Innu community. In 2006, she produced the Mupu series and, in 2008, Finding our Talk, a documentary about the Anishinaabe language. In addition, she wrote 26 Mukuan and Carcajou episodes for Productions Kwé.
The artist, a lyricist and author of text sequences for the Chloé Sainte-Marie show Nitshisseniten e tshissenitamin, talked about the specific relationship she had with music all the while expressing her love for language. "Speaking Innu-aimun sounds like music when you hear it; it is a musical language. It goes without saying that you can hear Innu when listening to music, but the two don't always go together," she stated. 
Always reinvent yourself!
Innu artists have achieved more prominence on the Canadian cultural scene in the past few years. Is this a renewal? Bacon doesn't think so. First Nations communities are constantly renewing themselves, she said. "Remaining sedentary has been a renewal from the time of nomadism," she continued. "Writing began to settle in among youth. We were part of an oral tradition for a long time, but writing changed this reality."
The growing popularity of Indigenous artists is a reality; Bacon has some hard time naming personalities she likes the most. "Being an artist is admirable, but it isn't easy to talk about people we like," she confessed. "The choices are endless."
What advice does Bacon have for the public? "Identify the artists," she answered. "Don't keep them in a 'First Nations' literature box. I want to say that my name is Josephine Bacon, poet for the Mémoire d'encrier publishing house. I'd like to feel that I belong to a group, regardless of race."
Translation by Dwain Richardson
This page is also available in / Cette page est également disponible en:

Francais (French)