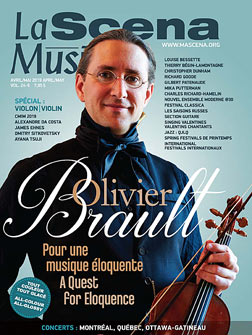 This page is also available in / Cette page est également disponible en:

Francais (French)
by Benjamin Goron, Robert Kilborn and Adrian Rodriguez
Swan Lake, Polish National Ballet / Place des Arts, Montreal****
Conviction and savoir faire
This Swan Lake changes everything while remaining the same. It unfolds at the imperial court of Russian Tsar Alexander III. Alexander's son, the Tsarevich Nicholas, must choose between his first love, Princess Alix of Hesse, and his infatuation with the young Polish ballerina, Mathilde Kschessinska. Nicholas would of course become Nicholas II, the last Tsar of Russia, shot and bayoneted to death in the Russian Revolution, along with his wife and five children.
Vladimir Yaroshenko as the Tsarevich Nicolas thrilled us with his earnest charm and athleticism. Chinara Alizade as Princess Alix/Odette and Yuka Ebihara as ballerina Mathilde embodied fear and hope, menace and authority with each arabesque, fouetté, and petit battement. Other key dancers, including Robert Bondara as Tsar Alexander and Maksim Woitiul as Volkov the Hussar (Siegfried's friend and aide-de-camp), enriched the drama with their palpable conviction and savoir faire. The corps danced with freedom and command, sans gymnastic or melodramatic excess. And the Grands Ballets Orchestra under conductor Oleksiy Bakla spun the sorrow and triumph of Tchaikovsky's music into crisp oppositions of silk and iron.
Glorious sets and costumes by Luisa Spinatelli, evocative but not overzealous lighting by Steen Bjarke – each pitched to the wow of the received choreography – were married expertly to Krzysztof Pastor's lustrous neoclassic innovations. This Swan Lake epitomizes the shapeliness and stillness of art. RK
Così fan tutte / Université de Montréal
Promising Cast, Weak Production****
L'Atelier d'opéra de l'Université de Montréal presented Mozart's Così fan tutte to a near-full Salle Claude-Champagne on Feb. 28. Since this venue has no pit, as has been done in recent years, the production was on a raised stage, creating an artificial pit for the orchestra. This year there was trouble with the sound engineering. Microphones were present for archival purposes and there were monitors on stage to allow the singers to hear the orchestra and harpsichord better. However, the monitors were too loud. This
resulted in random spikes of volume, which were particularly obvious when singers placed themselves on centre stage. It sounded awkward and affected the beauty of their natural voices.
Nonetheless, the strongest point of the evening was the singing. All the aspiring singers were very well prepared musically and showed good potential. Soprano Kirsten LeBlanc sang an energetic Fiordiligi. Although her voice is still too young for the role, she displayed good legato, balanced resonance and a brilliant top.
In the lower range, baritone Pierre-Étienne Bergeron (in the second cast, but filing in for an indisposed David Turcotte) has an ideal voice for Guglielmo: a lyric instrument with romantic velvety timbre, possessing equalized registers and capable of executing different nuances.
If casting wasn't ideal, this is almost always the case in student productions, as some of the young singers might still be trying to figure out their voice type. Dorabella, for example, was a light mezzo-soprano. The role felt too heavy for her voice type. Baritone Dominic Veilleux was also miscast as Don Alfonso, a role that is best suited to a basso buffo and not a lyric baritone. As an actress, soprano Lila Duffy tried to add some humour to an otherwise boring and incomprehensible staging. She also displayed a pleasant and educated voice. However, she exaggerated in some instances. For example, during a passage in the first act she interpolated a simple trill from the famous high passage of The Queen of the Night aria in The Magic Flute, which definitely highlighted her high range, but didn't make any sense musically or dramatically. It was reminiscent of the old days when a divo tenor would stop
an opera to sing a passage of O sole mio.
The whole production seemed to lack a driving force. The stage director didn't have a clear vision of what his characters were or even a particular aesthetic sense. The scenography was austere and the costumes seemed to come straight from a grandparent's forgotten closet. Frankly, the public would have been better served with a reduced concert version of the opera. AR
Trois cents ans et sept clavecinistes :
Soli Graupner Gloria !Salle Bourgie, 28 février 2019****
Il est coutume de souligner l'anniversaire de la naissance ou de la mort d'un compositeur, mais plus rare de marquer l'anniversaire d'une publication. En 1718, Christoph Graupner faisait paraître à Darmstadt son premier livre regroupant huit partitas, totalisant 1 h 30 de musique (sans compter les reprises figurant dans les partitions, abandonnées pour l'occasion). Ce disciple de Johann Kuhnau montre déjà dans ces œuvres une grande maîtrise des divers styles nationaux, mais aussi de la technique de son instrument. La salle Bourgie, dans le cadre des concerts Arte Musica, a pu se réjouir d'entendre en première mondiale l'intégrale de ces huit partitas pour clavecin, interprétées par la crème des clavecinistes au Québec : Geneviève Soly, Luc Beauséjour, Johanne Couture, Hank Knox, Mylène Bélanger, Mélisande McNabney et Jean-Willy Kunz.
Depuis plus de dix-huit ans, la claveciniste et musicologue Geneviève Soly cumule recherches, concerts et enregistrements pour réhabiliter la mémoire de Christoph Graupner, resté dans l'ombre de Bach ou de Telemann. Son importante production a sans doute souffert d'être restée inaccessible pendant plusieurs décennies après sa mort, gardée dans le château de Darmstadt. L'histoire lui rend peu à peu justice et un mouvement de réhabilitation de son œuvre gagne peu à peu la sphère de la musique baroque. La grande fête du clavecin du 28 février dernier en était un exemple admirable. En invitant six clavecinistes à s'approprier ce répertoire virtuose et délicat, dans un concert ponctué de présentations très fournies, Geneviève Soly a dû réveiller quelque fantôme du côté de Darmstadt, pour le plaisir d'un public québécois qui découvre la richesse de son écriture.
La formule était tout à fait bien pensée. Programmer un unique compositeur, des pièces méconnues et assez similaires pour une oreille néophyte était plutôt risqué. Pour autant, les explications préliminaires permettaient d'orienter l'oreille vers une écoute plus attentive et la valse des interprètes nous plongeait à chaque fois dans un univers sonore différent. Nous avons appris au cours de cette soirée à nous familiariser autant avec la musique de Graupner qu'avec nos plus illustres clavecinistes, chacun faisant sonner l'instrument à sa manière, traitant le temps et les respirations de façon singulière. Cet exercice de
comparaison est du plus grand intérêt et devrait devenir monnaie courante pour initier un public à une esthétique qui peut sembler lointaine à certains.
Ma préférence va à la Partita no 8 en fa majeur. On y retrouve beaucoup de couleurs et de styles différents, mais également tout un éventail de techniques de jeu : accords, arpèges, traits, roulements ou batteries, ce qui donne à cette œuvre une charge dynamique très forte. Côté interprètes, j'ai été séduit par le jeu de Mylène Bélanger, qui faisait chanter le clavecin d'une manière admirable, à travers un jeu clair, limpide et plein d'assurance. La prestation de Mélisande McNabney était sublime. Elle a une gestuelle tout à fait singulière pour accompagner les phrases, des respirations très musicales et une
grande sensibilité. BG
Le Conservatoire à la Maison symphonique. War Requiem13 mars 2019****
Hétu, Korngold et Britten étaient au programme de ce retour en force du Conservatoire de musique et d'art dramatique du Québec à la Maison symphonique sous la direction de Jacques Lacombe, convoquant un effectif impressionnant de 450 musiciens et choristes. Un programme tout à fait audacieux, tant par son ampleur que par le répertoire qui aura sans doute surpris plus d'un parent dans la salle. Pour autant, le choix de ces œuvres nous aura permis d'apprécier autant les solistes invités et les solistes de l'orchestre que le son d'ensemble de l'orchestre et des chœurs, avec la participation des jeunes chanteurs de l'école secondaire Joseph-François-Perrault ainsi que celle des musiciens d'I Musici.
La jeune violoniste Abby Walsh, élève du Conservatoire de musique de Montréal et lauréate du Concours de musique classique Pierre-de-Saurel 2018, a d'abord interprété le premier mouvement du Concerto en ré majeur de Korngold, connu pour ses musiques de film, moins pour son œuvre symphonique. De facture romantique avec des tendances à l'extratonalité, ce concerto a une filiation évidente avec celui de Brahms, dont il emprunte et déforme plusieurs motifs à l'intérieur d'un discours aux longues mélodies passionnées et aux passages techniques assez abrupts. Abby Walsh a survolé ce mouvement avec une grande aisance et un grand sourire, dessinant des contours mélodiques d'une
rondeur délicieuse tout en faisant ressortir les points de tension, attaquant les passages techniques avec assurance et mordant. Cette prestation qui alliait une belle compréhension du répertoire, un plaisir manifeste à le partager et une excellente communication avec l'orchestre, laisse présager le meilleur pour la jeune violoniste. Le choix du War Requiem est aussi ambitieux que risqué : œuvre lourde de signification, grave, convoquant un effectif impressionnant, elle ne laisse pas le spectateur indemne.
Britten a choisi de faire évoluer conjointement le texte sacré et les poèmes de guerre du jeune Wilfred Owen, mort au combat en 1918 à vingt-cinq ans. On sent dès le début de l'œuvre la lugubre pesanteur qui règne dans l'orchestre et dans les chœurs, qui va ensuite se délier pour laisser entrer une lumière sacrée et rédemptrice. S'il est difficile pour un jeune orchestre de nous garder en haleine dans un répertoire requérant une certaine maturité, on apprécie le choix d'une œuvre comportant une grande part d'écriture soliste, ce qui nous a permis de découvrir le talent de Richard Zheng (violon), Juliette Moreno
(clarinette) ou encore Jessica Duranleau (cor), entre autres.
Une mention spéciale aux chœurs du Conservatoire de Montréal et de Trois-Rivières dirigés par Raymond Perrin. Très unis, justes et nuancés, ils nous ont permis d'entendre le halo de cette lumière consolatrice qui émane de l'œuvre. Le ténor Isaiah Bell s'est remarquablement distingué dans ses interventions. Le langage mélodique de Britten est une admirable synthèse de la rhétorique musicale baroque et de la sensibilité romantique à travers un discours de son époque. Isaiah Bell l'a très bien compris et restitué à travers sa prestation à mi-chemin entre mesure et sensibilité, laissant apprécier l'architecture de la partie chantée et entrant en résonance avec l'orchestre et les chœurs. Enfin, Jacques
Lacombe a rassemblé les multiples composantes de ce casse-tête pour nous offrir un peu plus d'une heure d'élévation spirituelle et musicale, et son exigence a porté ses fruits, puisque chœurs et orchestre peuvent ressortir fiers et grandis de cet effort considérable. On espère que cette jeune tradition, réunissant des musiciens de tous les âges, se perpétuera afin d'offrir aux étudiants une expérience édifiante et au public un aperçu des talents en devenir. BG
Anne-Sophie Mutter et Lambert Orkis : pianissimo
Maison symphonique, 15 mars 2019****
La Maison symphonique accueillait le vendredi 15 mars la violoniste Anne-Sophie Mutter et le pianiste Lambert Orkis pour un récital de sonates de Mozart, Debussy, Ravel et Poulenc. L'OSM et Pro Musica ont visé juste en invitant deux grands interprètes de notre temps, qui ont livré un concert vibrant d'émotion et d'intensité.
Les deux musiciens collaborent depuis trente ans et ont su forger leur esthétique propre, mais aussi un son aisément reconnaissable, véritable velours où les pianissimos sont autant de caresses duveteuses pour les oreilles. Le jeu de Lambert Orkis peut rappeler Nelson Freire, alliance de la vivacité et d'une infinie délicatesse, particulièrement appréciable dans le répertoire de Mozart, où les deux musiciens se permettent de nombreuses libertés pour rendre le texte de manière très aérée.
Le répertoire français est assez évocateur des années de guerre. Les sonates de Debussy (1917) et Poulenc (1942-43) sont écrites en pleine guerre et celle de Ravel (1923-27) s'inspire du blues et des musiques afro-américaines alors très en vogue en France. Si les deux musiciens jouent beaucoup avec les contrastes chez Debussy, ils s'ouvrent aux couleurs et aux résonances chez Ravel, dont le deuxième mouvement peut paraître anecdotique aux oreilles d'aujourd'hui. Poulenc est pris à un train d'enfer, avec un élan de virtuosité contagieuse, faisant ressortir les influences du tango. L'écriture de Poulenc est magistrale, avec un très bel équilibre entre les instruments et des dialogues incessants (comme chez Mozart d'ailleurs), à la fois chatoyante et pleine de raffinement. Les deux musiciens en dessinent des contours vertigineux pour clore ce programme, ponctué de deux rappels, dont une pièce hommage à André Previn, grand chef d'orchestre décédé en février dernier et ex-mari de la violoniste. La Maison symphonique n'est pas prête d'oublier les délicieux pianissimos d'Anne-Sophie Mutter et de Lambert
Orkis. BG
This page is also available in / Cette page est également disponible en:

Francais (French)