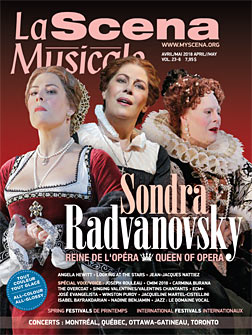 This page is also available in / Cette page est également disponible en:

Francais (French)
World-renowned pianist Angela Hewitt says she is "on the mend" after having fallen down a set of stairs on Jan. 24 at a church in Oxford, England, 90 minutes before she was to perform Book 1 of Bach's Well-Tempered Clavier for the first time in 10 years.
Though the pain was "terrible," she went on stage just the same, with the help of two strong men, ice and a wheelchair. She couldn't use the left pedal or put any weight on her left foot, which she later learned was broken.
"I don't like to disappoint people," Hewitt explained. By then, the crowd of 450 had begun to arrive. "I did tell them I may stop, but the adrenalin, the music, carries you through. It's what you are trained to do."
A consummate professional, Hewitt has performed under adverse conditions before. The most difficult was in England a decade ago, having to play hours after learning of the death of her mother in Canada. "When you can do that, you can do this," she told CBC.
Though her wide repertoire includes Beethoven, Fauré, Ravel, Granados and Messiaen, she is best known as a leading interpreter of the music of J.S. Bach. Being the daughter of Godfrey Hewitt, organist and choirmaster at Ottawa's Christ Church Cathedral, Hewitt has been deeply involved in Bach since childhood and has recorded all his keyboard works.
Shortly before her fall she had learned that she would receive the Governor General's Performing Arts Award for Lifetime Artistic Achievement. This is Canada's highest arts award, conferred on artists nominated by the public for their "outstanding body of work and enduring contribution to the performing arts in Canada."
"I feel deeply honoured that they should give it to me," the Ottawa native says. "It is nice that my country hasn't forgotten me."
If Hewitt was a painter or a sculptor, her present project would be a monument or a mural. She is in the midst of her Bach Odyssey, a four-year concert series that will conclude in 2020, consisting of 12 recitals of Bach's complete keyboard works presented in 26 countries.
"This is a huge thing," Hewitt says. "It is a summing up of a part of my career. It is timely that [the GGPA]happened now."
In managing her career, Hewitt has been creative and proactive. As a student she participated in many competitions, including three Bach competitions, the last of which, the 1985 Toronto International Bach Piano Competition, launched her career as a Bach player at 27.
The prize package included a recording with Deutsche Grammophon. "It did really well and was nominated for a Gramophone award," Hewitt recalls.
Differences between Hewitt and the marketing department ended that relationship. Hewitt says DG viewed her as unmarketable. "It wasn't good enough that I played the piano well."
For nine years Hewitt didn't record but continued giving concerts. In retrospect, she feels that this was a fruitful period in her life.
"I worked really hard, learned repertoire. Some kids get too much too soon, they don't get a long time to learn things in relative peace without being thrown into the glare of the public."
By 1994 she wanted to start on a Bach project. On her own initiative, she recorded the Bach Two-Part Inventions and approached Hyperion Records.
Hyperion was interested, but only if she made a series. Since then Hewitt, who lives in London, has recorded exclusively for this British label, completing the Bach cycle in 2005.
It was her idea to embark on a "Bach World Tour" in 2007-08, performing the Well-Tempered Clavier in 21 countries. Among her many accomplishments is the annual Trasimeno Festival in Italy, of which she is artistic director. Hewitt calls this event, now in its 14th year, "the best thing I've ever done."
At present Hewitt is completing a Beethoven sonata cycle. She will soon record Beethoven's monumental Sonatas Op. 106 ("Hammerklavier") and Op. 111. The recording will be released in 2019.
Some refer to Hewitt as a Bach specialist. It would be truer to call her an ambassador of Bach's music, which she has heard, sung, danced to, played on the recorder and violin and of course piano, harpsichord and organ, all her life.
"My journey with Bach began from the day I was born, if not before," she writes on her website.
"There is nothing superficial there, everything was based on his incredible musicianship and strong faith. The beauty of his music is overwhelming, there is nothing 'show-offy.'
"It can be incredibly impressive but it all stems from a very genuine musical expression. He had tremendous joy, verve, tenderness, humanity. It was written 300 years ago but has not gone out of date. You never tire of listening."
Hewitt communicates her love of Bach's music not only through her performances and recordings but by writing her own program and liner notes, giving "endless" master classes and making instructional videos on performing Bach.
"I've spent more time with Bach than any living person. I love sharing his music with people. I've taken his music all over the world, from famous to quite unknown pieces.
"More than any other composer, I've made Bach my life. My Bach Odyssey will never end."
Angela Hewitt will perform Bach's Goldberg Variations at Pollack Hall in Montreal on April 29 at 3:30 p.m. for the Ladies' Morning Musical Club (www.lmmc.ca) and a recital of Bach and Scarlatti at The Isabel in Kingston on May 5 at 7:30 p.m. (www.queensu.ca).
This page is also available in / Cette page est également disponible en:

Francais (French)