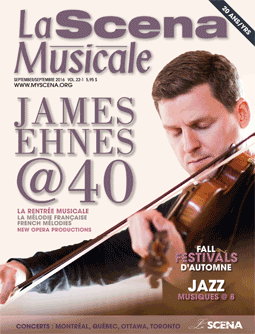 Alfred Schnittke is a name we often shy away from on this side of the Atlantic. His style of unabashed dissonance is not solely reliant on serialism, but rather an understanding of the latent dramatic potential of atonality, an understanding that is made possible by his awareness and appreciation of the music that preceded him. Instead of breaking with the past, Schnittke aimed to show the connections between past and present in his so-called "polystylism"; this is no more evident than in his chamber output for the violin.
The two-CD set opens with the late Third Sonata (1994), darkly opulent in its angularity and dissonance. This is contrasted by the highly stylized Mozartian Gratulationsrondo for violin and piano (1973). Closing out the first disc with the Sonata No. 2 "Quasi una Sonata" (1968), Schnittke's first "polystylistic" work, Russian violinist Roman Mints reaches indelible highs and lows in what the composer called "a report of the impossibility of the sonata."
Schnittke's film music background is made quite apparent in the ironic Baroque stylings of Suite in Old Style, with Mints on the viola d'amore joined by Olga Martynova on harpsichord and Andrey Doynikov and Dmitri Vlassik on percussion. Stille Nacht upends tradition on its head, while Sonata No. 1 recalls it with the recurring B-A-C-H motif, evoking not only the usual suspect, but Shostakovich. If you didn't catch a whiff of it earlier, the Polka from The Census List displays all of Schnittke's wit and charm. With this release, Mints and collaborative pianist Katya Apekisheva join the ranks of great Schnittke interpreters, a list that Gidon Kremer and Rostislav Dubinsky. Giving each work with a fearless and frank approach, this Schnittke may not be sentimental, but Mints's playing still packs quite the emotional punch.