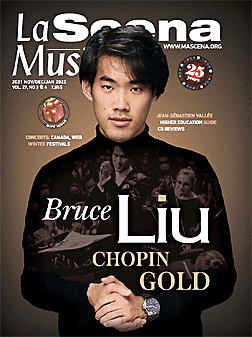 This page is also available in / Cette page est également disponible en:

Francais (French)
27th JAL Gala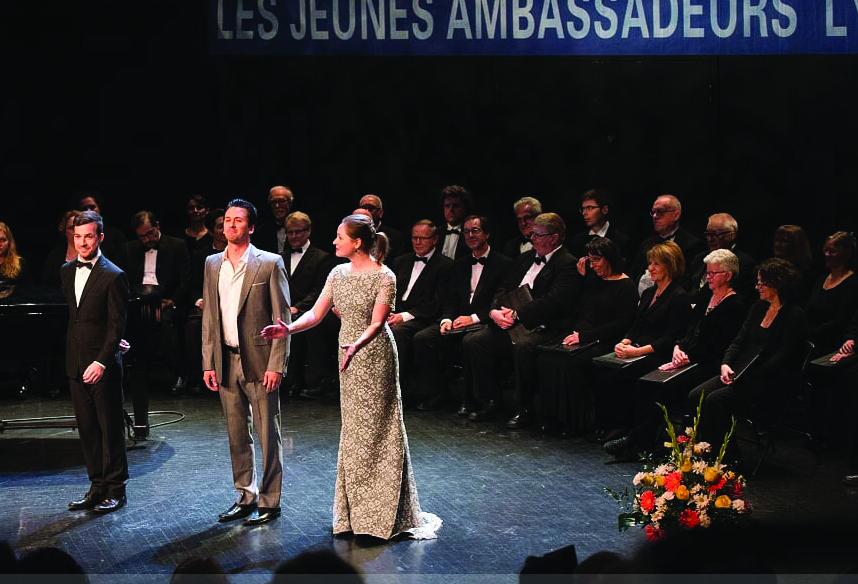 After the 2020 edition was cancelled because of the pandemic, the 27th Jeunes Ambassadeurs Lyriques Gala is back in full force this year with no less than 30 singers. For the occasion, two dancers will accompany them in arias and ensemble numbers from the great operatic repertoire. Among the works on the programme, the public will find excerpts from Mozart's Don Giovanni, Puccini's La Bohème, Rossini's La Cenerentola and Verdi's La Traviata and Rigoletto. 
In order to reach a larger audience, ticket prices have been reduced compared to previous editions ($12 for students and $35 for the regular price). This gala, which benefits young Canadian and international artists, will take place on Nov. 20 in Salle Claude-Champagne of the Université de Montréal's Faculty of Music. It will feature an array of exceptional singers from across Canada and abroad. Seven different countries will be represented by artists from France, Germany, Italy, South Korea, Switzerland, Slovakia and Mexico. They will be accompanied by the new Jeunes Ambassadeurs Lyriques Chamber Orchestra conducted by pianist Louise-Andrée Baril. 
In addition to the generous scholarships already in place to support them, these artists will be able to obtain engagements in various European theatres, as well as concerts in Europe, Latin America and Asia, and places in the semi-finals of international competitions.
Oktoecho

meets Sufi and Aboriginal cultures
On Nov. 27 at Théâtre Outremont, Oktoecho and Productions Traquen'art present the Transcestral. Transmission, ancestral memories, trance… this project, accompanied by an album which will also be released in January, expresses the common perpetual quest for harmony between man and nature, inspired by the music and sacred dances of Sufi and Aboriginal traditions in Canada. Three tracks from the album will be available on all digital platforms starting Nov. 15. 
Known for their unique and original expression, Innu poet Josephine Bacon, Sufi singer Anouar Barrada, Métis singer Moe Clark, Inuit throat singer Nina Segalowitz and powwow singers Buffalo Hat Singers, including Norman Achneepineskum, as well as Yoreme Aboriginal dancer Sam Ojeda and 10-year-old whirling dervish Adam Barrada will be joined by Artistic Director Katia Makdissi-Warren to celebrate this unique event. 
Transcestral is an original creation by the Oktoecho ensemble, which brings together 24 artists, singers, dancers and poets from different backgrounds: six indigenous and Sufi communities are represented, as well as musicians from jazz, classical and contemporary music. www.oktoecho.com 
The LMMC welcomes Stewart Goodyear
"This year, Stewart Goodyear is returning on Dec. 5 at the general request of our subscribers," said Ladies Morning Musical Club president Constance Pathy in an interview with The Montrealer. The Canadian pianist's engagement at the soon-to-be 130-year-old concert society was originally scheduled for Oct. 25 last year, but had to be postponed. In this recital, Stewart Goodyear will perform Berg's Piano Sonata, Ravel's Gaspard de la nuit and Mussorgsky's Pictures at an Exhibition. See you on Dec. 5 at McGill University's Pollack Hall. www.lmmc.ca  
Les Violons du Roy présent
Messiah
It's the Quebec City chamber orchestra's turn to present this landmark work associated with the holiday season. The former conductor of Les Violons du Roy, Bernard Labadie, conducted it in 2019. This time, it will be the current music director, Jonathan Cohen, who will present his vision of Handel's Messiah. Les Violons du Roy will once again be able to count on their faithful stage partners, the professional choristers of La Chapelle de Québec, as well as a quartet of soloists: soprano Joélle Harvey, mezzo-soprano Allyson McHardy, tenor Andrew Staples and bass-baritone Neal Davis. A premiere for the British conductor in this famous oratorio, not to be missed. Dec. 8 and 9, at the Palais Montcalm in Quebec City, and Dec. 10, at the Maison symphonique de Montréal. www.violonsduroy.com
The three Sinfonia Toronto concerts
Between now and Jan three concerts are scheduled for the Sinfonia Toronto Orchestra under the baton of Nurhan Arman. After pianist Jarred Dunn's performance of Beethoven's Concerto No. 2 on Nov. 12 at Trinity St. Paul's Centre, Toronto audiences will be treated to another concert featuring the German composer on the occasion of his 250th plus one birthday. The Dec. 10 concert will feature Samuel Coleridge-Taylor's Fantasiestücke, Chopin's Piano Concerto No. 1, and Beethoven's Symphony No. 8 in a version for chamber orchestra by Sigmund Anton Steiner. The Sinfonia Toronto will be joined on stage at the Jane Mallett Theatre by pianist Dmitri Levkovich. 
On Jan. 21, also at the Jane Mallett Theatre, pianist Artun Miskciyan will be Sinfonia Toronto's guest soloist in Mozart's Piano Concerto No. 22. Also on the programme are Jocelyn Morlock's Nostalgia, Joseph Bologne's String Quartet in D major and Janáček's Kreutzer Sonata Quartet. www.sinfoniatoronto.com
Early Christmas from La Nef
After presenting Musica Ficta on Nov. 11, a project initiated by composer Jean-François Daigneault at the confluence of medieval, renaissance and contemporary music, La Nef invites us on yet another journey through time. On Dec. 14 at Bourgie Hall, a group of musicians will perform pieces from the traditional repertoire around the Christmas period. Vocal and instrumental music from France, England, Ireland and Scotland will be featured. 
Based on a Celtic-inspired programme released in 2005 by ATMA, this concert series entitled Noëls anciens has taken La Nef on tour across Canada and the United States for several years. This same original programme will be performed at the Dec. 14 concert. Some of the musicians have been with us since the beginning: soprano Meredith Hall, harpist Robin Grenon and archlute player Sylvain Bergeron. They will be joined by Grégoire Jeay on recorder and baroque traverso, Alex Kehler on traditional violin and nyckelharpa, Marie-Laurence Primeau on viola da gamba and Andrew Wells-Oberegger on percussion. www.la-nef.com 
SMCQ: Portrait of Simon Bertrand
The Société de musique contemporaine du Québec is planning three concerts at Salle Pierre-Mercure between now and January. First, on Dec. 14, the Orchestre philharmonique des musiciens de Montréal, under the direction of Philippe Ménard, will perform À perte de vue by Keiko Devaux, L'absurde travail by André Hamel and Universe Symphony by Steven Gellman, three works exclusively for orchestra. 
The following day, on Dec. 15, a tribute to historical figures of the SMCQ will be performed. Entitled Celebration, this concert will feature a wide variety of works by Pierre Boulez, Murray Schafer, Petar-Kresimir Klanac, Bruce Mather and Serge Garant. In addition to the SMCQ ensemble, under the direction of Jean-Michaël Lavoie, the organization will be able to count on the participation of pianists Louise-Andrée Baril, Francis Perron and Pamela Reimer, soprano Virginie Mongeau, mezzo-soprano Marie-Annick Béliveau as well as the Sixtrum ensemble. 
Finally, on Jan. 30, the SMCQ will present a musical portrait of Quebec composer Simon Bertrand. His work is imbued with the music of the world in general and of Japan in particular. This concert will therefore take the form of a musical journey and will explore Simon Bertrand's influences in a contemplative mode conducive to the encounter with the other. www.smcq.qc.ca 
This page is also available in / Cette page est également disponible en:

Francais (French)