This page is also available in / Cette page est également disponible en:

Francais (French)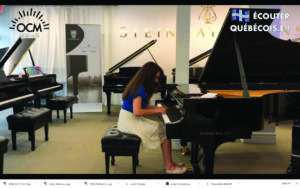 The health crisis continues to transform our habits. Orchestras and opera houses alike have had to adapt, as best they can, to the new reality. They enter the fray with digital projects and online content to compensate for lost activity and to sustain, at all costs, their seasons. On April 25 the Metropolitan Opera broadcast an At-Home Gala during which singers from around the world took turns offering live performances from their living rooms, courtesy of their tablet or smartphone.
By that time the Orchestre classique de Montréal had already given the fourth in a series of eight virtual concerts. We were in the middle of a period of isolation and the OCM, under the leadership of its artistic director Boris Brott and executive director Taras Kulish, saw an opportunity to take a turn in a digital direction. As part of the fête nationale, a second series of virtual concerts, "Écouter québécois.e," was added to the first, with perhaps a third to come in September. Already the initiative has been rewarded and the spirit of hope renewed. Some uncertainties, however, remain.
Reasons for the move to digital
Boran Zaza, head of marketing and box office, remembers the beginning of the crisis and the reasons that led management to create these online concerts: "It was our way of finding a creative solution to announce the new season. The idea was to feature a soloist from each concert in our 2020-21 programming. We started with guitarist Daniel Bolshoy [in concert with the OCM on Feb. 16, 2021 in Salle Pierre-Mercure]and continued the experiment with seven other artists. At each concert, they had carte blanche to play what they wanted and at the same time announce the concert from next season in which they will participate."
In the absence of a formal press conference, the OCM opted for this original alternative rather than a simple video conference. "I don't know if other orchestras have thought of doing this, but it was an idea that came from us," Zaza says. "In addition, it created suspense because each week only one concert that was announced."
Tangible results
The benefits are considerable, Zaza says. "We have received many donations thanks to this steady sequence of weekly concerts. We have also increased our fan base. Now, on Facebook and social media, our followers are more between 25 and 44 than 55-plus, as before. So it helped us reach much younger fans." All the same, the OCM does not intend to offer free online broadcasts after resuming live activities. According to surveys conducted following each online concert, 92% of respondents are ready to pay to see live concerts on their computer or mobile devices. "These are really encouraging figures," Zaza says. "What's more, almost 50% of these people are ready to pay $20 and more to see an online concert of high quality."
First assessment of online concerts
Like the OCM itself, the soloists have been, willingly or unwillingly, plunged into a new reality. For many, playing in front of the camera rather than an audience represents a major change. "It is not an easy thing to play without an audience, but between the first and the last concert, I saw that the artists felt much more comfortable," Zaza, who is herself a pianist. "For them, it was good to have a platform to share their passion. I think it was a really positive experience in this time of isolation."
Mutual aid and partnerships
This period also allowed the OCM to share its online experiment with other orchestras across the country on a common platform called Orchestras Canada (www.oc.ca). "It was a time when all orchestras have the same resources, everyone is on an equal footing," Zaza says. "We only had Facebook and online broadcasting so it gave some people the chance to shine more. It made for better communication with other orchestras."
It also created an opportunity to build new bridges and find means of mutual support. Zaza says: "We made a video with I Musici de Montréal through our solo violinist, Marc Djokic, and his colleague at I Musici, Julie Triquet. Each artist recorded at home and we created a video called "Violons solos de Montréal." It was a great collaboration. I Musici and the OCM are both chamber orchestras and together we sent the message that in this time of pandemic, everyone must come together and help each other."
Looking to the future
The OCM does not rule out the idea of ​​a new series of online concerts in October, but details are to be determined. Certainly, "there will be a virtual streaming of all our concerts, and there will be a new season, whatever the circumstances," says Zaza. "Will it be an indoor concert that people can hear in person or will it be streaming only? I think the two options will work simultaneously. We have to find a way to bring music to people who cannot move." The online option could be very suitable for the elderly, particularly those affected by the pandemic, or those who are still reluctant to attend a concert. "Everyone is resilient, everyone wants to find solutions, no one says it won't work or that we don't know how to do it. I find it really inspiring, even if the circumstances are not yet encouraging."
For more information, visit www.orchestre.ca
This page is also available in / Cette page est également disponible en:

Francais (French)