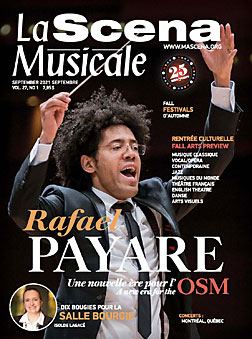 This page is also available in / Cette page est également disponible en:

Francais (French)
Noted for organizing tributes to a single composer, the Société de musique contemporaine du Québec this season revisits the formula – pandemic willing – with a series of portrait concerts, starting Sept. 26, dedicated to the musical universe of André Hamel.
Strongly influenced during his university studies by The Unanswered Question by Charles Ives, Hamel is open to all creative possibilities that seek to modify audio perception, either by putting musicians in different spaces, or by layering acoustic interference, or by a combination of the two. In these works, musical elements do not seem a priori to be made to go together. Hamel calls this "dissociation élémentielle."
The program
This first concert takes place at Salle Pierre-Mercure and features five works. Some were conceived as spatialized works; others will be spatialized at the very moment of their performance.
The first is a work for violin and piano, composed in 1984, when Hamel was still a student of Serge Garant. For the record: Hamel's daughter, Anne-Claude Hamel-Beauchamp, who recently received her master's degree in violin, plays the soloist part. "This is something that touches me closely," the composer says. "She is 26; when I composed this music, I was 29, barely older than she is today."
Written for 31 musicians, the second work on the program, In Auditorium, is on an entirely different scale. Composition of the Year Award winner in 1998, it was commissioned by Radio-Canada for a joint project of the Orchestre symphonique de Montréal and SMCQ, entitled OSMCQ, which resulted in a series of three concerts.
The third work is electroacoustic. It was born of a collaboration with choreographer Guylaine Savoie, for both a performance in 2005 and a short film in 2006. The eight-minute film will be shown, without a dancer on stage, while the music is broadcast in spatial style from a console, with eight loudspeakers located at different places in the room, which will allow the sound to migrate.
The fourth work is a saxophone quartet that incorporates real-time digital processing. There will be feedback through the speakers, but without manipulation of the sound as picked up. In this case only, the musicians will be on stage.
Then comes another large-scale work, conceived as a truly spatial work, which will conclude the concert. Another Composition of the Year Award winner, this one in 2017, does not, in principle, require a conductor. Performers have sound cues. "A musician hears a snare drum, for example, counts ten seconds and starts playing at his own tempo. Sounds emerge from all over, but the surprise is not spoiled by a conductor giving a signal. I have worked with this writing system for a long time."
This page is also available in / Cette page est également disponible en:

Francais (French)