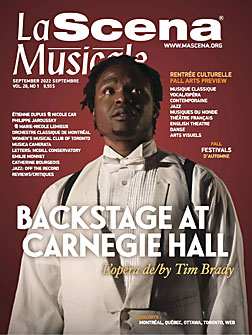 This page is also available in / Cette page est également disponible en:

Francais (French)
Executive Director Taras Kulish and Boris Brott had been planning OCM's (Orchestre classique de Montréal) 2022–2023 since before Boris's tragic death in Hamilton, Ont., this past spring. OCM has called on two guest conductors to continue Boris's legacy and pay tribute to him. These conductors were among Boris's friends.
Leclair conducts opening concert
The opening concert conducted by Geneviève Leclair will tell the story of Boris Brott's ­musical life. Consequently, the Oct. 18 concert has been changed to include works that had a ­direct or indirect connection to his long ­conducting career. For instance, Geneviève ­remembered Boris studying with Igor ­Markevitch in Mexico in 1958 and being Leonard Bernstein's assistant conductor of the New York Philharmonic in 1968 and 1969. Manuel Ponce's Concierto del Sur for guitar and excerpts from Bernstein's West Side Story are a testament to these historic milestones.
Boris was a mentor and friend of Geneviève. "Boris was an extremely generous man," she said. "We could have been talking about music and the most recent work I conducted over the phone at 11 p.m. on a Sunday night. He shared his life stories with me. He gave me the idea of conducting ballet performances. During a dinner at Hamilton's Brott Music Festival, I discovered that he had conducted the Royal Ballet in England at the start of his career."
Having started her career as Boris's assistant at Hamilton's National Academy Orchestra of Canada, Geneviève spent many years in ­residence with the Boston Ballet Orchestra. She left the BBO in 2016. Since then, she has secured many contracts as a guest conductor in the United States and Canada along with her job as conducting professor at Boston's Berklee College of Music. "It's a personal pleasure to come back to Quebec and conduct so many concerts here this season. My family lives in Montreal; my hometown is Montreal; I'm here regularly, whether or not I'm ­conducting," said Geneviève.
The second OCM concert Geneviève will conduct is on Nov. 15. This concert will ­feature works for violin and voice by Johann ­Sebastian Bach with violinist Kerson Leong and soprano Dominique Labelle. "I had ­chosen to learn the recorder and take part in many baroque music workshops before ­taking up the flute in university. I really like baroque repertoire and am really familiar with it," she said.
Trudel on Boris Brott's legacy
Geneviève will return to the OCM on May 9 to conduct a concert dedicated to Italian songs with tenor Marc Hervieux. Conductor Alain Trudel will handle many of the OCM concerts in the second half of the season. This will be an opportunity for Alain to talk about his ­perception of conducting and the special ­relationship he had with the father and son in the Brott family.
"Not only was I able to talk about a specific artist with Boris, but I was also able to talk about the job of conducting as a whole, the ­future of musicians graduating from universities, and how well they need to be ­prepared," said Alain. "You need to know who your ­mentor is. Boris's legacy of making ­Canadian artists known hasn't changed. As the Brott Festival's interim artistic director, I want to continue pursuing that mission. I also want to pursue that mission with the concerts I'll ­conduct with the OCM. Boris and I have never wavered on that commitment or on the ­programming. We never shied away from ­featuring new works on a program."
The three concerts Alain will conduct ­present contemporary repertoire, including a world première. The first one he'll conduct on Feb. 7 is La Flambeau, an opera première that will be presented in Montreal and at Brott Opera in Hamilton. It was composed by David Bontemps and based on a libretto by Faubert Bolivar, two artists from Haiti. The opera speaks out against corruption, misogyny, and abuse of authority. "I'm enthusiastic about premièring a new work that especially ­explores ongoing concerns. The lack of ­understanding we might have about each other and the disregard for people's ­differences are topics that are dear to my heart. That's why I wanted to present this opera," Alain said.
On March 5, Alain will have the pleasure of conducting Britten's Les Illuminations with soprano Magali Simard-Galdès, Britten's Variations on a Theme of Frank Bridge, and Illuminations by Canadian composer Brian Cherney. The last season concert, scheduled for June 20, will be equally bold, as it will present the four movements of Maxime Goulet's Ice Storm Symphony and Carl Orff's Carmina Burana. "This concert will be ­consistent with Boris's vision," Alain said.
Trudel, a conductor and trombonist from Quebec, has known the Brott family for 40 years. "I first met the father, Alexander," Alain said. "When I was 17, I played in the McGill Chamber Orchestra and was paid as a solo artist. This relationship goes back a long time. I agreed to take on the position of guest ­conductor when Taras Kulish called me. I'm coming out of a long association with ­Orchestre symphonique de Laval and am not ready to commit to anything long-term just yet. At this juncture, it's important to ­preserve the legacy of OCM's 83-year history. That is significant. I like working with ­orchestras that tell a story; I like being part of that story."
Translation by Dwain Richardson
To find out more about the OCM programming and season, visit www.orchestre.ca
This page is also available in / Cette page est également disponible en:

Francais (French)