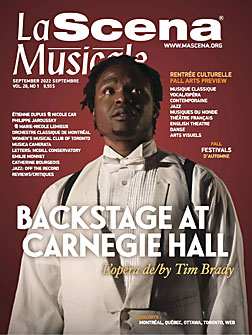 This page is also available in / Cette page est également disponible en:

Francais (French)
From Sept. 10 to 18, Opéra de Montréal will present another operatic masterpiece at Salle Wilfrid-Pelletier. Composed during the same period as La traviata and Rigoletto, Verdi's Il trovatore (in French, Le trouvère) is no less famous for its multi-generational plotlines, its inclinations toward revenge and romance, and, of course, its famous arias. Stage directed by Michel-Maxime Legault and under the baton of Jacques Lacombe, the production features world-class artists, including Australian ­soprano Nicole Car (Leonora), baritone ­Etienne Dupuis (Count de Luna), contralto Marie-Nicole Lemieux (Azucena) and Luc Robert (Manrico). Also featured are Matthew Treviño (Ferrando), and three current or ­former members of the Atelier lyrique, tenor Angelo Moretti, soprano Kirsten LeBlanc and baritone Mikelis Rogers. With the Orchestre Métropolitain and the Opéra de Montréal Chorus.
Last February, the company announced their decision to postpone the première of La beauté du monde by Julien Bilodeau, with ­libretto by Michel Marc Bouchard, which was to take place at Théâtre Maisonneuve. At the time, it was impossible to adequately ensure the health and safety of the 225 artists and technicians involved in the production. Now that the health situation allows, the OdeM can finally present the world première of this ­contemporary opera. Damien Pass and Allyson McHardy will play the lead roles of Jacques Jaujard and Rose Valland, two ­historic figures from the French Resistance, who helped save museum works from being looted by the Nazi army during World War II. Other cast members include Matthew Dalen (Hermann Göring), John Brancy (Franz Wolff-Metternich), Rocco Rupolo (Alexandre Rosenberg) and Layla Claire (Jeanne Boitel). The production will be directed by Florent Siaud, Jean-Marie Zeitouni conducts. Nov. 19, 22, 24 and 27 at Salle Wilfrid-Pelletier. www.operademontreal.com
Les Violons du Roy : Encounters at the Summit
After working with the Domaine Forget this summer, Les Violons du Roy and their ­musical director Jonathan Cohen will be back in ­Quebec City for a concert on Sept. 22, followed by a performance in Montreal on Sept. 24. To open their  new season, the chamber orchestra, highly proficient in baroque repertoire, will welcome two artists—and longtime friends—at the top of their game: French countertenor Philippe Jaroussky, and contralto Marie-Nicole Lemieux. See interview on Page 24.
On Nov. 10 in Quebec City, and Nov. 11 in Montreal, Jonathan Cohen will present his second concert with Les Violons du Roy. Among the works on the program are ­Pergolesi's famous Stabat Mater, Handel's motet Silete venti and Vivaldi's cantata ­Cessate, omai cessate. For this robust ­program of vocal works, the chamber ­orchestra will be joined by soprano Carolyn Sampson and countertenor Tim Mead, both of whom specialize in sacred repertoire, with ­distinguished international careers that have included collaborations with some of Europe's most prestigious ensembles. www.violonsduroy.com
Other Productions in Quebec, and Elsewhere in Canada
On Oct. 22, 25, 27 and 29, the Opéra de Québec opens its season with a series of ­performances of Don Pasquale by Donizetti, an opera in which audiences find the markers of both opera buffa and commedia dell'arte. Stage director Jean-Sébastien Ouellette, ­assisted by set designer Michel Baker, has ­chosen to situate the opera's plot in front of the backdrop of the 1960s. The cast includes bass Olivier Déjean (Don Pasquale), baritone Hugo Laporte (Dr. Malatesta), tenor Patrick Kabongo (Ernesto) and soprano Hélène ­Guilmette (Norina). www.operadequebec.com
In Toronto, the Canadian Opera Company will present two large-scale operas this fall. First, from Oct. 7 to 23, Wagner's The Flying Dutchman (Der fliegende Holländer), with baritone Johan Reuter (the Dutchman), ­soprano Marjorie Owens (Senta) and bass Franz-Josef Selig (Daland). Then, from Oct. 14 to Nov. 4, Bizet's classic of the French repertoire, Carmen, will be performed with mezzo-soprano J'Nai Bridges in the title role (Rihab Chaieb as a replacement on Oct. 20 and 22). The tenor Marcelo Puente will play Don José, while soprano Joyce El-Khoury will assume the role of Micaëla (Anna-Sophie Neher, on Oct. 28 and 30 and Nov. 4). Finally, Escamillo will be performed by baritone Lucas Meachem and, on Oct. 30 and Nov. 4, by ­Gregory Dahl. http://www.coc.ca
Carmen will also be performed at the ­Calgary Opera on Nov. 19, 23 and 25. Tenor David Pomeroy (Don José), soprano Tracy Cantin (Micaëla) and baritone Nmon Ford (Escamillo) will be joined by mezzo-soprano Rihab Chaieb, who returns to play the iconic character in the title role. The Alberta-based company is celebrating its 50th anniversary this fall. On Sept. 22, the company will host a concert event with none other than tenor Ben Heppner. Guest artists include Tracy Dahl, Lyne Fortin, David Pomeroy, Andrew Love, John Tessier, Brett Polegato, and Krisztina Szabó, with conductors Alice Farnham and Jonathan Brandani. www.calgaryopera.com 
Translation by Eva Stone-Barney
This page is also available in / Cette page est également disponible en:

Francais (French)