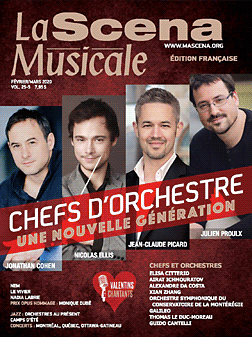 This page is also available in / Cette page est également disponible en:

Francais (French)
Riding a wave of good fortune these days, conductor Nicolas Ellis is not only lucky enough to be an assistant to Yannick Nézet-Séguin at the Orchestre Métropolitain, but leads an orchestra of his own. The group he put together with fellow students, the Orchestre de l'Agora, first came together in 2012 during the province-wide student strikes against increased tuition fees. This was at a time when the music community was banding together in the face of social issues. While asserting themselves more forcefully on that front, the sheer thrill of playing music together remained intact.
Since then, Agora has steadily climbed the ladder, never losing sight of its original mission of staging benefit concerts for humanitarian, community-based or environmental causes. Ellis is proud to have collected around $40,000 for various Montreal social service providers. That alone bodes well for its activities, present and future.
Agora is a thoroughly professional outfit. Notably, its mission has evolved over time, for it places the musicians even more at the heart of its concerns. "We wanted to put more stress on their involvement in the community, so as to justify their work in relation to our purpose," Ellis says. "In our view, musicians are social activists who can instill change. We put that idea in practice not just on stage, but also in how we engage in the community."
Maiden Voyage
Now in the midst of a province-wide tour, the first in its history, Agora is more committed than ever to its mission of bringing music to the masses. Over a period of four months in its current season, it has lined up 17 dates, most of which are in Montreal boroughs, but elsewhere in the province, too, the farthest one scheduled for Rivière-du-Loup. With a trim orchestra of 15 musicians, Agora has consecutive shows booked from March 26 to 29, with stops in Pointe-aux-Trembles, Lévis, Victoriaville, topped off by their Montreal closer at the Chapelle historique du Bon-Pasteur.
"We are delighted by this," Ellis enthuses. "To play the same program over the course of so many concerts is a first for us. It really allows us to dig into the music, go into the minutiae, find a sound of our own, let the energy rise and really connect as a group overall.
"When you have only four or five concerts for a whole season, you have to recapture all of that from scratch at each outing. But by our sixth performance last November, we had reached a whole other level, far above the first one. There is a certain facility that comes with this, which only makes our sound stronger."
Agora Goes Opera
Agora's personnel varies in composition and numbers, some performances limited to strings, others with more extended instrumentation. Such will be the case for its Feb. 13 show with no fewer than 40 musicians on hand. Co-produced with the Atelier lyrique de Montréal, the event will be devoted to songs in bel canto style. As Ellis notes in passing, this collaboration will actually be the third between the organizations. Beyond the customary dress rehearsal and the two others preceding it, Agora will be also be on hand for those of the Atelier's 10 vocalists.
"Our first joint project was two years ago, when we worked on operas by Mozart and Da Ponte," Ellis explains. "A year later, we staged three performances of Britten's The Turn of the Screw. And now, we are going one step further, in that we have 10 hours at our disposal to work on the program. That way, we can really work on the details of the individual songs chosen by the singers. You could not ask for any better conditions to work under, a rarity nowadays."
Staged at the Rialto Theatre, the concert will take place in a somewhat more relaxed setting than those of the more staid venues. Standup comedienne Catherine Ethier will emcee the evening, which will first feature 10 short numbers followed by longer ones with full orchestral backing. 
An Earthly Event
Agora ups the ante to 50 musicians on April 22, International Earth Day, as Ellis leads his charges through Beethoven's Symphony No. 6 ("Pastoral"), among other works. What an appropriate occasion to encourage awareness of the most pressing issue of our time by playing this great masterpiece! The ensemble will be one of many worldwide to perform this work on that day, written, lest we forget, by a composer born two and a half centuries ago this year. "We decided to be part of the event here marking that day," Ellis says, "as it coincides perfectly with our own commitment in these affairs."
Three environmental organizations will share the proceeds of the April benefit concert, the Sierra Club, Earth Day and Nature Conservancy of Canada, all of whom are working for the protection of the St. Lawrence estuary. Music lovers should also take note that the concertmasters of the OM and OSM, and OM, Yukari Cousineau and Andrew Wan, will share the stage for the first time in a performance of Mozart's Sinfonia Concertante.
Dates in the Offing
Agora's performance in a youth concert presented last November by the Montreal Bach Festival is yet another sign of its continued efforts to reach out to audiences, some of whom have little knowledge of the music.
"It's a matter of linking concerts to certain causes", says Ellis, "like those supported by the Partageons l'espoir foundation. Known primarily for its work in pediatrics, this organization established a music program for the underprivileged five years ago. This allows Agora musicians to act as mentors and rehearsal coaches on a monthly basis."
Agora has also forged ties with Les Porteurs de musique, an organization that brings musicians to people in places where music is rarely, if ever, performed, be they mental healthcare facilities, prisons, senior citizen homes or shelters for women.
Nicolas Ellis will be in concert on February 13, at the Théâtre Rialto, in a cabaret-like show organized with Opéra de Montréal's Young artists program. He continues his tour with the Orchestre de l'Agora throughout Quebec province. Ellis will also conduct the Royal Conservatory Orchestra in Puccini's Suor Angelica (March 18 and 20, at Koener Hall) as well as the Orchestre Métropolitain in a program of Smetana, ­Vivaldi, Debussy and Stravinski (March 22 and 24). To learn more about the Orchestre de l'Agora's programming or to read more about Nicolas Ellis, go to www.nicolasellis.com and www.orchestreagora.com
This page is also available in / Cette page est également disponible en:

Francais (French)