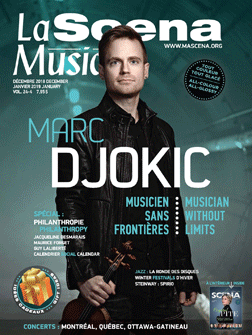 This page is also available in / Cette page est également disponible en:

Francais (French)
Marc Djokic is a violinist on the move. Winner of the 2017-2018 Mécénat Musica Prix Goyer and an Opus award from the Conseil québécois de la musique, he's had a busy year touring while pursuing new projects. Last summer, Djokic began his first European tour with solo recitals, chamber music concerts and masterclasses in Venice, Geneva and Bern. He was also recently appointed concertmaster of the McGill Chamber Orchestra. His first album, Solo Seven, was released on the ATMA Classique label in the fall. For our interview, Djokic suggested that we meet at the Association Récréative Milton-Parc, in downtown Montreal, where he was helping his wife, visual artist Avery Zhao, organize a vernissage. 
Both Dark and Intimate
"For my recording debut, I am proud to present a selection of solo violin pieces by major Canadian composers," Djokic says. "Most are the result of close collaboration with them. Some are good friends or people I meet on a regular basis."
This recording features the exceptional sounds of a violin made in 1740 by Pietro Guarneri, a Venetian master. "I have a particular attachment to this violin," Djokic says. "My father used to play on the same instrument when I was a child and I grew older by listening to its sonorities. I'm glad that the album was able to capture them. It's interesting for me to hear how different the instrument sounds, whether my father plays it or I play it."
In Solo Seven, Djokic performs excerpts from Richard Mascall's Sonata for solo violin and Digital FX; a work by Matthias Maute, Noncerto RR3; and two of Ana Sokolovic's Five Dances for solo violin. Many other Canadian composers are featured: Vincent Ho, Kevin Lau, Murray Adaskin and Christos Hatzis.
This project is the result of ongoing research into new Canadian violin repertoire. Even for such an accomplished musician, it is a bold and ambitious project. Djokic wanted to take all the time necessary to deliver it. "In the end, it's a pretty dark album, considering a number of songs are set in a minor key. I must say that we recorded, with [ATMA Classique president] Johanne Goyette, in a cold church, during the middle of winter. The ongoing events brought us naturally to this dark-sounding quality. The aesthetic choices behind the cover art were also made in this purpose: the photos were actually taken in a nuclear fallout shelter."
Nothing is due to chance for Djokic. There is hard work, of course, as on this first recording, but also the very favourable context in which he grew up. This background also explains his maturity as an artist.
A Musical Family
Djokic studied first and foremost with his father, the French violinist Philippe Djokic, who was a student of Ivan Galamian and professor at Dalhousie University in Halifax. His mother, Lynn Stodola, is an American pianist. Djokic and his sister, the cellist Denise Djokic, inherited the musical talent of their parents. The family of musicians is even larger: his aunt, Michelle Djokic, and uncles Pierre and Alexandre Djokic are all musicians, as well as his brother-in-law Nelson Lee.
Not only was he surrounded by music during his childhood, Djokic was a precocious violinist. He made his orchestral debut at 14.
"It was with a Halifax orchestra," he recalls. "A memorable experience because I was able to show my school friends what I could do. If I remember correctly, I played Paganini's Violin Concerto No. 1. In retrospect, it was an important event in my life as an artist." Winner of the Governor General's Millennium Award at the age of 20, Djokic also appeared in a television documentary aired on Bravo! when he was 23.
Studies in the United States
Originally from Halifax, where his parents settled in the 1970s, Marc Djokic flew to the United States to complete his musical training. A natural choice for him, having American citizenship by his mother.
What is surprising, however, is the age at which he left home. "I was only 16 years old," he says. "And I was lucky that my parents encouraged me in this way. My point was to leave home so that I may gain experience as soon as possible."
The years spent in Cleveland were fruitful. "I loved living in this city that has such a musical scene. I often went to concerts with my friends. And at the time, I was listening to metal music. In this musical genre, Cleveland is a renowned city. I still listen to metal today, I'm a metalhead!"
Djokic has no boundaries, literal or figurative. He studied with David Russell as part of the Cleveland Institute of Music's Young Artists Program; then moved to the New England Conservatory in Boston, where he studied with Donald Weilerstein; and to the Jacobs School of Music at Indiana University, where his teacher was Jaime Laredo.
Today, what Djokic has learned, he wishes to teach in return. This way, he can share both his passion for the violin and his playing techniques. He gives masterclasses at universities and summer music festivals, including the University of Toronto, Concordia University and the Scotia Festival of Music (Halifax). He says: "When I give masterclasses or when I teach, I think back to my father and the way he taught me. My father had this gift to explain brilliantly, in just a few words, and to demonstrate perfectly what he meant by playing on his instrument. He was a role model to me, and still is."
A Committed Artist
In addition to his commitment to aspiring musicians, Djokic is actively involved in the Montreal music scene and across Canada. He likes to reach out to large audiences through his eclectic repertoire, and through concerts involving original concepts and collaborations. Drawing awareness on Canadian music is important to him. Djokic has commissioned several compositions with the support of the Canada Council for the Arts, the Ontario Arts Council and Mécénat Musica.
From 2015 to 2017, the classical music network Mécénat Musica noncerto produced more than 45 short videos starring Djokic and the ensembles for which he played. The clips were shot in emblematic places, spread across nine provinces. A multi-year project, it aims to promote classical music in new media, in Canada and abroad. It's a real treat for Djokic, who was able to share his passion for music.
"The world needs to feel there's something that can unite us all. And that's what music allows. Unfortunately, we live in a society that is sometimes very negative and even violent on social networks. There's a lot of negativity out there. Music brings positiveness between us. Through music, we also celebrate what makes us human."
Soloist and Chamber Musician
His reflections on music nourish his daily life, both in his solo and chamber music career. This summer again, Djokic was at the Domaine Forget to present a program in honour of film composer François Dompierre with the McGill Chamber Orchestra (MCO). It was also during the summer of 2018 that he was appointed concertmaster of the MCO. Djokic officially took his place in the first chair last September. He is proud to be part of this great Montreal institution founded more than 75 years ago. "The orchestra has original programming, with a great amount of versatility," he says. "Last season, the famous fiddler Ashley MacIsaac joined the orchestra for a concert. It was a bold choice to invite him and the concert was a success."
Djokic had another great time with the MCO during the Azrieli Music Prizes Gala. Playing at the Maison symphonique, he had the opportunity to discover and perform the works of Avner Dorman and Kelly-Marie Murphy, the two winning composers.
And in the Meantime…
As a chamber musician, Djokic the violinist shares the stage with very different musicians. "Part of the fun of playing music comes from the pleasure of playing with others," he says. He is currently in three distinct groups, each unusual in its way. First, the Trio Tangere, which is an original pairing of a violin with two guitars. Then there's the Bev & Marc Duo, together with percussionist Beverley Johnston, an original mix of violin and marimba. Finally, there's the trio Air, Strings and Keys, a piano, a violin and theremin. This electronic instrument fascinates Djokic.
"It's the only instrument you can actually play without really touching it. The theremin works by radio waves and, being electronic, it produces a perfectly continuous sound, pure notes and beautiful, long, singing lines. In fact, that's all a violinist aims to accomplish."
Each ensemble adds to the pleasure of playing music. "When playing the theremin, Thorwald Jørgensen's body remains very static. Only his forearms move, which gives a very meditative feel to our interpretation. With the Trio Tangere, my goal is to craft the sounds that will blend with the two guitars. And with Beverley on percussion, it's a whole different kind of energy."
Looking Ahead
Djokic is artist-in-residence at the CAMMAC music centre in the Laurentians, a role that spans the 2017-2018 and 2018-2019 seasons. During the next summer camp, he will get to renew his relationship with the members of the community, young and older musicians. On his agenda: teaching, giving concerts, searching for new repertoire, whether for solo violin or chamber ensembles.
"As an artist-in-residence I get to build enriching projects on the human level. I have commissioned a piece by Jocelyn Morlock. The premiere will take place next summer. And at the same time, I'll set up a music competition, or rather a call-out to all composers so that they present their works, old or new. Some will be selected and performed for the first time at CAMMAC."
As with his first album, Djokic wants to promote Canadian music and perform it on a larger scale. "The joy of being in this summer camp is to meet with musicians of all levels, ages and backgrounds, people that are very enthusiastic about playing together."
Marc Djokic will play with the Trio Tangere on Feb. 24 as part of the Cecilia Concerts 30th season (Halifax). In May, he returns to the Scotia Festival of Music (Halifax) for a Djokic family concert. He will also be part of the 2019 Festival Classica (Saint-Lambert) in June.
www.marcdjokic.com

The McGill Chamber Orchestra's 2018-19 season continues on Jan. 19 (Tchaïkovsky & Tétreault), Feb. 9 (Da Costa at the Opera) and Feb. 14 (Chocolate & Love Songs). 20% discount (not applicable to dinner event of Feb. 14) with promo code: LaScena20. www.orchestre.ca

His wife Avery Zhao, accomplished artist like him, is founder of Art Crush, a multidisciplinary ensemble of musicians, dancers and visual artists. You can follow it on this website:
www.artcrushshow.com
This page is also available in / Cette page est également disponible en:

Francais (French)