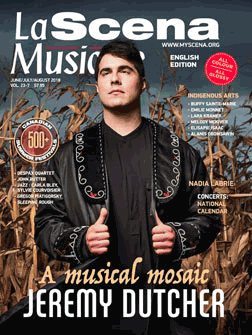 This page is also available in / Cette page est également disponible en:

Francais (French)
Over the years, the Festival d'opéra de Québec has gained an enviable reputation earned several honours, including the 2012 Opus Awards in three categories. This year, the main production will be The Magic Flute by Mozart as directed by Robert Lepage.
One of Mozart's later masterpieces, composed in 1791 and staged only a few months before his death, this initiatory opera is one of the most popular works in the world. It will showcase the originality of Robert Lepage, who is particularly known in the world of opera for his Metropolitan Opera production of Wagner's Ring.
"Robert Lepage proposed himself to do this opera and we accepted it," declared Grégoire Legendre, director of the Opéra de Québec since 2003.
"Mozart's Magic Flute is appreciated by the general public. Robert Lepage will have the chance to work for the first time on an opera of the wider repertoire, having staged mainly contemporary operas [Editor's note: The Stravinsky's The Nightingale, The Tempest of Thomas Adès, among others]."
Without reavealing too much, the artistic director of the festival said that this production would seek to awaken magic and mystery on stage. "Robert Lepage already has several opera productions to his credit and we would be wrong to deprive ourselves of his talent," Legendre said. "Moreover, he is attached to his hometown."
Among the performers are Frédéric Antoun as Tamino. The Quebec tenor, who has a great career on the other side of the Atlantic, will be joined by soprano Simone Osborne as Pamina. Gordon Bintner and Pascale Beaudin play the Papageno-Papagena duo.
Canadian John Relyea, who has sung in several large houses in Europe and North America, will perform the bass role of Sarastro. Audrey Luna will play the Queen of the Night while Eric Theriault will be Monostatos. This major event of the festival will be given four performances at the Salle Louis-Fréchette at the Grand Théâtre de Québec on July 31 and Aug. 2, 4 and 6 at 8 pm.
This eighth edition will open on July 24 at 8 p.m. with Four Sopranos Under the Stars – Suzanne Taffot, Claire de Sévigné, Lauren Margison and Gianna Corbisiero – accompanied by Sinfonia de Lanaudière under the direction of Stéphane Laforest (July 25 in case of rain). Les Violons du Roy under the direction of Jonathan Cohen will perform with the French soprano Véronique Gens on August 3.
Translation by Adrian Rodriguez
www.festivaloperaquebec.com or 1-877-643-8131.
This page is also available in / Cette page est également disponible en:

Francais (French)