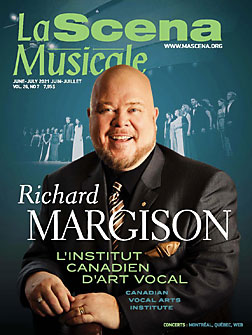 Name: Irina Medvedeva

Voice type: Soprano

From: Toronto

Teacher: Christiane Riel

Education: Glenn Gould School of the Royal Conservatory of Music
Russian-Canadian soprano Irina Medvedeva is the 2018 winner of the Comic Opera Guild of Michigan Competition. A recent graduate of Vancouver Opera's Yulanda M. Faris Young Artist Program, she sang the role of Annina in La Traviata and has covered multiple leading roles, including Violetta Valéry and Rosina in Il barbiere di Siviglia. Operatic highlights include the roles of Musetta, Norina, Vixen, Zerlina, La Fée, Morgana and Florestine in the Canadian premiere of Milhaud's La Mère Coupable. She has also participated in Tapestry Opera's Songbook VII and Songbook VIII performances showcasing contemporary operatic repertoire.
For Ms. Medvedeva, singing is part of a long family tradition. "My great-grandmother was a singer and a midwife in a rural Russian village. My mom tells me stories of how people from neighbouring villages would travel and crowd around to hear her sing and watch her dance at the village hall. I had an opportunity to listen to her sing over Skype a few years before she died, and I was struck by the sheer power of her voice. Her voice was strong and filled with love of life and love of expression. Apparently, she would sew all of her own costumes as well. I think she would have loved opera and the theatrics of it all", says this promising soprano, who is the first person in her family to choose an operatic career. Her grandfather was a self-taught musician; he could sing, play guitar, bayan, piano, and violin. "There is an old tape of him singing and accompanying my mom on the guitar. He had a beautiful warm voice." Speaking of her mother, who is a violinist and a dedicated music teacher, Irina Medvedeva recalls: "While I was growing up, [she]was the concertmaster at an orchestra in Mexico and she would bring me along to the orchestral rehearsals where I would often fall asleep… I have since grown my appreciation for classical music!"
Needless to say, Ms. Medvedeva's youth was filled with music. "We've always had a piano at home, so making music was part of every-day life from an early age. When I was young, my family moved to Veracruz Mexico, where music is in every part of life. It is played in the streets, in schools, assemblies, concert halls and every special occasion and I was immersed and participated in all of it. There is something very musical in the Spanish language as well" says this avid lover of languages, who is fluent in Russian, Spanish and English.
What made you decide to pursue studies in opera?
I grew up singing Musical Theatre and my first official role was Glinda in a local Thunder Bay production of Wicked. The vocal role of Glinda requires some classical training and I thought the theatrics, high notes, coming down in a bubble, the big gown, all of it was very appealing! But in all seriousness, my decision to pursue studies in opera was more complicated. I have always loved to sing, but my path towards studying opera only became clear a bit later in life. There are many barriers to this art form, including those of privilege, race, income and for me coming to Canada as a first-generation immigrant, the decision to pursue a career path that isn't exactly linear is not always an easy choice to make. I am very thankful for my supportive family and friends for their support and encouragement.
What kind of repertoire are you studying?
I love bel canto. The drama, the beauty, the humour… to me, it is perfect! I have loved singing Donizetti since my undergrad days at Western University. I started with his art songs and have had an incredible amount of fun performing Norina, and singing arias from La fille du régiment. My dream role is to sing Lucia in Lucia di Lammermoor.
Do you follow a specific routine before going on stage?
It goes something like: resting as long as possible, double fisting coffee and water, good meals, yoga, vocalizing, arriving early, listening to dance songs while getting into costume, sitting quietly and reviewing my score.
Would you rather crack a high note or have a wardrobe malfunction during a show?
Live theatre is full of surprises including mishaps and malfunctions. I think the possibility of the unexpected makes theatre so exciting to perform and to watch.
What are your career goals and how do you plan to achieve them?
My main aspiration is to be singing for as long as I can. I envision my musical journey and goals as a marathon, not a sprint. Being able to connect with people through my voice is a privilege, and one that I do not take lightly.